Marlins play it safe with Jose after 38-pitch inning
Making his 7th start since return from Tommy John surgery, ace done after five innings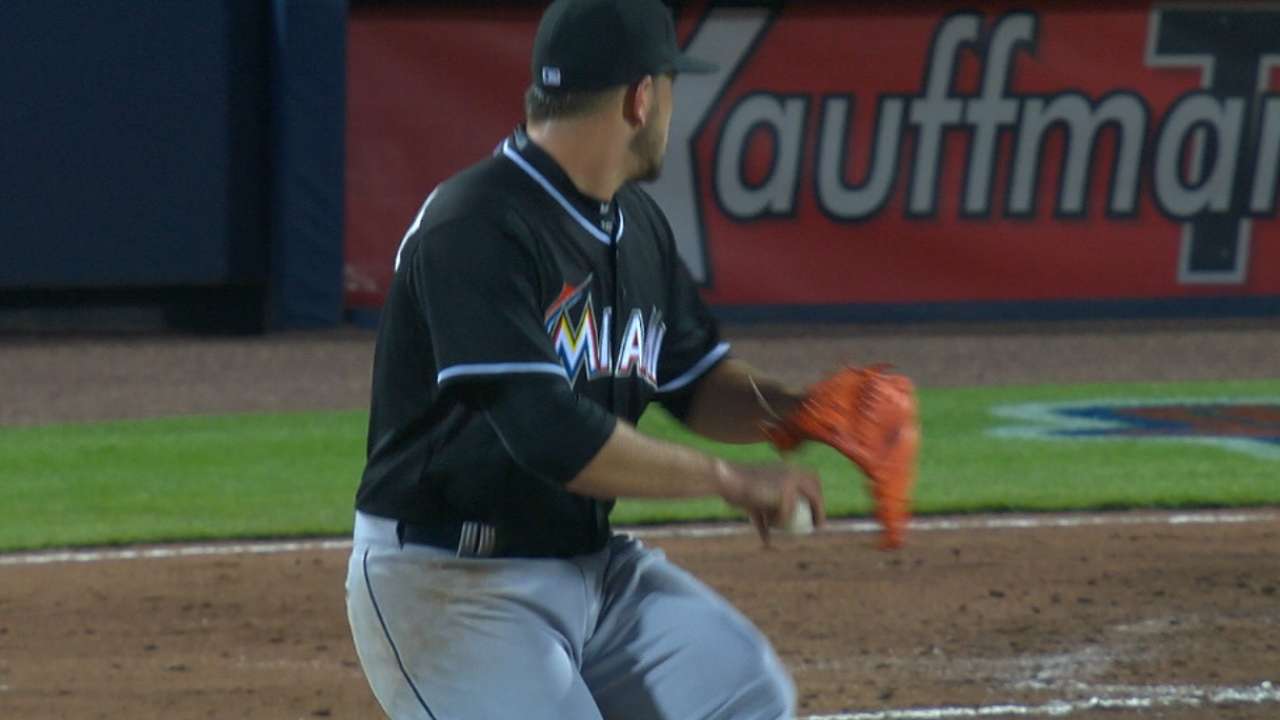 ATLANTA -- For nearly 14 months, the Marlins saw what it was like playing without Jose Fernandez. The organization is taking measures to make sure it doesn't happen again.
So after Fernandez labored through a 38-pitch fourth inning on Friday night, the decision was made to not overextend the young ace in the Marlins' 6-3 loss to the Braves at Turner Field.
Fernandez worked a season-low five innings, and his night was over after 76 pitches.
Since the 23-year-old returned from Tommy John surgery on July 2, the organization has made it clear that the 2013 National League Rookie of the Year will be closely monitored.
"He had the one inning there where he had 38 pitches," manager Dan Jennings said. "That's a career high for him. And he had just come off two outings where he had 112 and [99]. So we said we're going to use the common sense approach with him, with him coming back."
The competitor in Fernandez wanted to go out for the sixth inning, but he understood. The start was his seventh of the season, and he was coming off a season-high 112-pitch outing against the Padres last Sunday.
"It's a tough call," Fernandez said. "Obviously I want to give my team a chance to win. I always want to be out there. But I think it was the right call by the manager."
Fernandez's career high is 114 pitches, and he made it clear after his last start that counts above 100 would be rare for the remainder of the season.
"I think it's a good move," Fernandez said. "Obviously I wanted to stay out there, but sometimes you've got to be smarter."
Fernandez struck out six and allowed two runs in a no-decision.
The right-hander cruised through three perfect innings, requiring just 29 pitches. The second time through the Braves' order was a different story.
Atlanta repeatedly grinded out at-bats, especially Nick Markakis, who fouled off six straight pitches before singling to cap an eight-pitch showdown in the fourth. The Braves fouled off 13 pitches in the inning.
"They've got some good hitters," Fernandez said. "They've got some professional hitters. Sometimes you win, sometimes they win. They came out on top this time."
Fernandez had a streak of 20 straight scoreless against the Braves snapped in Atlanta's two-run fourth.
In the fifth inning, the right-hander worked quickly, retiring the side on nine pitches. He made a plea to stay in the game, but was overruled.
"Felt like it was the right thing to do and the right time," Jennings said. "We have to be smart in how and what we do where he's concerned. So I made the decision that's what we needed to do."
Joe Frisaro is a reporter for MLB.com. He writes a blog, called The Fish Pond. Follow him on Twitter @JoeFrisaro and listen to his podcast. This story was not subject to the approval of Major League Baseball or its clubs.