Tribe's offense puts up impressive fight
In wake of direction-altering trade, core players step up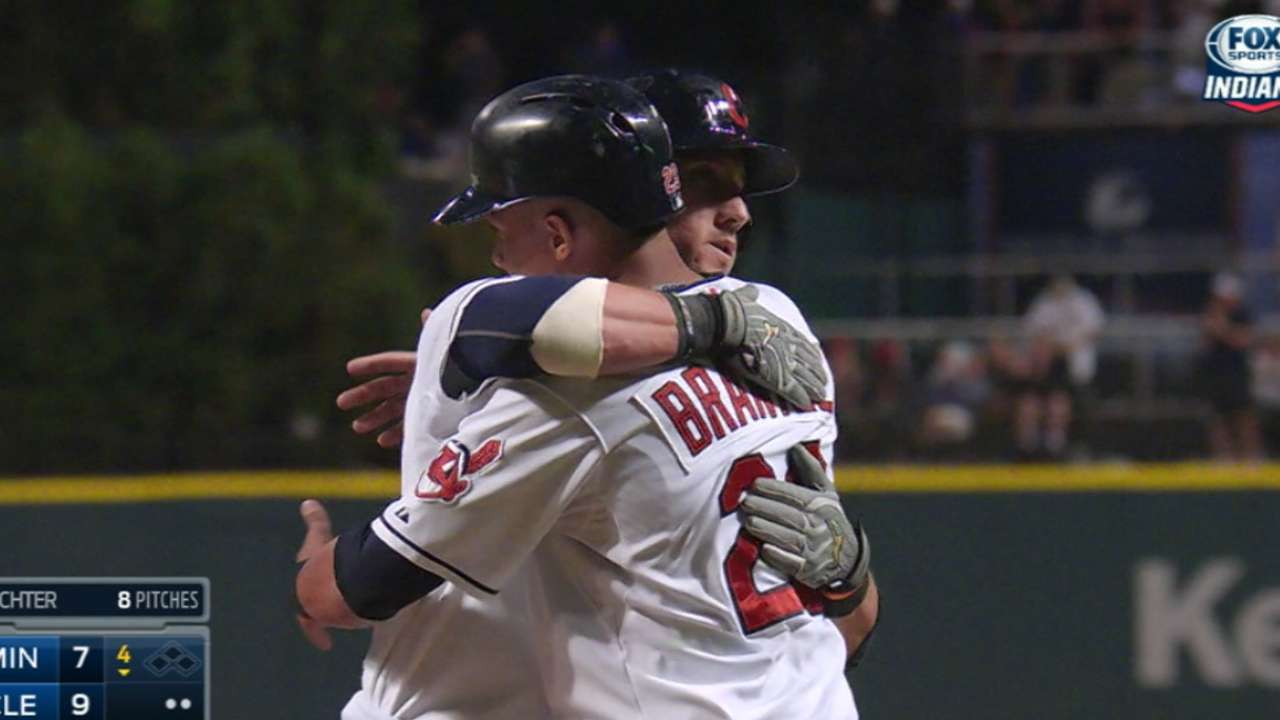 CLEVELAND -- To avoid a situation where players were left to guess the line of thinking by the front office, Indians manager Terry Francona called a meeting in the hours leading up to Friday's game. In the wake of another sweeping trade, a discussion about direction was warranted.
Francona and general manager Chris Antonetti gathered Cleveland's young core group of players and made it clear that the Indians believe they can still construct a contending team with the foundation currently in place. On Friday night, the players responded with the kind of offensive outburst that has been missing for weeks, albeit in a 10-9 defeat to the Twins.
"The core guys, we're going to be here for a while," Indians catcher Yan Gomes said. "So, it's up to us now to take over the reins and kind of right now, these last two months, and the next couple years, it's going to be what we're about."
Gomes and Michael Brantley -- two of the focal points of the Cleveland core, which also includes second baseman Jason Kipnis and a handful of promising young pitchers -- helped ignite the lineup in the opener of this three-game set with Minnesota. Brantley delivered three RBIs and Gomes belted a three-run home run, helping the Tribe erase a 6-0 hole and turn it into a 9-7 lead by the fourth inning.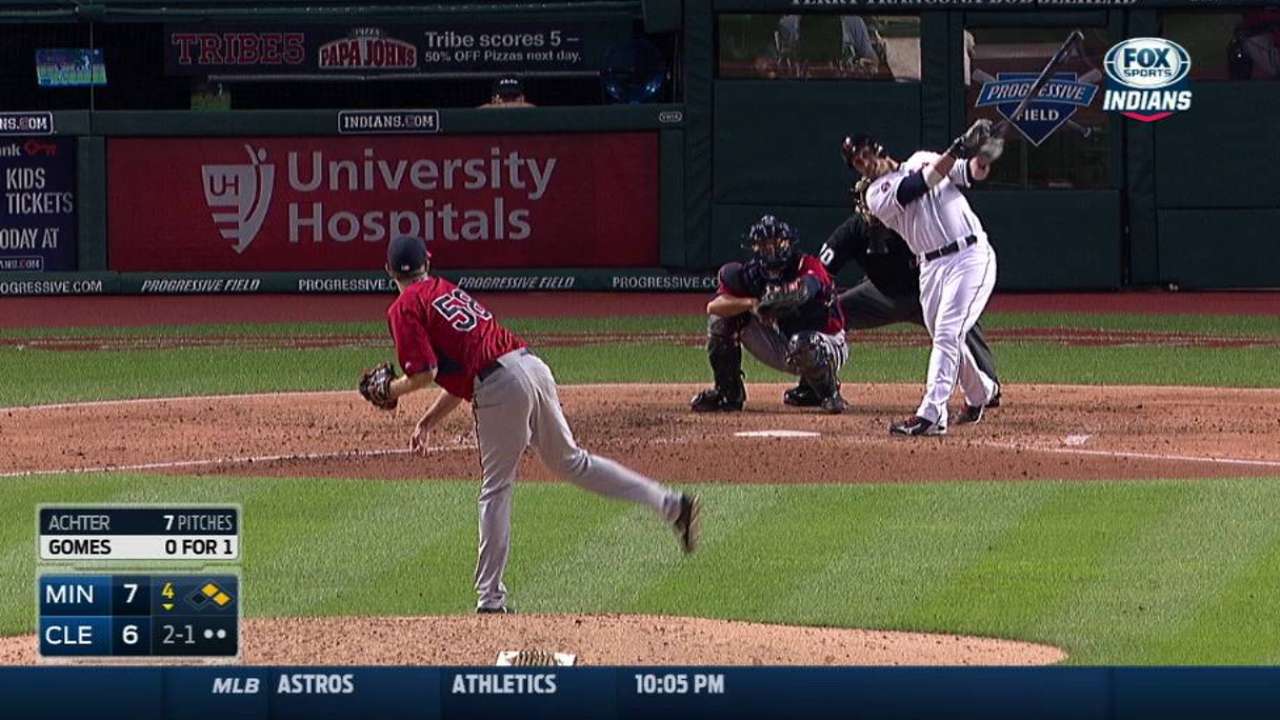 The Indians did not hold on for the win, but the offensive showing was still a sign of life from a team that has ranked last in the Majors in runs scored (192) since June 1. With Kipnis (right shoulder) on the disabled list, and veterans David Murphy, Brandon Moss, Nick Swisher and Michael Bourn all gone via trades -- Swisher and Bourn were dealt to the Braves on Friday afternoon -- the offensive challenge continues to be steep.
Under the circumstances, Gomes was happy to see the fight from the lineup on Saturday.
"It just shows that we're willing to battle," Gomes said. "I feel like some people have been talking about as soon as [teams] score runs, we go down and we don't fight back. I think the mentality that we have, we've got good hitters, man. At any point, anything can happen, and we showed it today."
In light of the recent trades, though, the Indians have been leaning on players who spent much of this season at Triple-A Columbus, and have started evaluations of Lonnie Chisenhall as an outfielder and Jerry Sands as a more regular option. The Indians have a pair of rookies on the left side of the infield in third baseman Giovanny Urshela and shortstop Francisco Lindor and a revolving door on the bench (outfielder Tyler Holt was optioned back to Triple-A after Friday's game).
The situation called for the kind of conversation Francona and Antonetti had with the team's core players.
"Right away, we got the core group of guys that we feel like we're going to win with," Francona said, "and we talked to them, Chris and I both, about how we want to move forward. Because, we can stay neutral, we can go backwards -- none of those are very good options -- or we can take what's been thrown at us and try to get better and learn and figure out how we want to be as a team. And we're going to do it around those guys."
Gomes said the players are understanding of what the front office is trying to do.
"If we don't think of the future," Gomes said, "man, I think we're going to be here again talking about it, because we didn't think ahead."
Jordan Bastian is a reporter for MLB.com. Read his blog, Major League Bastian, follow him on Twitter @MLBastian and listen to his podcast. This story was not subject to the approval of Major League Baseball or its clubs.