Bautista seizes moment with big Bronx blast
Outfielder conjures October chill with clutch HR to help sizzling Blue Jays gain in AL East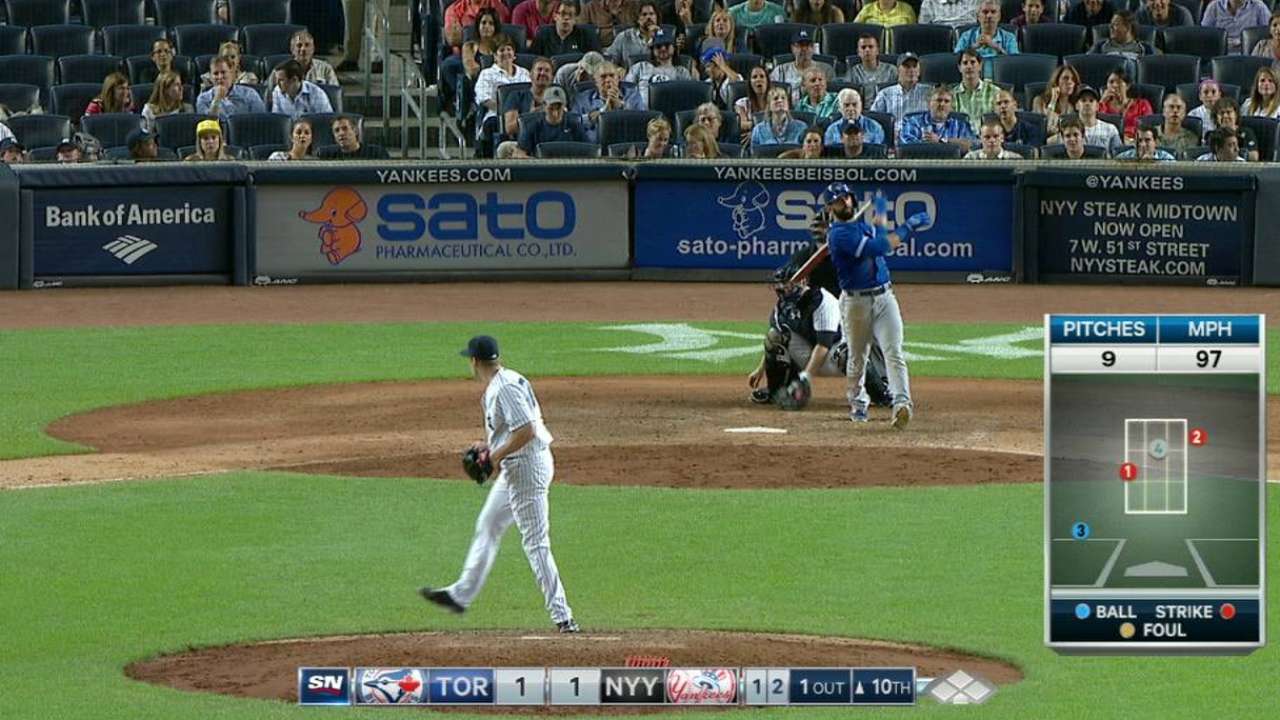 NEW YORK -- Jose Bautista rose to the occasion when the Blue Jays needed him, and it came on a big stage with his team in the thick of a pennant race at Yankee Stadium.
Bautista hit a solo home run off rookie right-hander Branden Pinder in the 10th inning Friday night, his 25th of the season, to lead the Blue Jays to a 2-1 victory over New York in a game that had postseason baseball written all over it.
The timing, the standings and the opponent made this arguably one of the biggest home runs of Bautista's career, but with a little less than two months left in the season, the Blue Jays can only hope there is plenty more where that came from.
"He just made a mistake with the fastball," Bautista said. "I felt like it was right down the middle in a 1-2 count. I'm looking for an extra-base hit, I'm not trying to poke a single to the right side in that situation. I need to get on second, there's already one out, trying to get in scoring position as soon as possible."
With its sixth straight victory, Toronto pulled within 3 1/2 games of the Yankees for first place in the American League East. The two sides will meet two more times this weekend and 12 more times this year in a rivalry that is only now starting to heat up.
The Blue Jays haven't really played meaningful baseball down the stretch since 1993, but this season is shaping up to be a lot different. Toronto has the look and feel of a legitimate contender, and all of the pieces were in place for the series opener in New York.
There were seven strong innings from starter R.A. Dickey and an additional three scoreless from relievers LaTroy Hawkins, Brett Cecil and Roberto Osuna. There were crisp defensive plays being made all over the field, with multiple crucial double plays being turned with relative ease.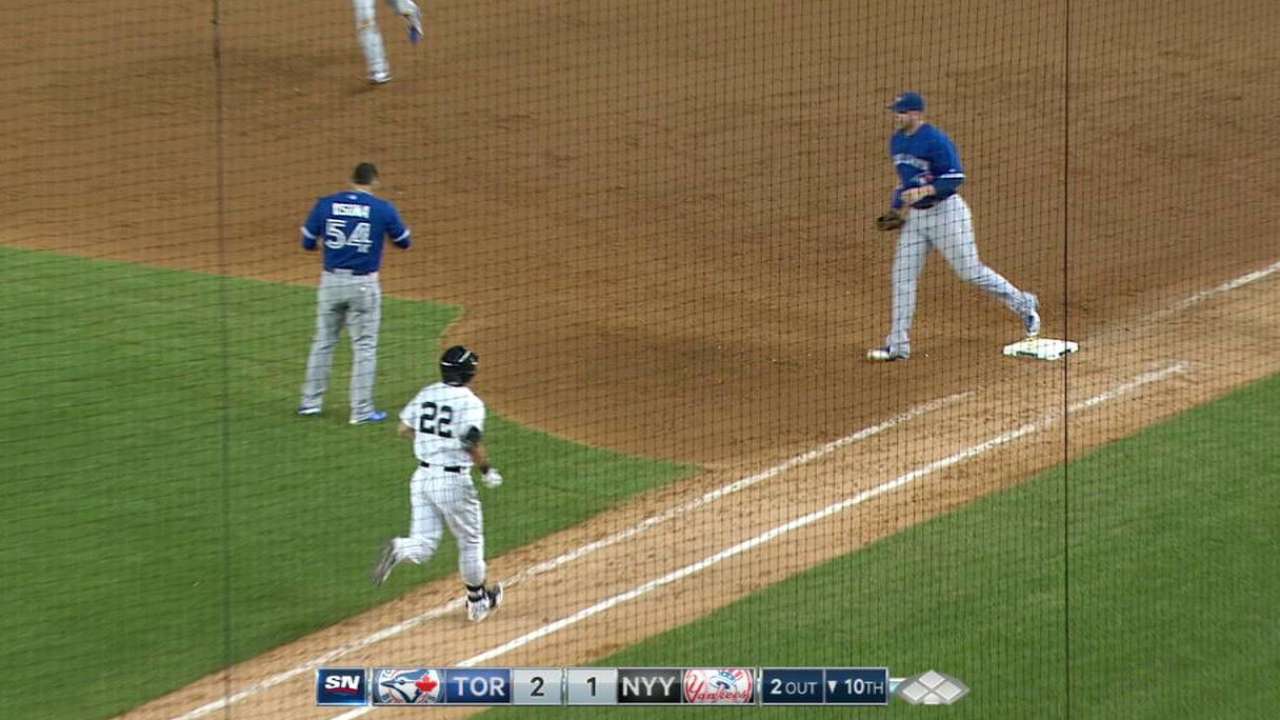 It was exactly the type of game that most people expect to watch in October, but it all could have been for naught until Bautista unloaded.
"We won the first game of the series, everyone knows what our offense is capable of doing, we've got David Price going [Saturday], I don't think they feel good right now going home," Bautista said of the Yankees.
• Price prepared to take centre stage vs. Yanks
"I've been in that situation on the opposite end, and it's not a good feeling. So I'm glad we're in this spot now. We can't rest on it, we've still got to go out there and play every single game hard, and hope for wins and continue to execute, but I like our position."
Bautista has been performing all season, but he seems to be heating up even more recently. He has four home runs over his last seven games to go along with a pair of doubles and nine RBIs.
Bautista's blast was the third extra-inning home run of his career and his 24th homer against the Yankees, dating back to 2010, which is the most by any Major Leaguer. It was a big-time performance on arguably the biggest stage in the game with plenty of stakes on the line. For the Blue Jays, it doesn't get any better than that.
"We've been playing really well, and you come in here and this is the team we're chasing," Blue Jays manager John Gibbons said. "We got to beat them sooner or later, so this is a good way to start it."
Gregor Chisholm is a reporter for MLB.com. Read his blog, North of the Border, follow him on Twitter @gregorMLB and Facebook, and listen to his podcast. This story was not subject to the approval of Major League Baseball or its clubs.