Norris appreciates crowd support in tough start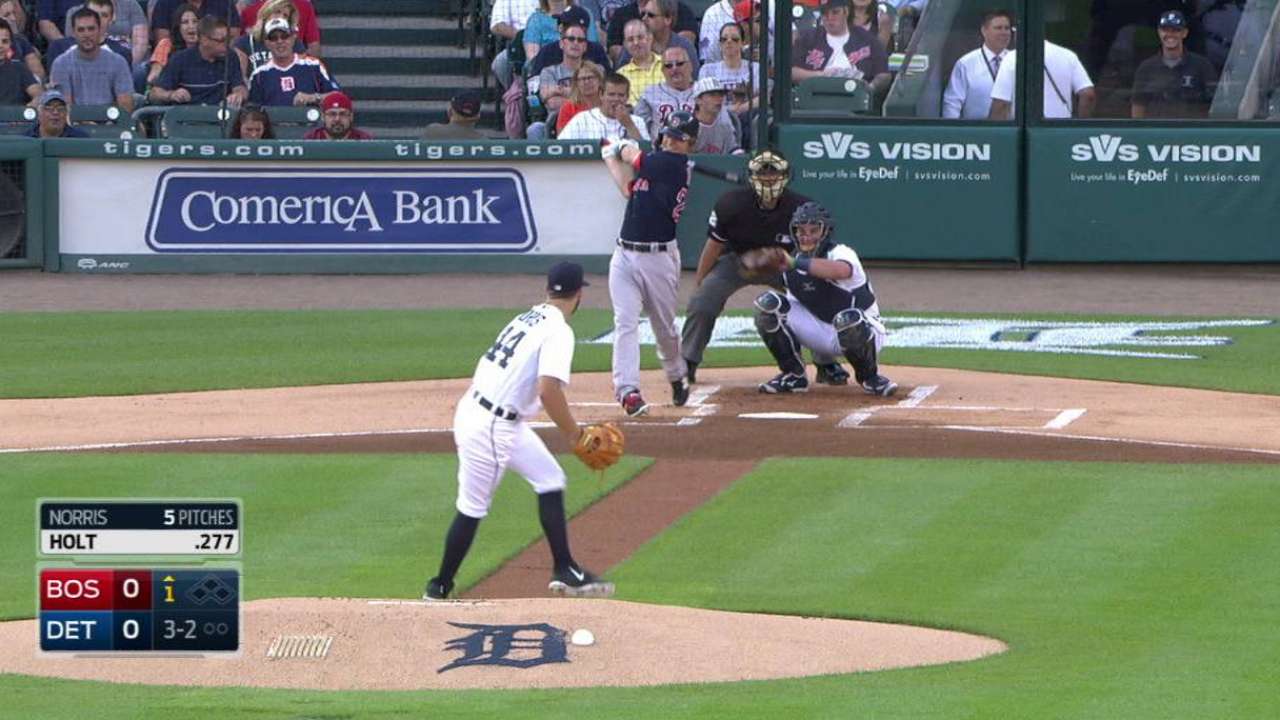 DETROIT -- Even though Tigers left-hander Daniel Norris labored through a disappointing home debut, many of the 38,132 fans in attendance on Friday night gave the newcomer a friendly ovation when he was pulled with one out in the fourth inning.
Norris, who was acquired in the deal that sent David Price to Toronto, couldn't recover from a 39-pitch first, allowing five runs on nine hits in a 7-2 loss to the Red Sox.
"I wish I could have given them more to cheer for," Norris said, "but it was obviously appreciated."
The 22-year-old's night may have ended differently if he had gotten the call on a close pitch in the first inning. With two on, two out and a 1-2 count on Hanley Ramirez, Norris delivered a heater that he thought had clipped the edge of the strike zone. Instead, home-plate umpire James Hoye called a ball, and the Red Sox left fielder connected for a two-run double moments later.
"I thought I had it there," Norris said. "It's baseball. It's happened plenty of times. But it would have been nice."
A 12-pitch second inning helped mitigate the damage from the lengthy opening frame, which had included three-ball counts to the last four batters. Boston, though, tallied four hits in the third, with David Ortiz delivering the biggest -- a two-run homer to right field.
After yielding consecutive singles with one out in the fourth, Norris was replaced by long reliever Buck Farmer.
"He had trouble with his breaking ball," manager Brad Ausmus said of his starter. "He was either real up with it or real down with it. He had trouble with his fastball command. A lot of foul balls led to a high pitch count."
Last Sunday at Baltimore, in his first appearance with Detroit, Norris scattered four hits over 7 1/3 innings to earn the win. But the lefty said the nerves of a home start may have caused him to rush his delivery on Friday. He also mentioned a tendency to leave sliders up in the zone.
While Norris ultimately expressed his displeasure with the second performance, his second inning -- during which he used three well-located fastballs to strike out Jackie Bradley Jr. -- left him optimistic.
"I just want to go out there and do well," Norris said.
Alejandro Zúñiga is an associate reporter for MLB.com. This story was not subject to the approval of Major League Baseball or its clubs.