Braves chase Fish ace, deliver after play at plate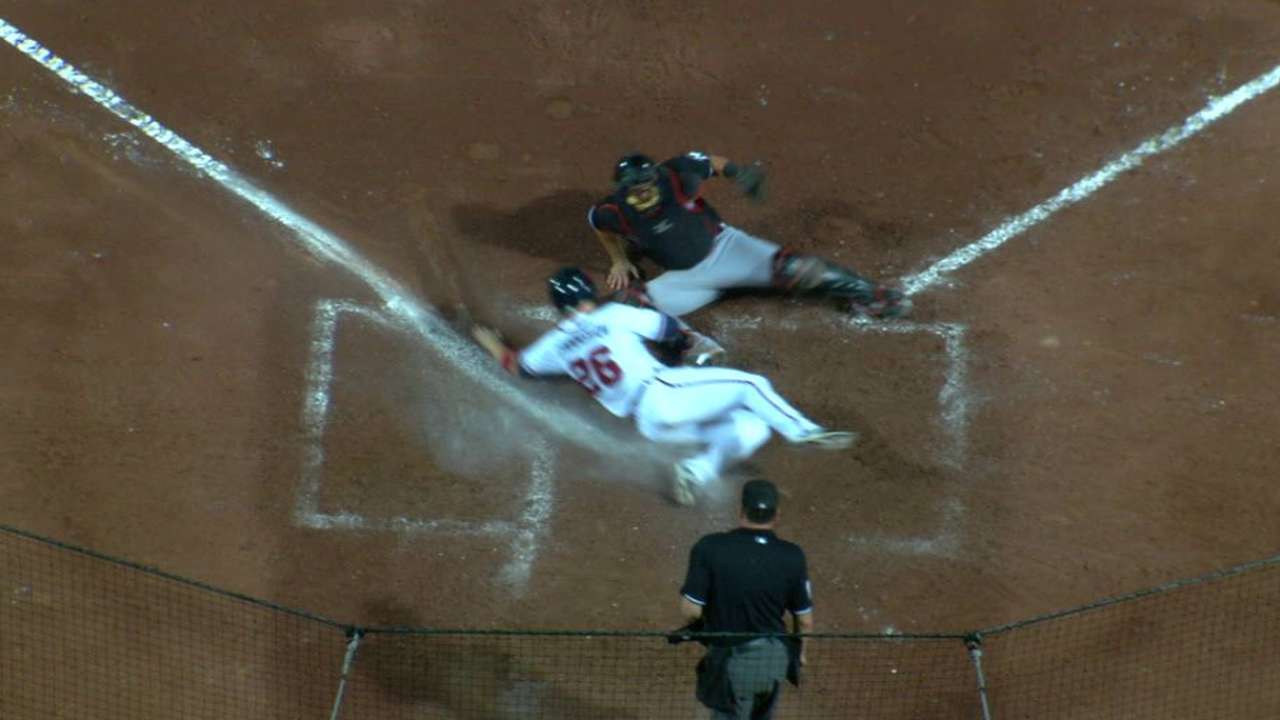 ATLANTA -- After creating a fourth-inning eruption that influenced Jose Fernandez's early exit at Turner Field on Friday night, the Braves backed Julio Teheran with a four-run seventh inning that propelled them to a 6-3 win over the Marlins.
Nick Markakis' two-run single off Mike Dunn highlighted the decisive seventh that was aided by two Adeiny Hechavarria errors and a misstep by Marlins catcher Jeff Mathis. Mathis' inability to keep his foot on the plate on Daniel Castro's game-tying fielder's choice -- Atlanta challenged and got the initial out call overturned -- helped the Braves erase the three runs they surrendered when Teheran suddenly encountered trouble in the top of the seventh.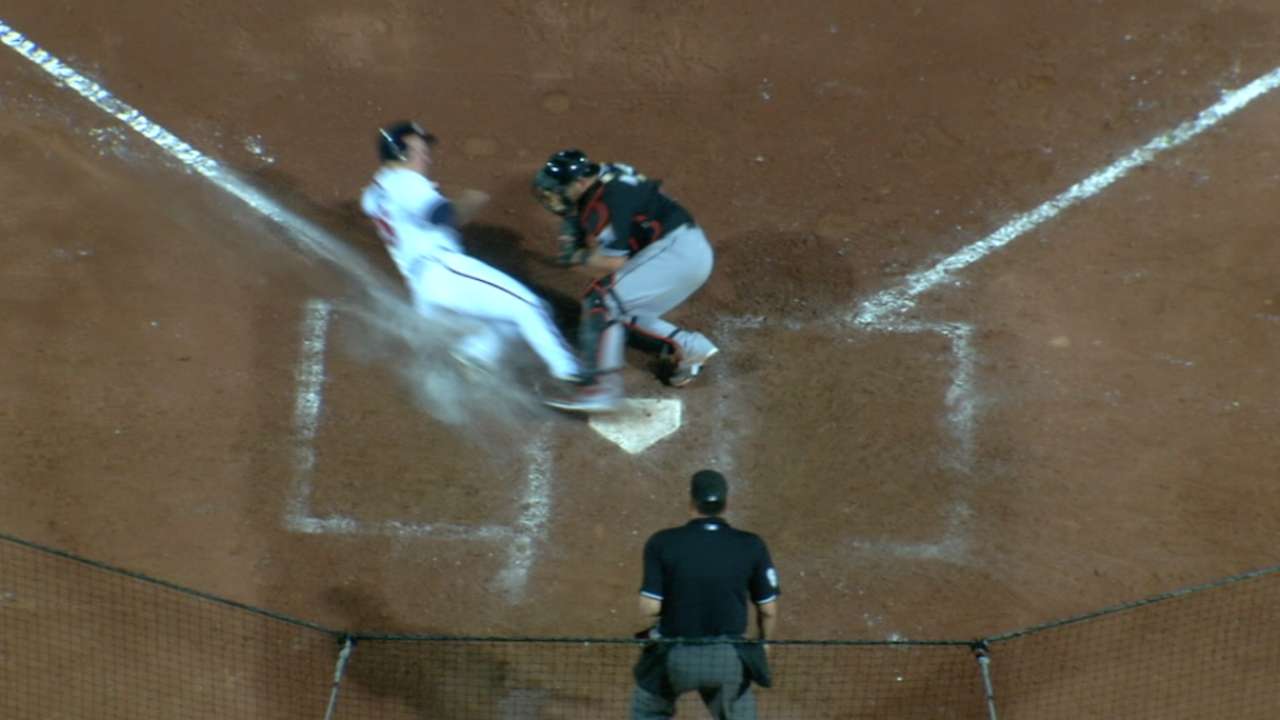 "It was an exciting game. You know [Fernandez] is one of the best pitchers in this game," Teheran said. "He's coming back from the [Tommy John] surgery, he's doing a great job. It was an exciting game. I was just trying to do my job and I think I did it really well."
Fernandez totaled 29 pitches while proving perfect through the first three innings, and he then threw 33 additional pitches before recording his second out in Atlanta's two-run fourth inning. Fernandez had completed 20 consecutive scoreless innings against the Braves, dating back to Sept. 11, 2013, before allowing RBI singles to A.J. Pierzynski and Joey Terdoslavich.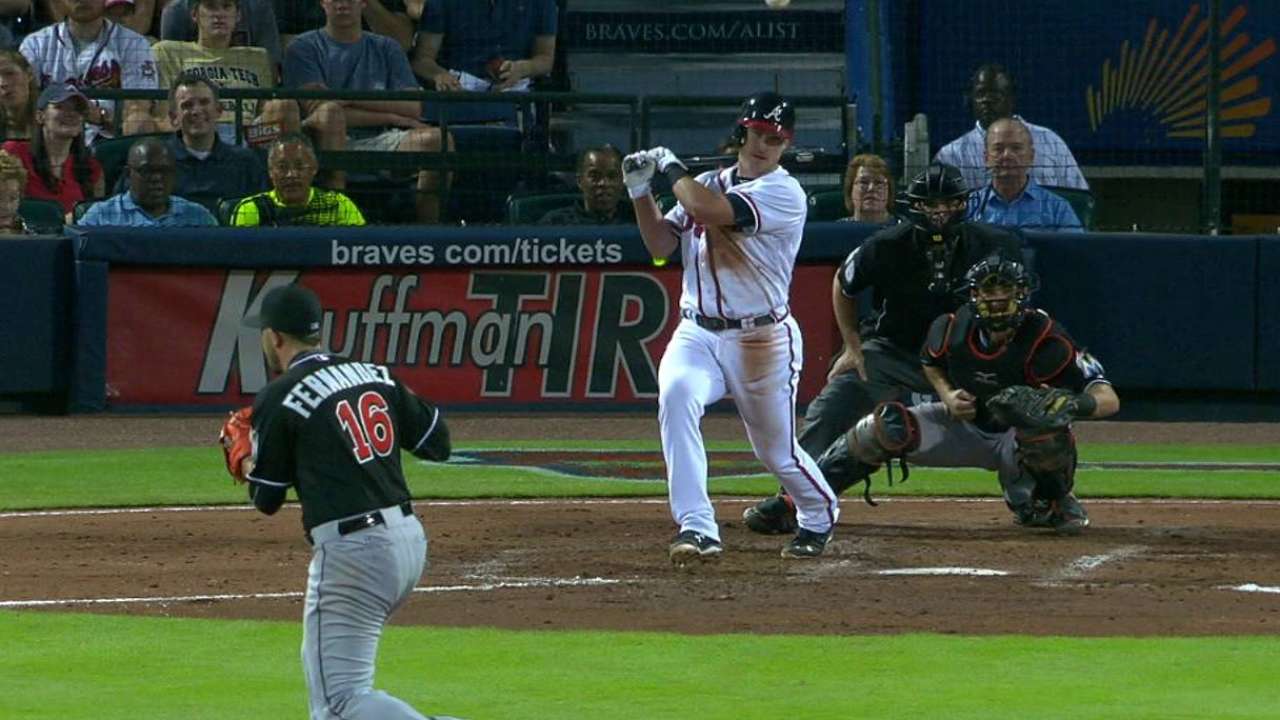 "It's frustrating," Mathis said of the seventh inning. "You put up a three-spot in the top of that inning, and you come out and have an inning like that. It stinks, but it's part of the game."
MOMENTS THAT MATTERED
Markakis' first key at-bat: Markakis extended his hitting streak to 14 games with a single at the conclusion of an eight-pitch at-bat that included nothing but strikes during the fourth inning. Fernandez then promptly surrendered three consecutive singles and suddenly found himself facing a two-run deficit.
"Maybe that wore him out a little bit," Braves manager Fredi Gonzalez said of Fernandez. "We've seen that before, where a guy has a tough time putting a hitter away with a [long] at-bat, and the next thing you know. ... It's a grind trying to pitch to a good hitter in those situations." More >
Jose done after five: Once the Braves worked Fernandez for 38 pitches in the fourth, the Miami ace was on a short leash. So after a nine-pitch fifth, Fernandez's night was over, marking the first time in seven starts this season he didn't last at least six innings. The 23-year-old exited after 76 pitches. The lower pitch count is also related to Fernandez's last start, when he threw 112 pitches in a no-decision against the Padres. His career high is 114, on May 4, 2014, against the Dodgers.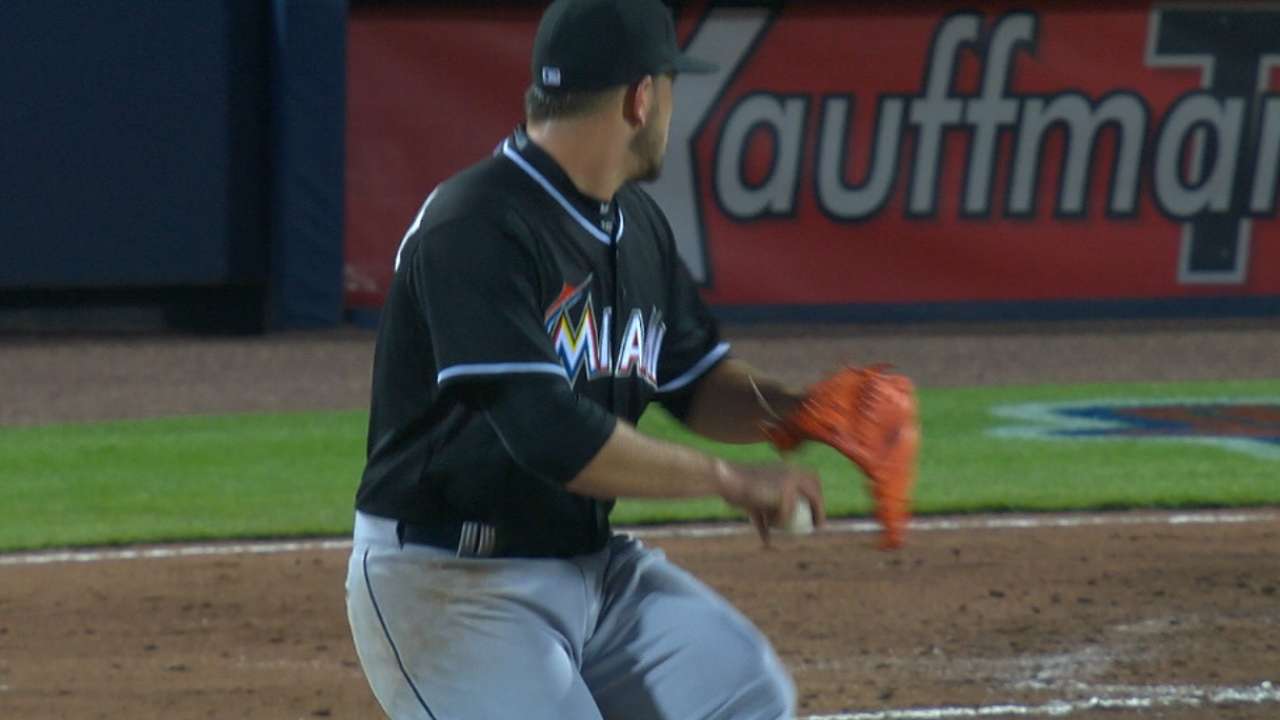 "They fouled some good pitches there," Fernandez said. "They're professional hitters. They know what they're doing. I was just trying to do my best. They got two runs. They could have got more, but they got two only. I tried to battle out there today." More >
Teheran stays hot at home: Before allowing each of the first three batters he faced in the seventh to reach safely, Teheran had surrendered just three hits. A Christian Yelich single in the fourth gave the Marlins runners at first and second with none out. But Teheran escaped that jam and righted himself before allowing three straight hits, including Hechavarria's two-run triple, to begin the seventh. The Braves' ace allowed three earned runs over 6 2/3 innings and now has a 2.55 ERA through 11 home starts. More >
Dee's feet-first slide into first: Dee Gordon apparently got the message. When the Miami All-Star second baseman dislocated his left thumb on a head-first slide at first base on July 11, he caught a lot of grief, especially from third-base coach Lenny Harris. In the seventh inning, Gordon found himself in a similar situation. He was legging out an infield hit, racing pitcher Ross Detwiler to the base. Rather than slide head-first, Gordon went feet first and won the race. His infield single gave Miami a short-lived 3-2 lead.
QUOTABLE
"He had the one inning there where he had 38 pitches. That's a career high for him. And he had just come off two starts where he had 112 and [99]. So we said we're going to use the common sense approach with him, with him coming back. Felt like it was the right thing to do and the right time. We have to be smart in how and what we do where he's concerned. So I made the decision that's what we needed to do." -- Miami manager Dan Jennings, on lifting Fernandez after 76 pitches
SOUND SMART WITH YOUR FRIENDS
Markakis recorded his second three-hit game of the homestand and eighth of the season. He has batted .361 (22-for-61) during his 14-game hit streak. But he has not been Atlanta's hottest hitter. Pierzynski has batted .426 (20-for-47) during his 12-game hit streak.
REPLAY REVIEW
The Braves won a pair of challenges in the seventh inning, including the important one that showed Mathis did not make contact with plate or apply a tag as Todd Cunningham slid home with the game-tying run on Castro's fielder's choice. Another call was overturned moments later when a review showed that Castro did in fact reach third base ahead of Martin Prado's tag while advancing from first base on Markakis' game-winning single.
"Replay worked today, because from the naked eyed I'm thinking Cunningham is out easy," Gonzalez said. "We get a phone call from [replay assistant Horacio Ramirez], who did a terrific job saying, 'Hey, challenge it, he missed the plate and didn't tag him.' I got on the phone myself, which I never do, and he said, 'No, challenge it, challenge it.'"
JENNINGS EJECTED
The frustration of the night got to Marlins manager Dan Jennings after Hechavarria struck out in the ninth inning. Unhappy with a check-swing third-strike call on the Miami shortstop, Jennings took the moment to say a few words to home-plate umpire David Rackley, who immediately tossed the Miami skipper. It was Jennings' second ejection of the season. His first was on June 3 against the Cubs.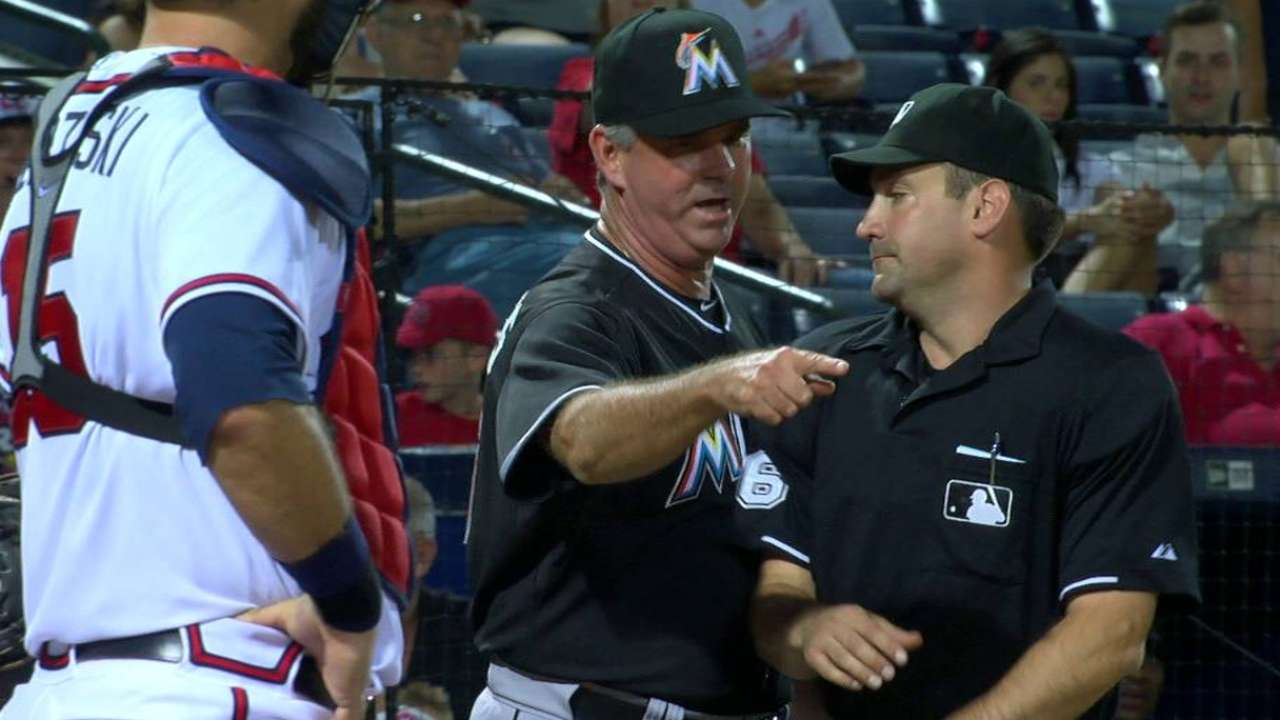 "Just a difference of opinion of the strike zone," Jennings said. "Your job as a manager is to protect your players, but from my vantage point, it didn't look like those pitches were strikes."
WHAT'S NEXT
Marlins: Tom Koehler (8-8, 3.71 ERA) takes the hill on Saturday in the third game of the series, which starts at 7:10 p.m. ET. He is 4-5 (4.31) on the road.
Braves: Atlanta will counter with Mike Foltynewicz, who will be making his third start since being recalled from Triple-A Gwinnett. Foltynewicz allowed four home runs in six innings against the Giants on Monday. Newly acquired Nick Swisher and Michael Bourn are expected to debut for the Braves.
Watch every out-of-market regular season game live on MLB.TV.
Mark Bowman is a reporter for MLB.com. Joe Frisaro is a reporter for MLB.com. He writes a blog, called The Fish Pond. Follow him on Twitter @JoeFrisaro and listen to his podcast. This story was not subject to the approval of Major League Baseball or its clubs.