Brewers host PLAY event at Miller Park
Kids learn lessons from trainer Wright, outfielders Davis and Schafer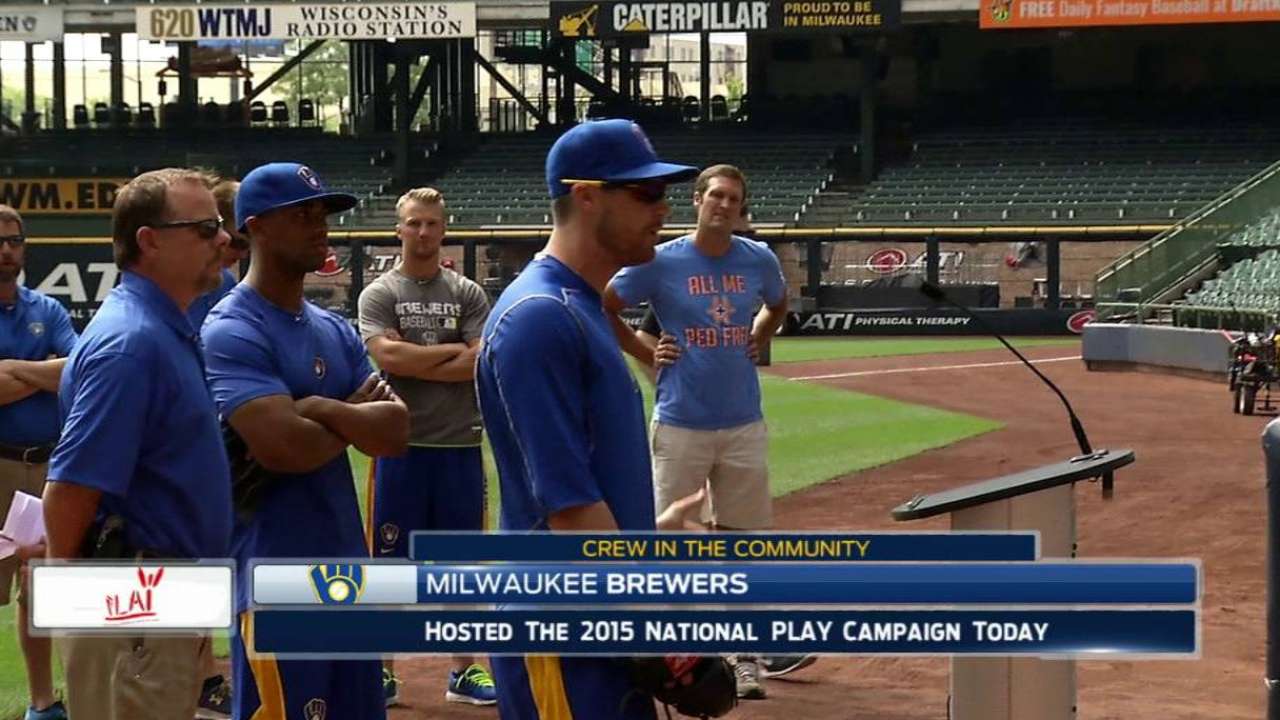 MILWAUKEE -- Brewers head athletic trainer Dan Wright and outfielders Khris Davis and Logan Schafer pitched the benefits of staying clean and playing multiple sports during a Friday morning event for kids at Miller Park put on by the Professional Baseball Athletic Trainers Society.
The PLAY (Promoting a Lifetime of Activity for Youth) Campaign was formed to raise awareness about children's health issues and the obesity epidemic in the United States. PLAY has conducted over 150 events inside all 30 Major League ballparks, including in each of the past 12 years at Miller Park.
"One of the points the players brought during their address with the players and the kids was that they were multi-sport athletes," said Wright. "It wasn't a matter of only playing baseball. Logan said he played soccer up into high school, and played football and other sports. [Davis] played football and basketball.
"Just being a multi-sport athlete is so important. If you went through our clubhouse, virtually all of them would tell you that's what they did. I think it's a theme for parents to understand."
Wright and baseball's other athletic trainers coordinate the PLAY campaign with MLB Charities and the Taylor Hooton Foundation, which was formed in memory of a promising 17-year-old prep baseball player who took his own life on July 15, 2003, as a result of his abuse of anabolic steroids. Major League Baseball has been a major partner of the foundation since 2005, and Schafer is on its advisory board this season.
"As long as we got through to one kid, that's all that matters," Schafer said.
Participants in Friday's event rotated through a series of stations to learn about healthy eating, injury prevention, strength and conditioning and the dangers of illegal performance- and appearance-enhancing drugs. Schafer and Davis led a series of outfield drills.
Adam McCalvy is a reporter for MLB.com. Follow him on Twitter @AdamMcCalvy, like him on Facebook and listen to his podcast. This story was not subject to the approval of Major League Baseball or its clubs.