Boxberger laments blown save vs. Mets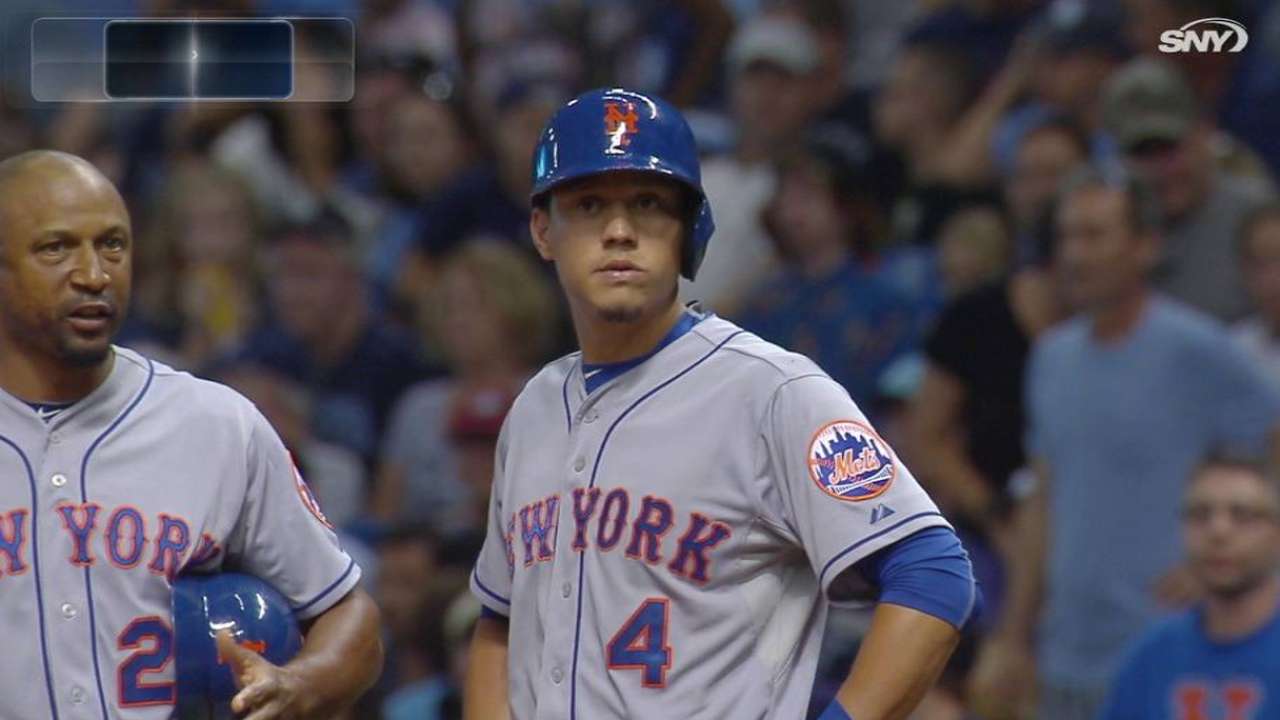 ST. PETERSBURG -- As of late, Brad Boxberger's greatest adversaries have been a series of well-placed hits and a couple of flukes.
For a second consecutive game, a mixture of defensive lapses and tough pitches did in the right-hander as he took the loss in the Rays' 4-3 defeat to the Mets on Friday.
After watching Evan Longoria launch a go-ahead home run in the eighth inning from the bullpen, Boxberger took the mound in an effort to nail down his 28th save of the season.
The outing, though, got off to a bad start when Lucas Duda squibbed one down the third-base line that Boxberger fielded and then fired wide of first baseman James Loney.
"I just rushed it," Boxberger said. "Probably had more time, but just rushed it. [It got me off track] a little bit, but with the guys they had coming up I thought I could get a ground ball and get a double play out of it. But it didn't work out."
One pitch later, the double play went out the window as the Rays closer spiked a fastball that allowed Duda to advance to second. A double by Michael Conforto with one away handed him his third blown save of the season, and his first since June 13, snapping a string of 12 straight conversions.
Travis d'Arnaud followed with an infield single that put runners on the corners, and two batters later, Wilmer Flores dropped a single into right field to score the eventual game-winning run.
"They did a good job of hitting," Boxberger said. "A couple of those pitches were well-located and they were just able to get the barrel on the ball."
Boxberger's eighth loss of the season -- which ties the franchise record for the most relief losses in a season and is the most in the Major Leagues this year -- came two days after he earned the loss in the Rays' 6-5 defeat to the White Sox on Wednesday.
"I don't think [Wednesday's game carried over] at all," Rays manager Kevin Cash said. "Box has done this enough and he's pitched in those late-inning games where he is able to flip the switch and forget about the good or the bad that took place from the night before."
Boxberger's performance came one inning after left-hander Jake McGee, who entered Friday's contest with a 1.88 ERA, allowed a game-tying home run to the left-handed hitting Daniel Murphy in the top of the eighth.
"I think, basically, they sometimes appear invincible and they're not," Cash said. "They are both really good pitchers and every once in a while you're going to see some fluke-ish things like that happen."
Troy Provost-Heron is an associate reporter for MLB.com. This story was not subject to the approval of Major League Baseball or its clubs.