First pitch from Burns' sister continues tradition
Outfielder's older sister set to compete in INAS Global Games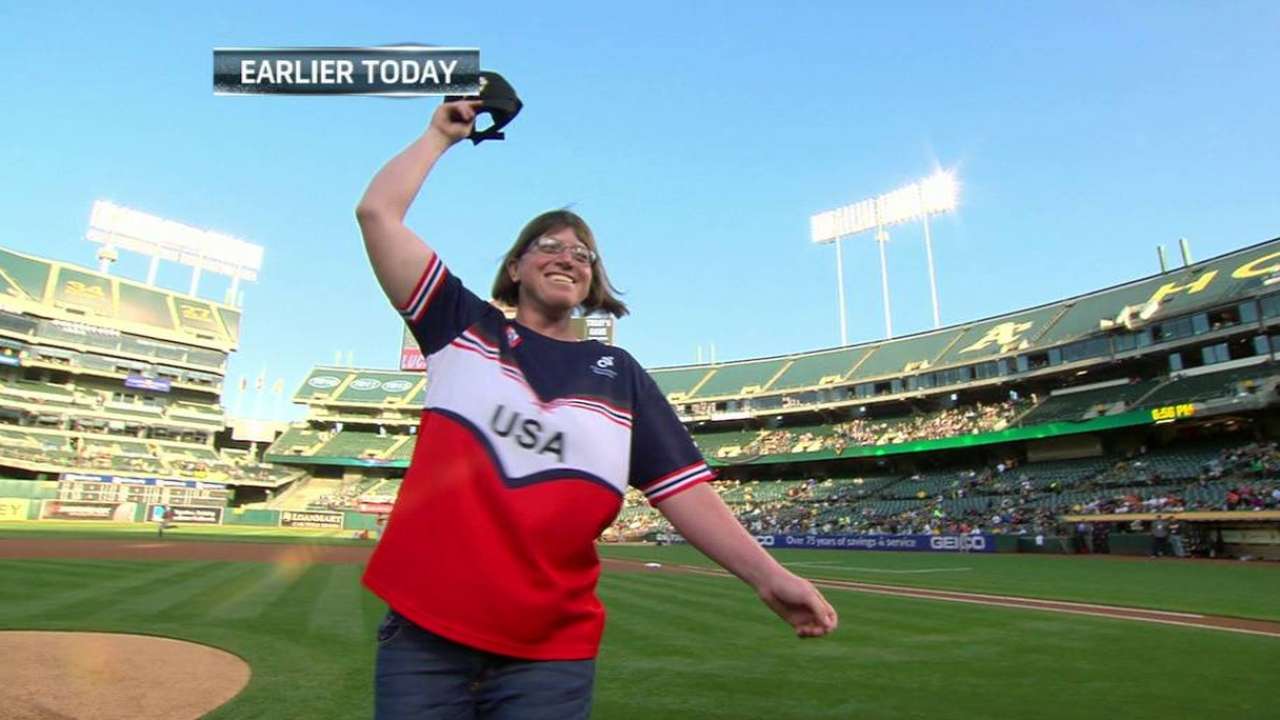 OAKLAND -- Abbey Burns confidently strolled to the mound in her USA shirt, delivered an accurate first pitch, twirled around, flashed a broad smile and hugged her younger brother, Billy.
If it looked like Abbey and Billy Burns had done this routine before, well, that's because they have. The tradition started when Billy played at Mercer University, and ever since then, at nearly every stop of his baseball career, Abbey has thrown out the first pitch.
Friday marked the first time she did so at a Major League stadium. Abbey, who has special needs and is five and a half years older than Billy, is an accomplished athlete herself. She'll compete at the INAS Global Games in Quito, Ecuador, next month as a swimmer.
"It's as big a deal for her as Billy going to the World Series," their mother, Terry Burns, said of the Games. "It's pretty fantastic."
Watching her daughter throw out a first pitch is special every single time for Terry Burns, but one particular pitch stands out as her favorite.
Billy played for the Harwich Mariners in the Cape Cod Baseball League in the summer of 2011. Right before Abbey was about to go throw her pitch, a voice boomed from the loudspeaker and introduced her: "Abbey Burns, of the Burns family, competes in Special Olympics."
"As soon as they said Special Olympics, the clapping started," Terry Burns said, "and it went like a wave through the stadium and then the people started standing. To me that was a very touching moment."
For Billy, having Abbey throw out the first pitch is a chance for them to spend some time together. He consistently reminds her to keep her arm loose the week leading up to the pitch.
Burns catches every time, and he loves seeing Abbey's face light up. It never gets old.
"It makes her world just to be out there," Billy Burns said.
"It gives her a little bit of the celebrity status that her brother's always had," Terry Burns said. "She warms up beforehand. She wants to throw an accurate pitch. She's thrilled to death when the coaches come over and say, 'Wow, that's better than the pitcher.'"
Billy and Abbey have been close since a young age. Abbey said their bond strengthened when their older brother, Bobby, went to Iraq.
They used to swim together as kids, and eventually Terry Burns realized her daughter had a knack for swimming.
Abbey started competing in Special Olympics five years ago through the community for disabled adults where she lives. Three years later, the Burns family got a call from a local coach who was forming a team for athletes with disabilities near where they live in Marietta, Georgia.
He wanted Abbey to join the team.
Now she swims two hours about three times a week, and the training is intense. Bungee cords, shoes in the water, the whole deal.
Her specialty is the butterfly, a stroke most people struggle to master. Abbey has set S14 US Paralympic American records in a variety of strokes.
"It's really exciting because I've been swimming since I was 4," Abbey said. "I never expected to get to this level."
Though Billy will be with the A's while she's competing in Ecuador, he'll be sure to check in for updates from his big sister whenever possible, just like he always does.
He's seen the work she puts in first hand. Much like he thrives to excel at baseball, she works tirelessly to flourish in the water.
"Billy is a huge promoter of her," Terry Burns said. "He doesn't downsize what she's doing. He encourages it."
There's a running joke in the Burns family about who the best athlete in the family is. Billy gives Abbey the title, but Abbey sums it up best.
"I can swim better than he can, but I can't run as fast as he can," Abbey Burns said. "It kind of equals out."
Trevor Hass is an associate reporter for MLB.com. This story was not subject to the approval of Major League Baseball or its clubs.