Morrow leaning toward surgery on shoulder
Padres pitcher would require three to four months recovery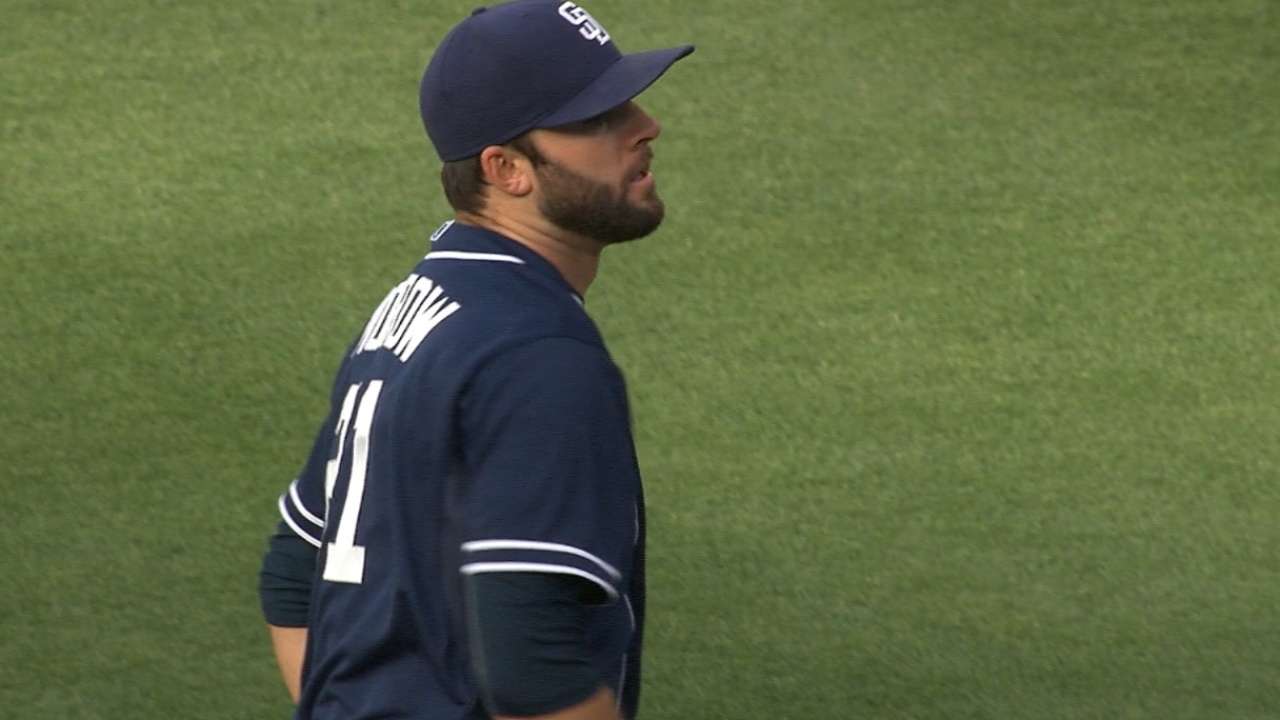 SAN DIEGO -- Brandon Morrow was to meet with team physician Dr. Heinz Hoenecke before Friday's game against the Phillies, but said, although nothing was finalized, he was leaning toward having surgery on his right shoulder, which was diagnosed with an impingement.
On Thursday, assistant general manager Fred Uhlman Jr. said that Morrow's options included rehab or having an arthroscopic surgery, which would require a three-to-four month recovery.
"The way things are going I think [surgery is] probably the best course of action right now to have the cleanup done, just get it so it's feeling good in the future," Morrow said.
Morrow, who hasn't pitched in a game since May 2, had two setbacks during separate Minor League rehabilitation stints. The first occurred on June 7 during a start with Double-A San Antonio and the second on July 25 with Triple-A El Paso. Each time, Morrow experienced discomfort in his shoulder.
Before Morrow's second rehab stint, he said he felt that there was "a light at the end of the tunnel." The 31-year-old said he felt good during his last rehab start and pitched 90 to 95 mph the whole time. He added that he had normal soreness in his arm after the start, but then felt pain a few days later.
"I had some optimism at the time," Morrow said. "Obviously frustrated to not be able to come back from this one, I thought I was feeling good. When it keeps coming back the same every time, you kind of decide that there is a problem."
tIn November Morrow signed a one-year deal for $2.5 million with the possibility of earning $5 million in incentives. The right-hander was 2-0 with a 2.73 ERA in five starts before going on the disabled list in late May with right-shoulder inflammation.
Morrow said there are frayed tissues in his shoulder that irritate and inflame when they are pinched together, causing him discomfort.
"The good news is that it's just a clean up and it's going to be really conservative. A lot of people have had the surgery and come back just fine," Morrow said. "I feel like it is one of those things where you just have to clean up because it just keeps coming back the same."
Morrow said if he were to get the surgery that there is plenty of time from him to be ready for Spring Training. He'd go 12 weeks without throwing and then start a throwing a program.
"I would like to be able to come back and pitch, obviously, but it's nice to think that you wouldn't have any recurring incidents of it and going forward you won't have any more soreness or the same thing happening again," Morrow said. "I think in the long run it will be good. Obviously disappointing and frustrating right now."
Worth noting
• Assistant general manager Josh Stein said that Wil Myers has made good progress on his wrist injury and could start swinging by the end of the weekend. Myers has played in just three games since May 10. He has surgery on June 18 to remove a bone spur in his wrist.
• Cory Spangenberg, who went on the DL on June 28 with a left-knee contusion, played three games with Double-A San Antonio, had Thursday off and was to play again Friday. Stein said he is progressing well and has received positive reports on his ability to move, but there is no specific timetable for his return.
"It's a matter of getting comfortable and getting good at-bats," Stein said "He isn't playing with it in his mind, which is important."
Beth Maiman is an associate reporter for MLB.com. This story was not subject to the approval of Major League Baseball or its clubs.