Trout reflects on 24th birthday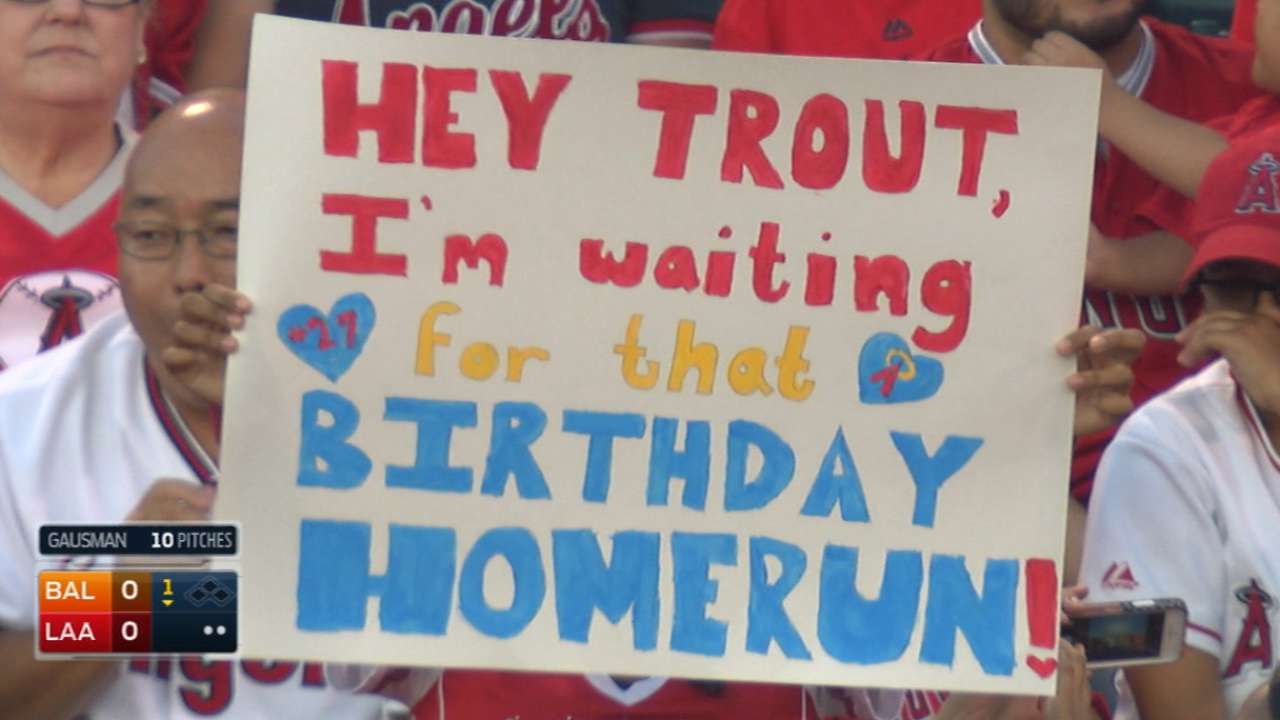 ANAHEIM -- Mike Trout's birthday has become somewhat of a baseball holiday, at least on social media. For the last handful of years, Aug. 7 has evolved into an Internet-wide celebration of all things Trout; a time to look at everything he has accomplished and how much time remains to attain so much more.
Trout, who homered in the first inning -- the third time he's gone deep on his birthday -- to spark an 8-4 win over the Orioles, sees it differently.
"All I can say is that it's gone so quick," the Angels' center fielder, and newly minted 24-year-old, said Friday. "I feel like I just came up here, and now I'm 24. It's been such a fun time up here so far, and it's only going to get better."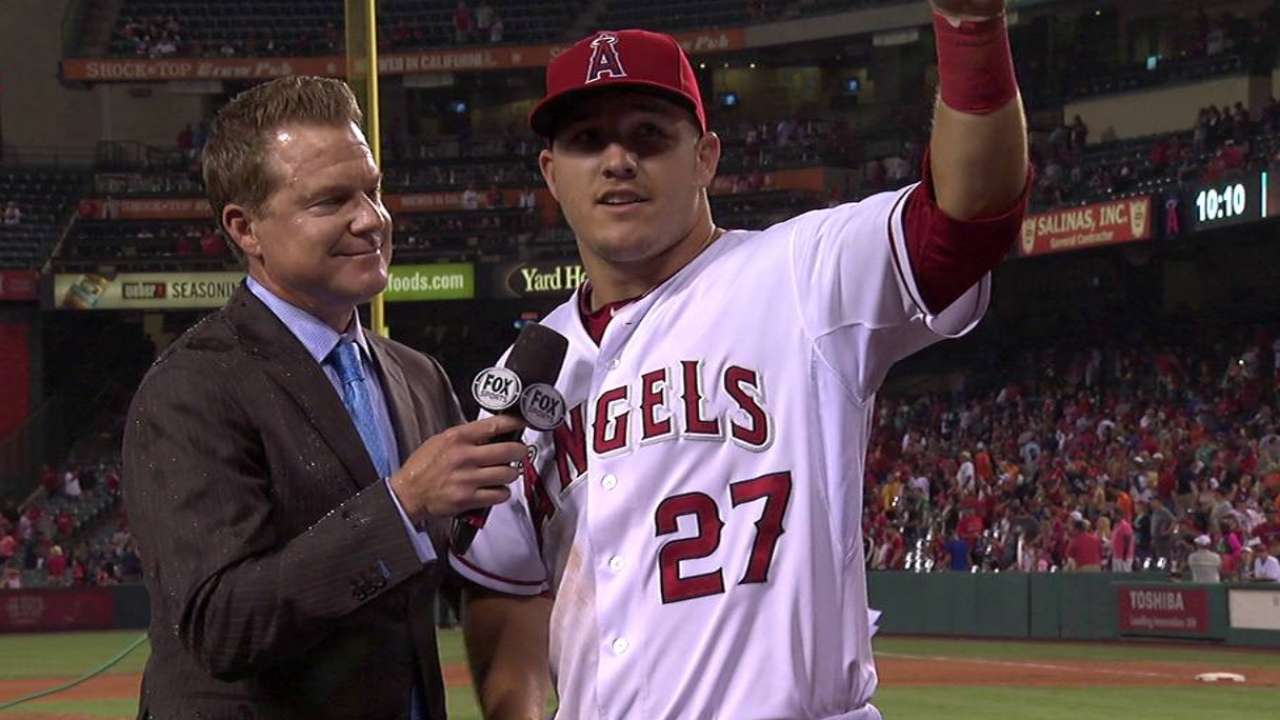 That's the expectation, because Trout has never provided a reason to believe otherwise.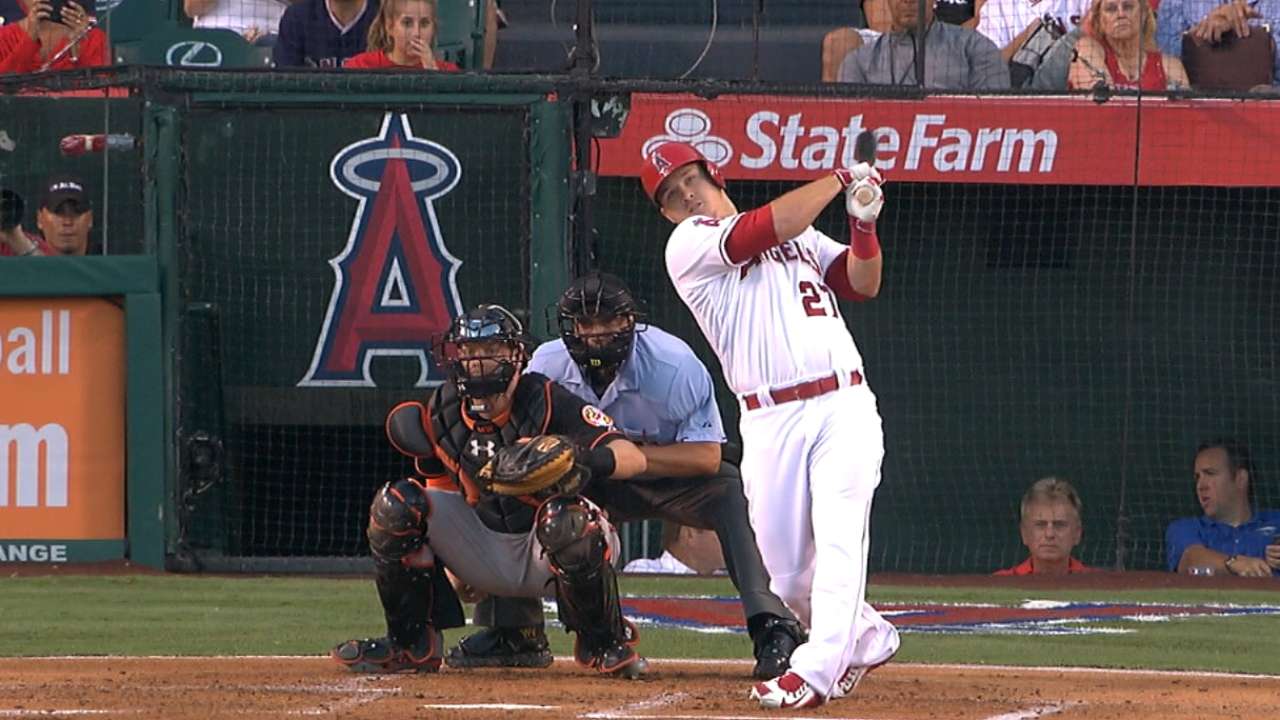 Before the age of 24, Trout won the American League Rookie of the Year Award and the AL Most Valuable Player Award, both unanimously. He went to four All-Star Games, was the first player to be named MVP of the Midsummer Classic in back-to-back years and is expected to finish the season with his fourth Silver Slugger Award.
• Stacking Trout up against some all-time greats
• Trout renews tradition with 3rd birthday homer
Here's a look at where Trout's raw numbers rank through age 23:
• His 130 home runs are tied with Frank Robinson for fourth all-time, trailing only Eddie Mathews (153), Mel Ott (153) and Ken Griffey Jr. (132).
• His 288 extra-base hits rank sixth, behind only Ott (342), Griffey (317), Ted Williams (300), Alex Rodriguez (293) and Jimmie Foxx (290).
• He's one of four players to amass 100-plus steals and 1,250-plus total bases, along with Ty Cobb, Cesar Cedeno and Rodriguez.
• He's one of seven players since 1920 -- when the RBI became an official stat -- with 375-plus RBIs and 425-plus runs scored, joining Ott, Foxx, Williams, Mickey Mantle, Rodriguez and Al Kaline.
"It makes you feel good when you're put in the same sentence as those guys, Hall of Fame guys, guys who in the past have produced and put up great numbers," Trout said. "It's special."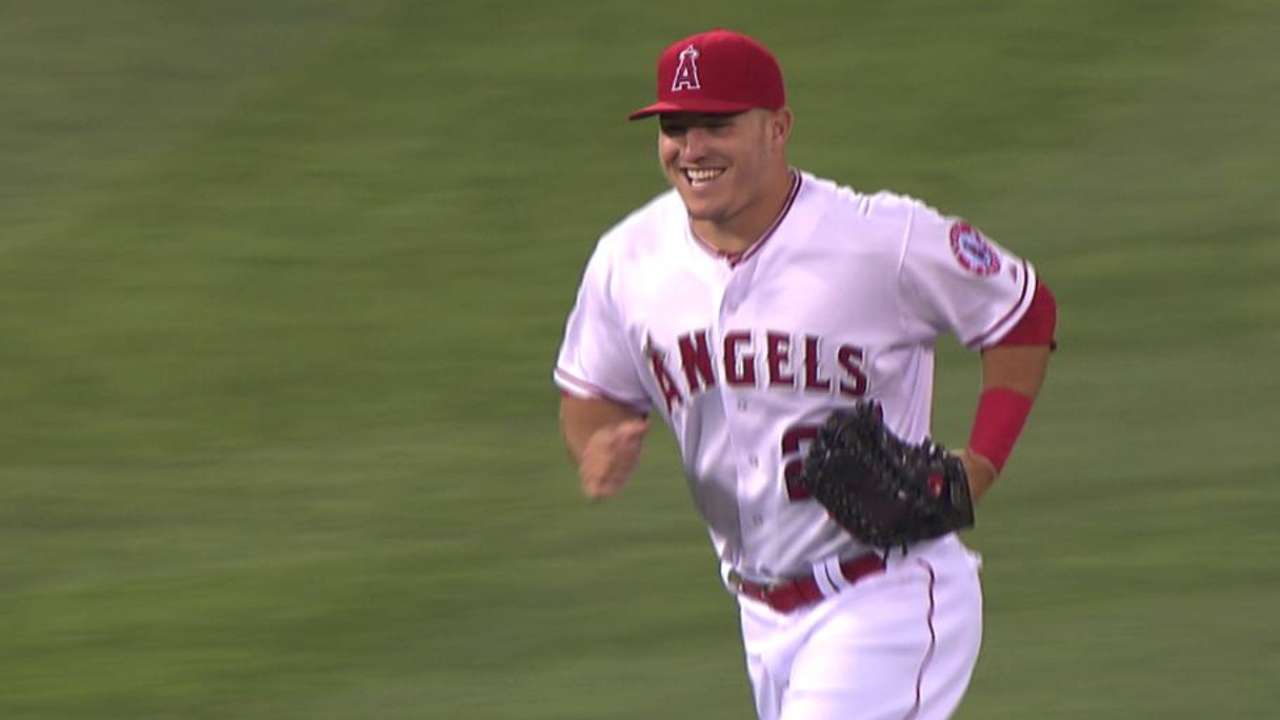 But Trout is doing some unprecedented stuff, too.
By the end of the year, his career Wins Above Replacement (WAR) score, according to Baseball Reference's metric, will likely be the highest in history through a player's age-23 season. It's currently 34.8, second all-time and just shy of Cobb (36.0).
Trout entered Friday leading the AL in WAR (6.6) and adjusted OPS (183), while batting .303 with a Major League-leading 32 home runs, 68 RBIs and 10 steals. If he doesn't win his second straight AL MVP, he'll probably still finish within the top two in voting for the fourth time in his fourth season in the big leagues.
Nobody has ever done that.
"The expectations keep rising," Angels manager Mike Scioscia said, "and he seems to keep meeting them."
Trout's family will meet him in Chicago next week to celebrate his birthday. His favorite gifts were a trailer for his pickup truck and one of those hands-free, motorized scooters, courtesy of his girlfriend, which he probably won't ride because "I'll probably get hurt on it."
Albert Pujols celebrated Trout's birthday by showering him in baby powder and cracking an egg atop his head, a Dominican tradition.
"I'm superstitious," Trout said, "so if I get some hits tonight, I'm probably going to ask him to do it tomorrow."
Happy Birthday Kid! #DominicanStyle @MikeTrout @PujolsFive pic.twitter.com/7aaCCxmw4q

— Kole Calhoun (@KoleCalhoun) August 7, 2015
Trout has hit for the cycle, belted three grand slams, notched three walk-off homers and robbed countless others. He has his own signature shoe from Nike and a life-sized bobblehead courtesy of the Angels. He's graced magazine covers, been all over the Subway and BodyArmor commercials and has never once made a big deal about any of it.
He is the face of baseball, the game's best all-around player -- and only now did he turn 24.
"It's just been so fun," Trout said. "It's gone by so quick. I'm just trying to enjoy every minute of it."
Alden Gonzalez is a reporter for MLB.com. Read his blog, Gonzo and "The Show", follow him on Twitter @Alden_Gonzalez and listen to his podcast. This story was not subject to the approval of Major League Baseball or its clubs.