Moyer reflects on career ahead of HOF induction
'I know in my heart that I gave it my all,' he says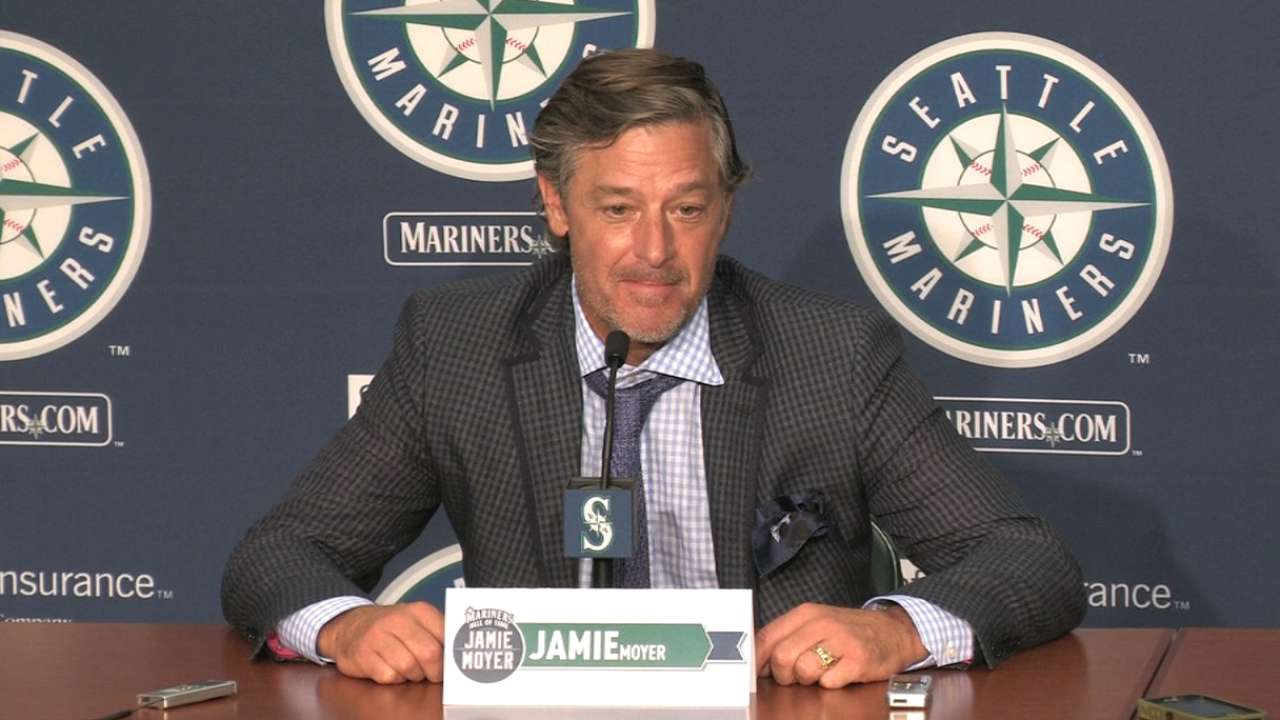 SEATTLE -- Jamie Moyer says he's officially retired now at 52, which is good to know since he's being inducted into the Mariners Hall of Fame on Saturday. But then again, he notes how he got on the mound and threw to hitters at a fundraising event for the Moyer Foundation on Thursday at the Paramount Theatre and, well …
"If I didn't have an ankle surgery [last year], I might try it," said Moyer, who last pitched in the Majors at age 49 for the Rockies. "I threw a little BP in the cage. The problem is doing it five days later and then five days after that. I could do it once. It's the rest of it. But I love it. I was dog tired, but I didn't want to get off the mound. I've thrown a couple times at home [in San Diego] a little bit and I love it. It's my safe haven."
Photos: Jamie Moyer Mariners Hall of Fame Luncheon
Moyer was back at another familiar place Friday afternoon, being honored at a Safeco Field luncheon prior to Saturday's induction. Though his hair is starting to turn gray, he still carries the same passion that pushed him to one of the most unexpected and fascinating success stories in Major League history.
"It was only 45-55 feet in a cage," he said of his informal batting practice session. "I felt like I was throwing 100 [mph], but I know I wasn't. But it was fun. Seeing hitters swing the bat and throwing ... my arm felt great when I got up today, it's my back and my right hamstring. If I was playing, we'd be having this conversation: 'So why are you on the DL again?' 'Well, I'm old.' But I love it. It's fun."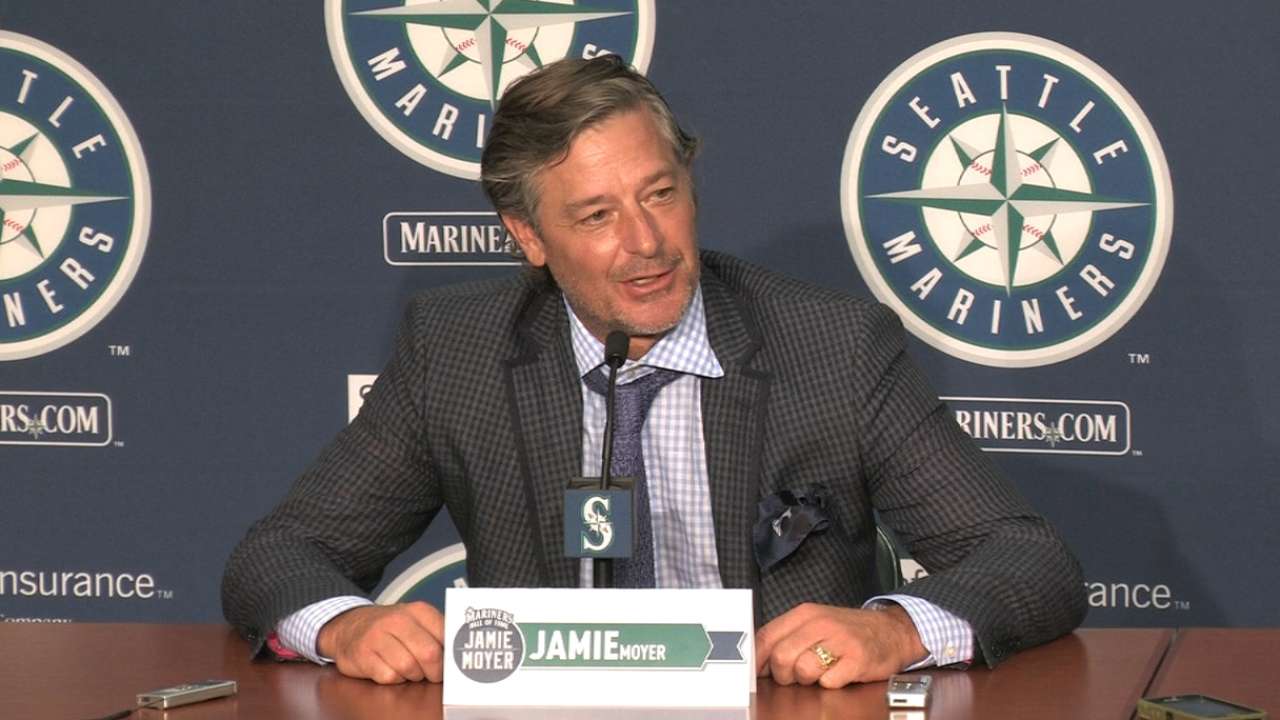 Saturday's ceremony will begin at 12:30 p.m. PT, and can be seen live on Mariners.com. He will become the ninth member of the Mariners Hall of Fame, joining Alvin Davis, Jay Buhner, Edgar Martinez, Dan Wilson, Randy Johnson, Ken Griffey Jr., Lou Piniella and Dave Niehaus.
Most of that group was in attendance at Friday's lunch. Niehaus, who passed away in November 2010, was represented by his wife, Marilyn. The only member not in attendance this weekend is Johnson, who was just inducted into the National Baseball Hall of Fame and is having his number retired Saturday in a ceremony by the Arizona Diamondbacks.
Moyer, whose 145 wins as a Mariner are still seven ahead of Felix Hernandez for most in franchise history, said he was honored to join the exclusive club and paid tribute to all the teammates, coaches and Mariners employees who were part of his 11 seasons in Seattle from 1996-2006.
"We lived here a long time, played here a long time," he said. "I get back here fairly often and when I fly in, the memories start. Driving by the ballpark, it just magnifies. And when you get here and start seeing old teammates, employees, grounds crew, for me, that's real life. Those are the people that are why I'm here today."
Wilson, his catcher through most of his 11 years in Seattle, said Moyer's ability to change speeds and locate his pitches made him special, along with the uncanny preparation that led him to keep notes on every hitter he ever faced in a notebook he carried everywhere.
Wilson recalled one game when the opposing team started a rookie that neither he nor Moyer were familiar with.
"We asked around and nobody knew anything," Wilson said. "And Jamie said, 'I think I played against his dad. Maybe that's a good place to start.'"
Along with the endless jokes about his age and lack of speed on his fastball, Moyer earned the highest respect of those he played with and against in his two and a half decades in the Majors.
Piniella called him "a thinking man's pitcher" and noted "I kiddingly and lovingly called him Coach Moyer" because of his knowledge of the game.
"What he accomplished here in Seattle was simply amazing," Piniella said.
"He was the ultimate teammate, the ultimate pitcher," said Buhner.
Moyer joins Johnson as the only pitchers in the Mariners Hall of Fame and the two couldn't be more opposite in style, though both had a similar will to win. Moyer noted his drive came from within.
"Not getting drafted out of high school lit a fire that burned in me for 30 years," he said. "But 269 wins later, I know in my heart that I gave it my all."
Greg Johns is a reporter for MLB.com. Follow him on Twitter @GregJohnsMLB, read his Mariners Musings blog, and listen to his podcast. This story was not subject to the approval of Major League Baseball or its clubs.