Defense steps up, supports Lester in victory
Russell, Herrera make big plays as Cubs go with unusual alignment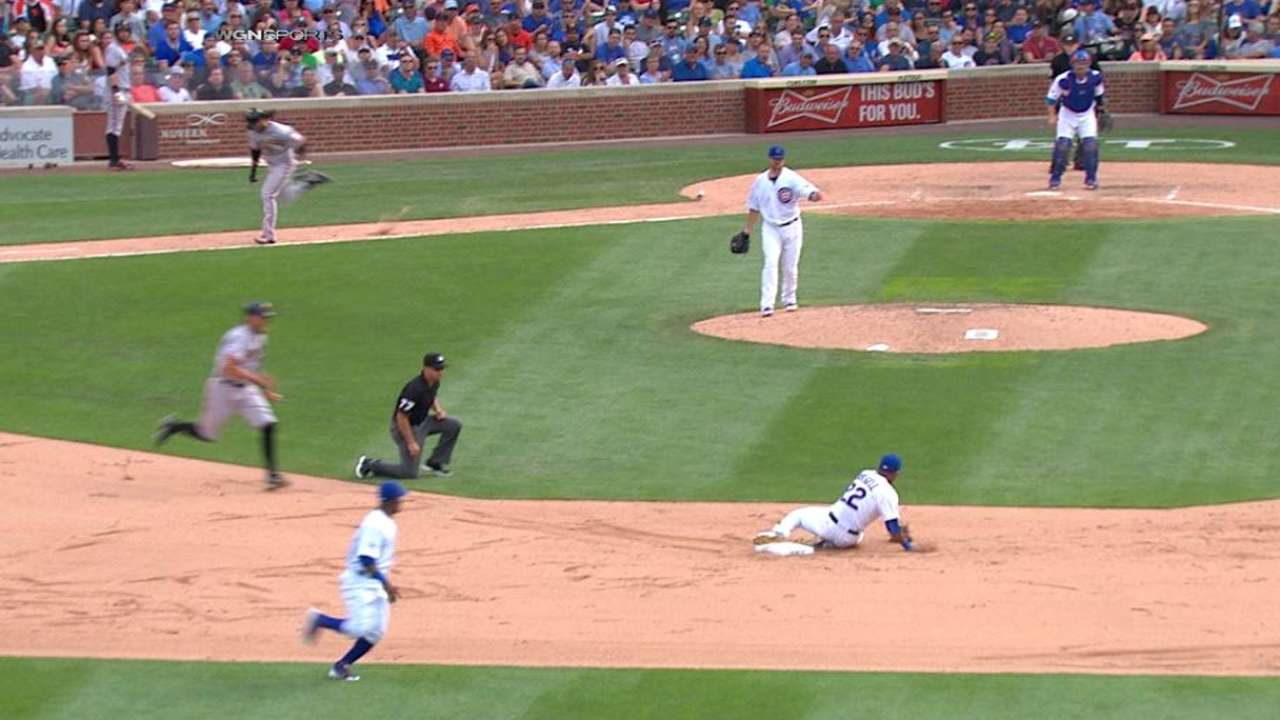 CHICAGO -- If you're following along at home, the Cubs' starting defensive alignment on Friday featured a catcher in left field, a left fielder at second base and a second baseman at shortstop.
But it's OK if you didn't notice, given the way the defense performed in Chicago's 7-3 victory over the Giants. The Cubs not only bailed out starter Jon Lester as he induced routine ground balls, but they also turned highlight-worthy plays.
"You can't overlook any of that," said manager Joe Maddon. "All of those things contributed to the win this afternoon."
Maddon moved Kyle Schwarber to left field, Chris Coghlan to second base and Addison Russell to shortstop for the day. It was Russell, though, who highlighted the day by playing like an experienced veteran instead of a rookie.
Drafted as a shortstop, Russell as seen time on the other side of second occasionally this year, but he was forced to learn his position at second base on the fly once called up in April. Still, Russell was there to catch Brandon Crawford stealing in the second inning. As catcher David Ross' throw to the base went wide, Russell extended his arm and twisted his body to tag Crawford's shoulder.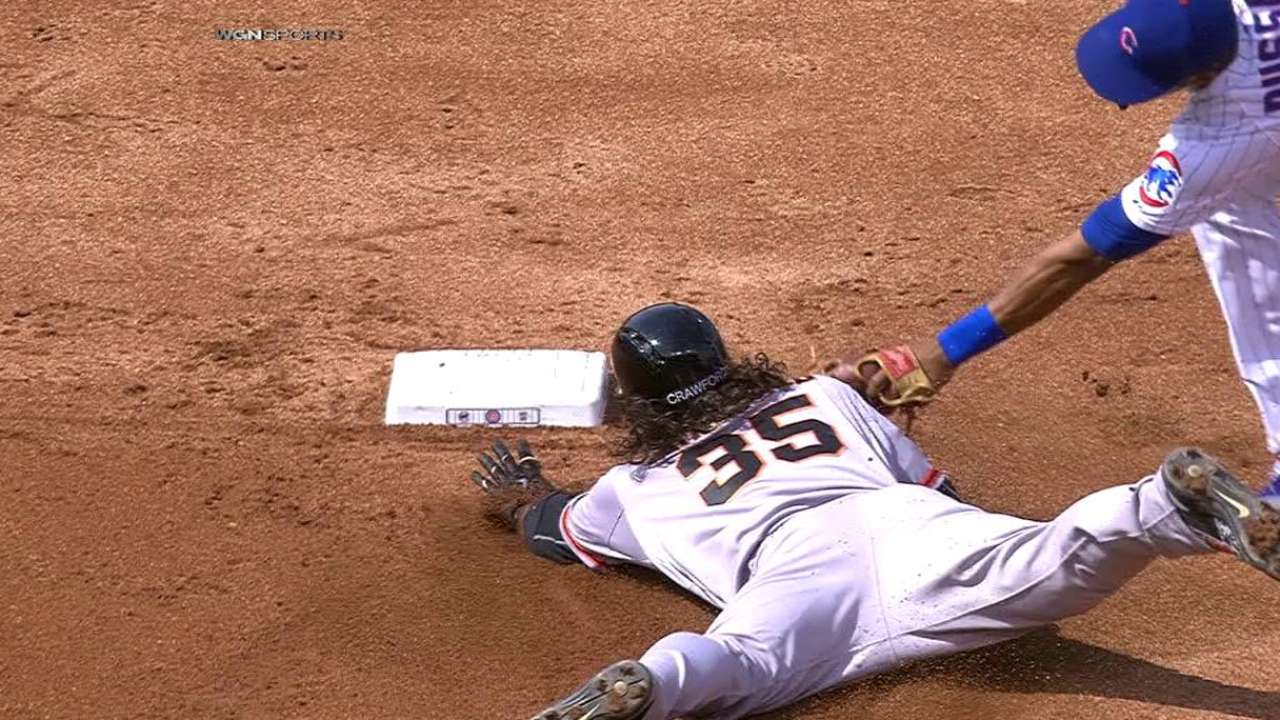 "I think having him at second base, you don't really get to see his athleticism," Lester said. "It's a little bit easier position, but today it was unbelievable the stuff he was able to do out there."
And in the seventh inning, Russell was there to pick Lester's throw to second out of the dirt with a slide, seamlessly popping back up to get the double play at first base.
"He did his thing," Coghlan said. "He's a very athletic, exciting kid. I've been really impressed with how he's handled some of his struggles offensively and come into his own. He's playing at a high level and his confidence is high as well."
Coghlan himself didn't turn any heads, but he also didn't make any errors. He handled ground balls in the second and third inning as if he had many times.
"Give Coghlan a lot of credit for taking the work to be ready to go out there and not blanch, whatsoever," Maddon said. "He said, 'I'm fine, I can do this.' It's kind of nice when you ask somebody that and they come back with that kind of response."
Jonathan Herrera replaced Coghlan at second late in the game, stepping up to throw out the Giants' Kelby Tomlinson at first on a bang-bang play in eighth inning.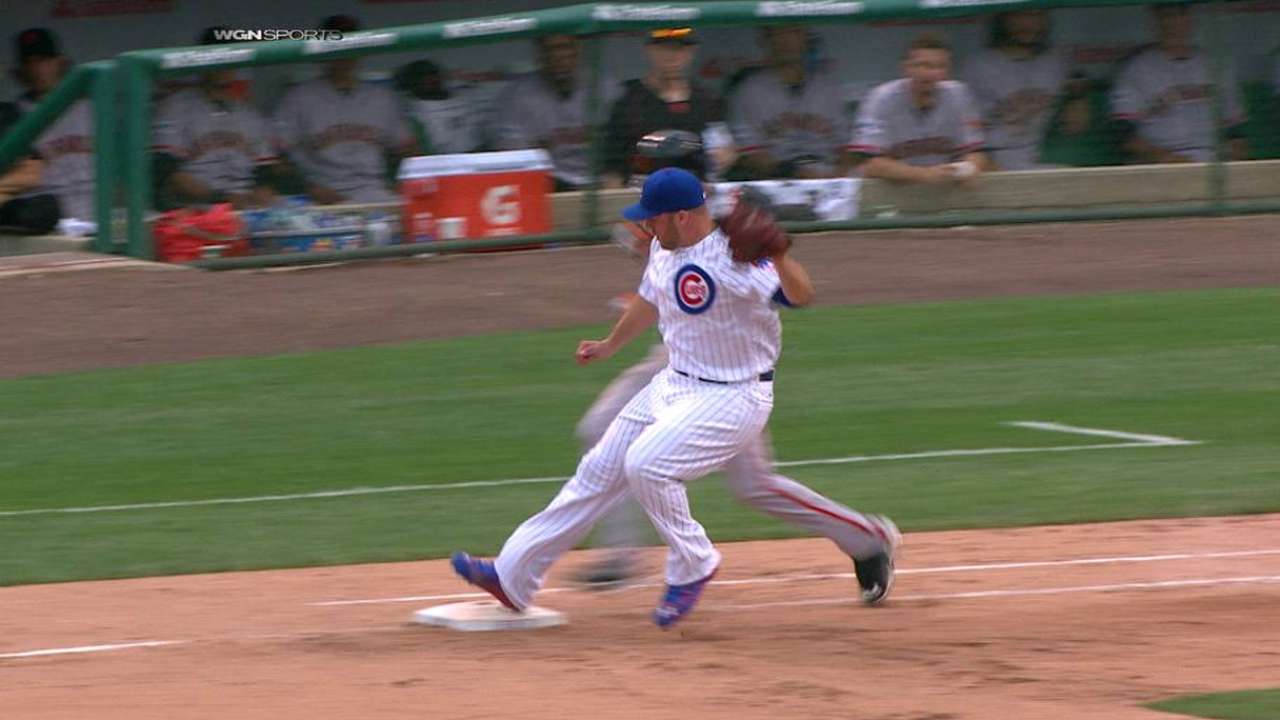 Schwarber, like Coghlan, won't appear in the highlights, but he too didn't falter in his action. It was the third game the rookie saw action in the outfield this season.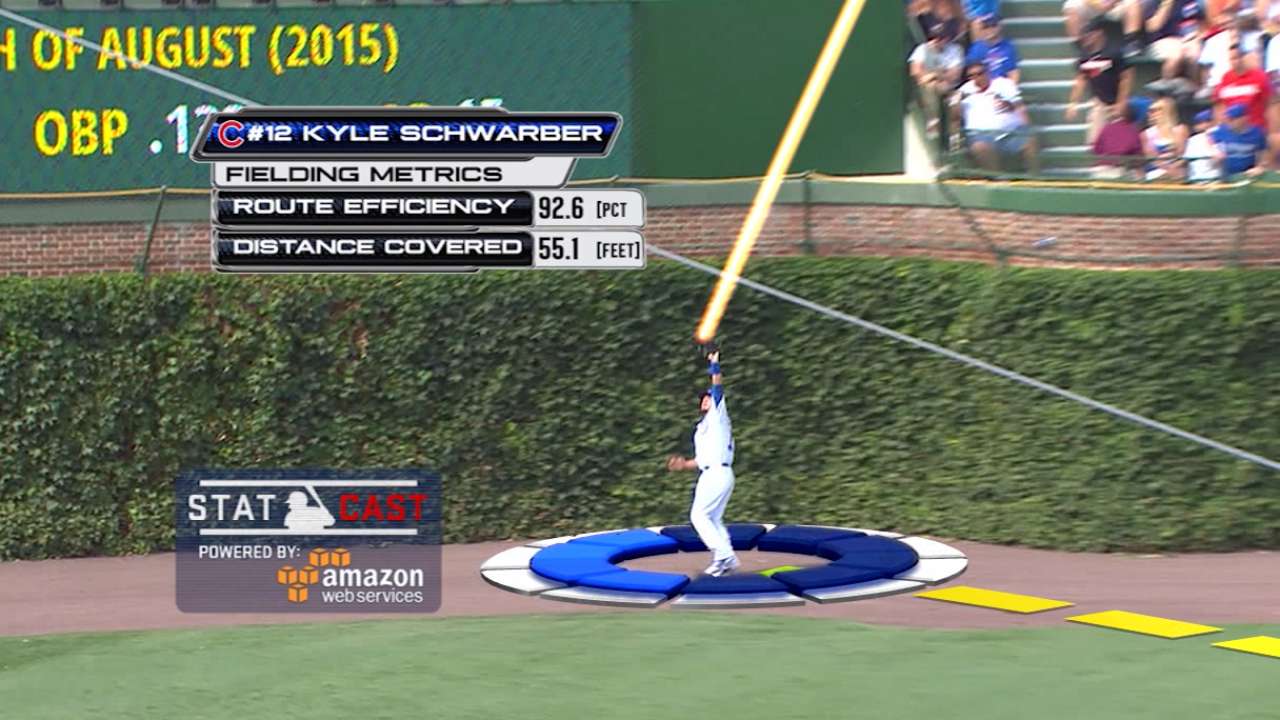 "He's not had a ton of work, but you have to give him credit," Maddon said.
Greg Garno is an associate reporter for MLB.com. This story was not subject to the approval of Major League Baseball or its clubs.