Alvarez's pinch-hit walk-off single lifts Pirates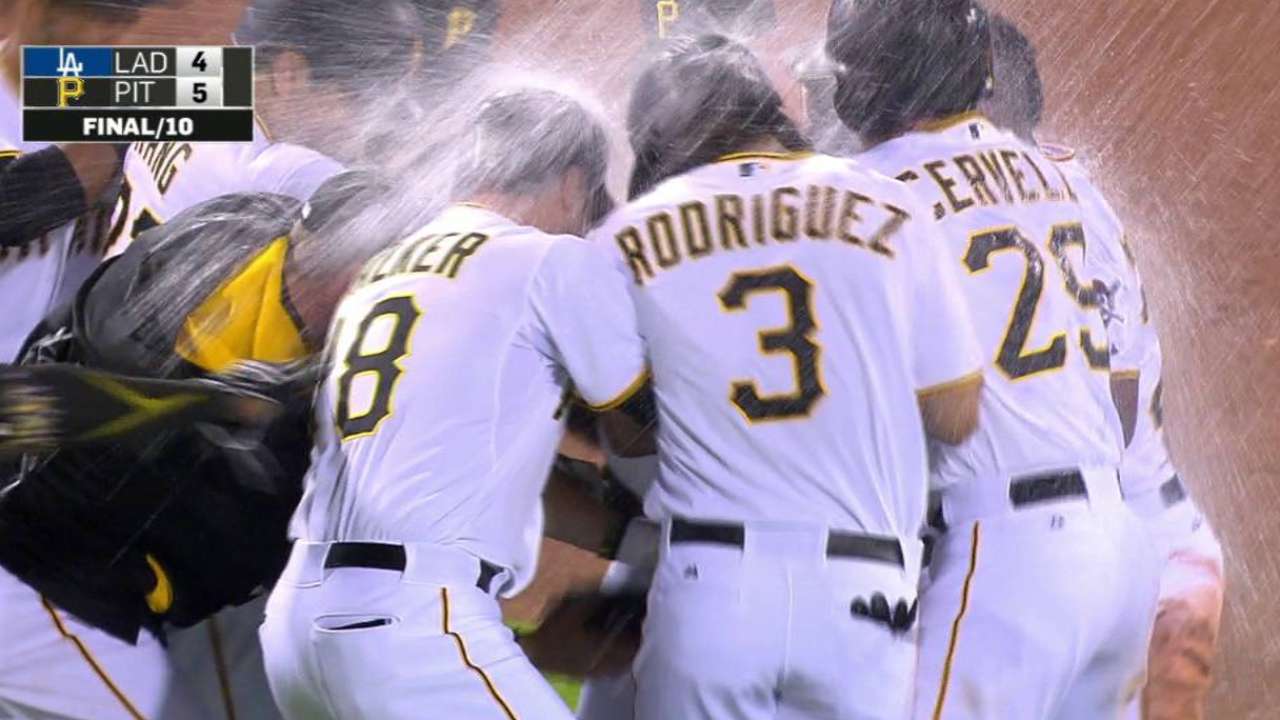 PITTSBURGH -- The much-anticipated pitchers' duel between Clayton Kershaw and Gerrit Cole on Friday night may not have lived up to the expectations, but Pedro Alvarez provided a thrilling finish. Alvarez ripped a pinch-hit, bases-loaded, walk-off single to right field off Dodgers left-hander J.P. Howell, leading the Pirates to a 5-4 win in 10 innings at PNC Park.
"Sometimes it turns out that way. Everybody outside the playing field's got expectations, then those guys have got to go out and pitch," Pirates manager Clint Hurdle said. "It turned into a pretty good old-fashioned ballgame, though."
Kershaw's 37-inning scoreless streak immediately came to an end, as Pirates leadoff man Gregory Polanco launched the first pitch he saw into the right-center-field seats. The reigning National League MVP allowed four runs on nine hits -- both his second-highest totals of the season -- over six innings.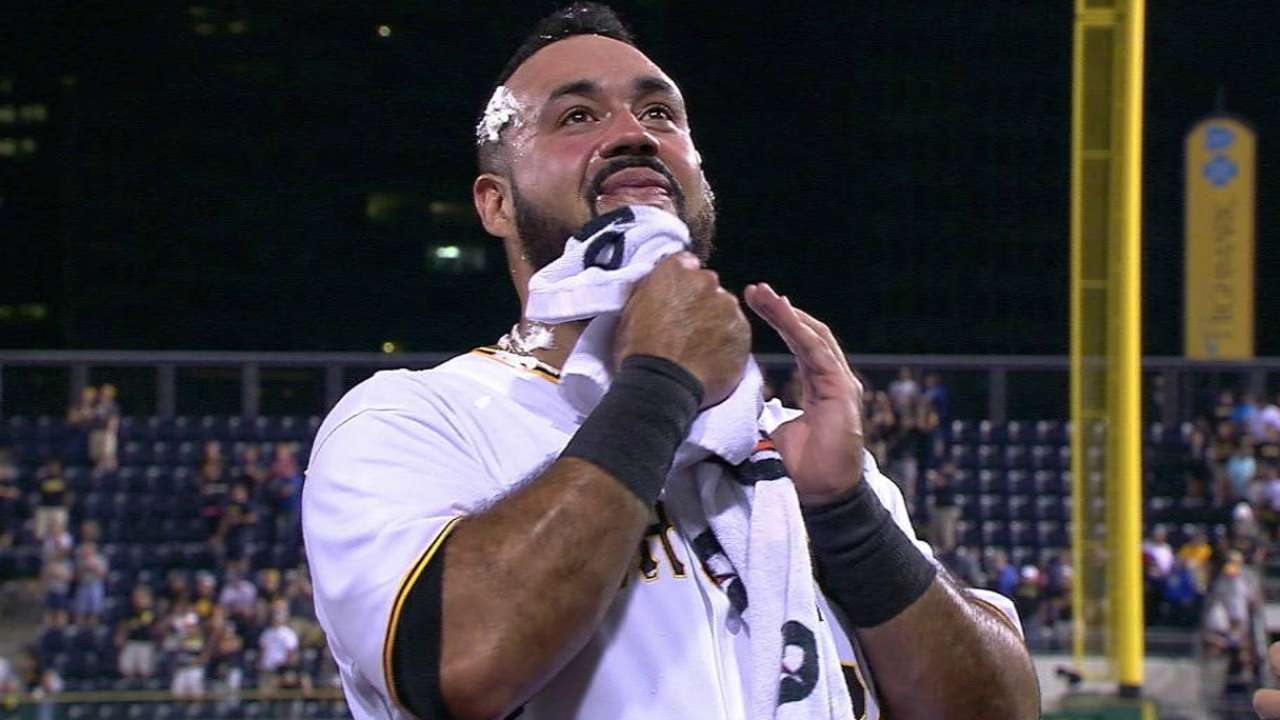 "Obviously, Clayton wasn't quite as sharp as normal, but still pretty good," said Dodgers manager Don Mattingly. "Give those guys credit over there, they came to play."
Cole lasted six innings without his usually sharp command. The 24-year-old right-hander allowed three runs on four hits, three walks and a hit batter before handing over the game to the Bucs' bullpen with a one-run lead. Jimmy Rollins hit an RBI double off reliever Joakim Soria in the seventh, tying the game and spoiling Cole's shot at his Major League-leading 15th win.
"It was a cool atmosphere tonight. Unfortunately, I just wasn't that good," Cole said. "It wasn't pretty. It wasn't the way you draw it up. But a win's a win."
MOMENTS THAT MATTERED
Hot Coffee: Before the game, Hurdle admitted he might not have started Polanco in the leadoff spot against an ace left-hander like Kershaw earlier this season. But Polanco quickly showed how far he's come in that time, going deep to right-center on the first pitch of the game, his second straight game with a leadoff homer. Polanco has reached base safely in 24 of his last 26 games.
"That happened in a hurry," Hurdle said. "I'm not even sure that was a mistake, but Polanco got a ball that he was geared up for and got to it with the barrel with a very strong swing." More >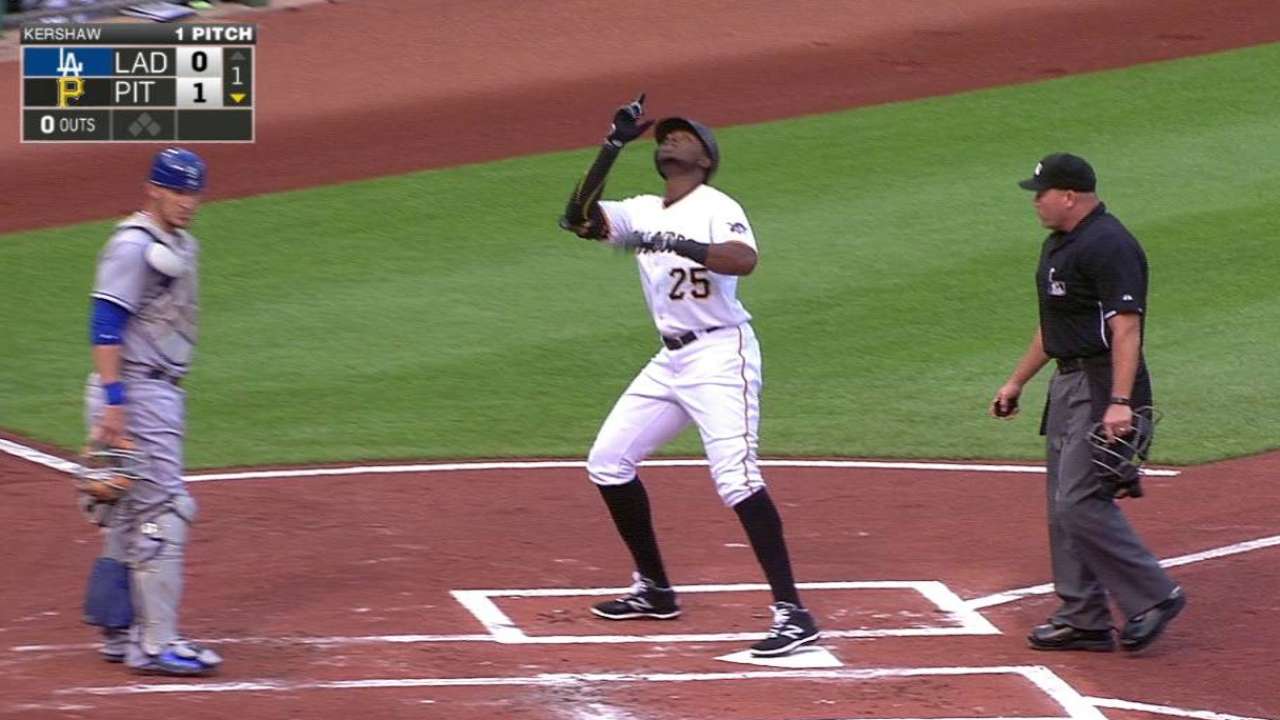 Heads-up running: Rollins hustled the Dodgers into a second run in the third inning. With two outs and Joc Pederson on third base, Rollins walked, stole second and scored from there on Howie Kendrick's two-run infield single when Aramis Ramirez, who dove to make the stop at third, pulled first baseman Michael Morse off the bag with his throw. More >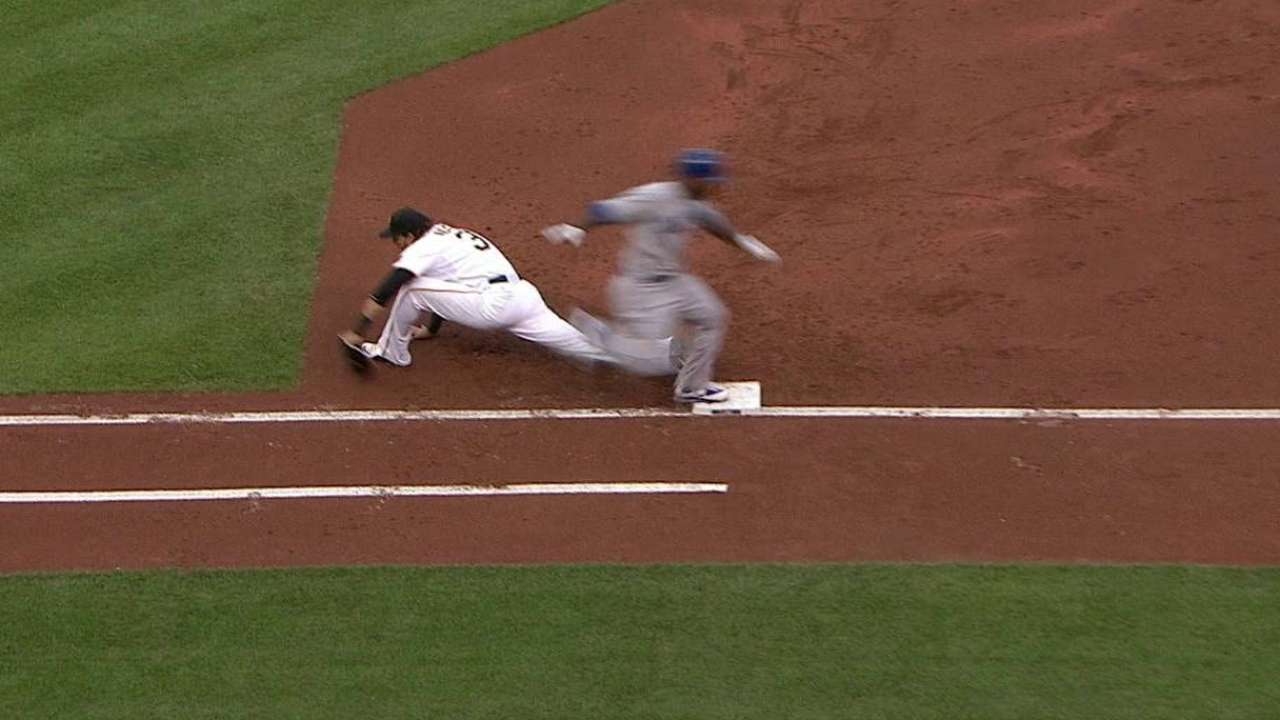 Heads-up fielding: With Chris Stewart on first base and one out, Polanco singled to right fielder Yasiel Puig, whose quick retrieval and throw held Stewart at second. Rollins cut the throw and threw behind Polanco, who was nailed trying to dive back into first base after a wide turn.
"That was a nice play there, cutting the backside runner down," said Mattingly. "Yasiel made a nice play on that throw, keeping the ball down and allowing us to do that."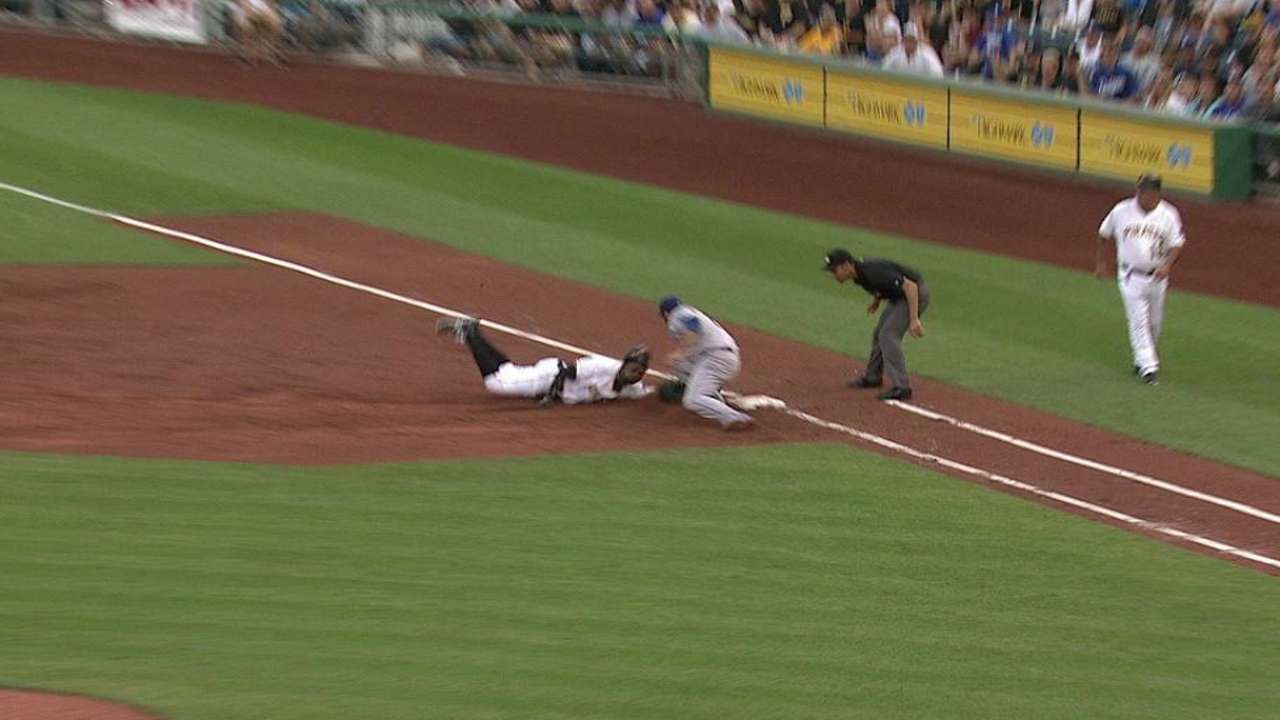 Patience pays off: The Pirates loaded the bases with three straight singles off Kershaw to begin the fourth inning. Two outs later, Pittsburgh nearly let its best scoring chance of the night go to waste. But Stewart took three straight balls, two more low pitches that were called strikes and eventually ball four to walk in a run and tie the game. More >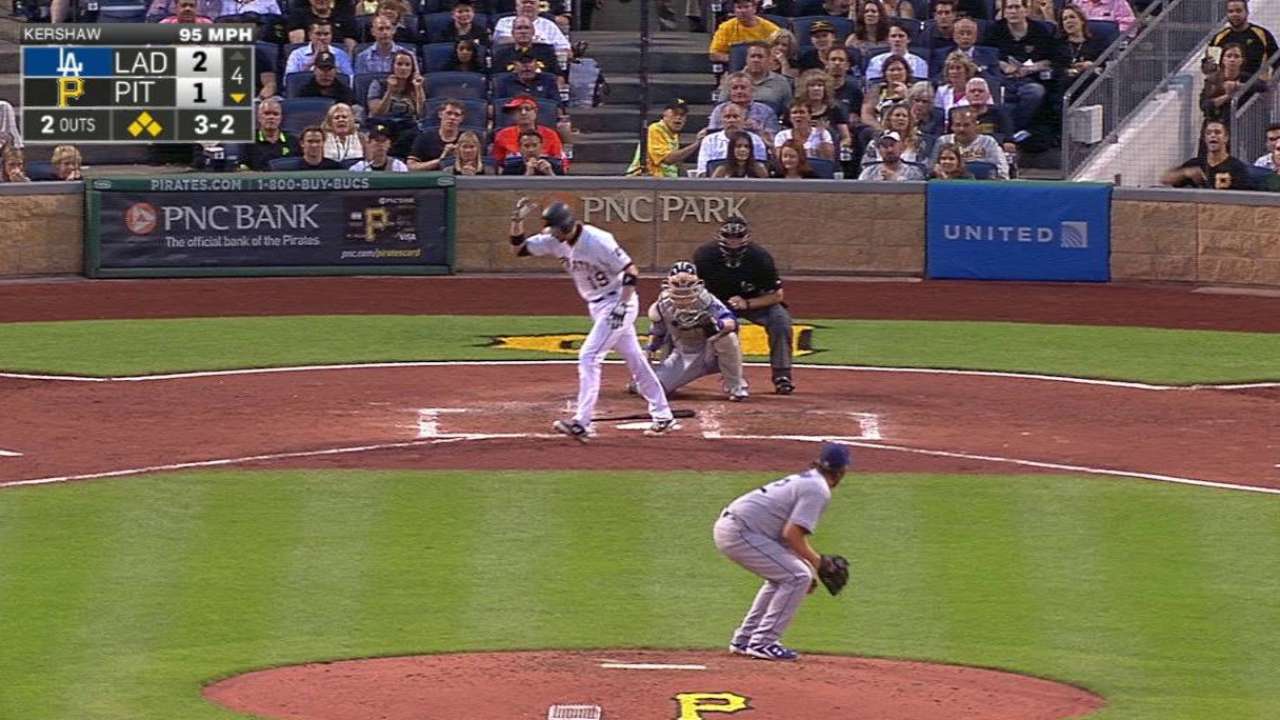 QUOTABLE
"You try not to pay too much attention to the hype before the game, because you never know what's going to happen. You could get a night like tonight." -- Cole, on the anticipated pitching matchup with Kershaw
SOUND SMART WITH YOUR FRIENDS
The All-Star pitching matchup drew a crowd of 39,404 fans to PNC Park, the Pirates' 16th sellout and their second-largest crowd of the season behind their home opener. It also continued the Bucs' trend of thriving in front of a packed house, as they improved to 13-3 in front of sold-out home crowds this season.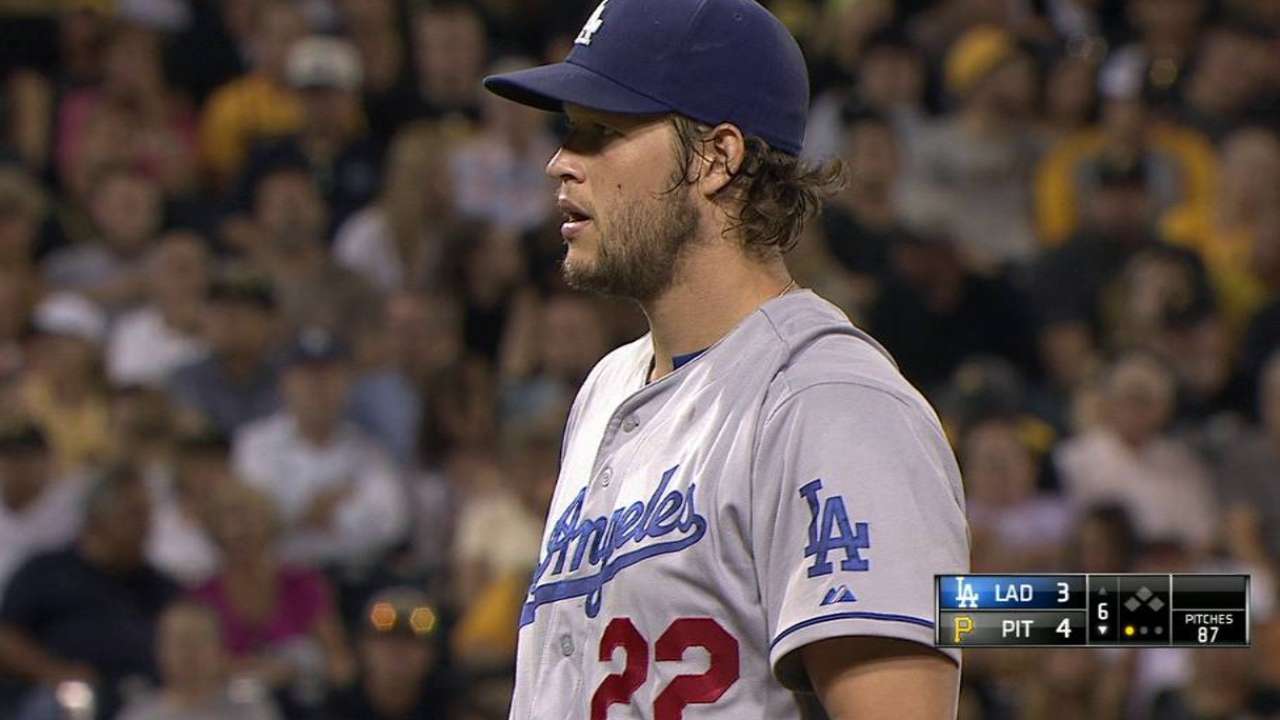 WHAT'S NEXT
Dodgers: Mat Latos makes his second start for the Dodgers in a 1:05 p.m. PT start on Saturday. He hasn't faced Pittsburgh this year, but he's 5-1 with a 3.13 ERA over his career against the Pirates and unbeaten (3-0) in six starts at PNC Park.
Pirates: Left-hander Francisco Liriano will return to the mound for the Pirates at 4:05 p.m. ET on Saturday at PNC Park. Liriano's last scheduled start was washed away by rain after just two innings Monday night. The lefty is unbeaten with a 1.37 ERA in three career starts against the Dodgers.
Watch every out-of-market regular season game live on MLB.TV.
Adam Berry is a reporter for MLB.com. Follow him on Twitter at href="http://www.twitter.com/adamdberry"@adamdberry. Ken Gurnick is a reporter for MLB.com. Listen to his podcast. This story was not subject to the approval of Major League Baseball or its clubs.