MLB.com Columnist
Phil Rogers
Lineup realignment significant for Cubs
Schwarber's emergence forces three-time All-Star Castro to the bench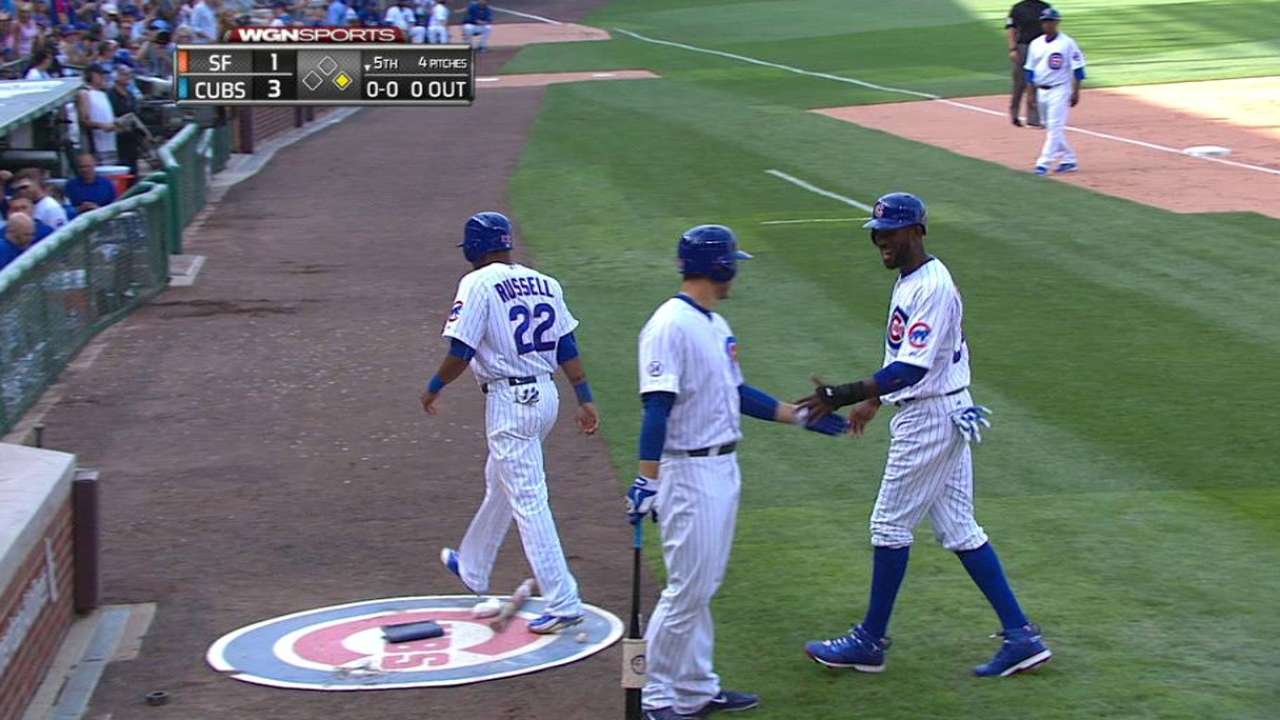 CHICAGO -- Now it's time to get serious.
That's the message that manager Joe Maddon and president of baseball operations Theo Epstein sent to the Cubs on Friday afternoon, when they fielded a lineup that included four left-handed hitters (no, we're not counting Jon Lester) and, most noticeably, no Starlin Castro, the three-time All-Star shortstop.
Kyle Schwarber, who is likely to shift to left field as his primary position with Miguel Montero activated from the disabled list, and Chris Coghlan, moved from left to second base Friday, both made major contributions as the Cubs beat the Giants, 7-3. So did Addison Russell, with a highlight-reel tag as he moved from second base to short, his natural position.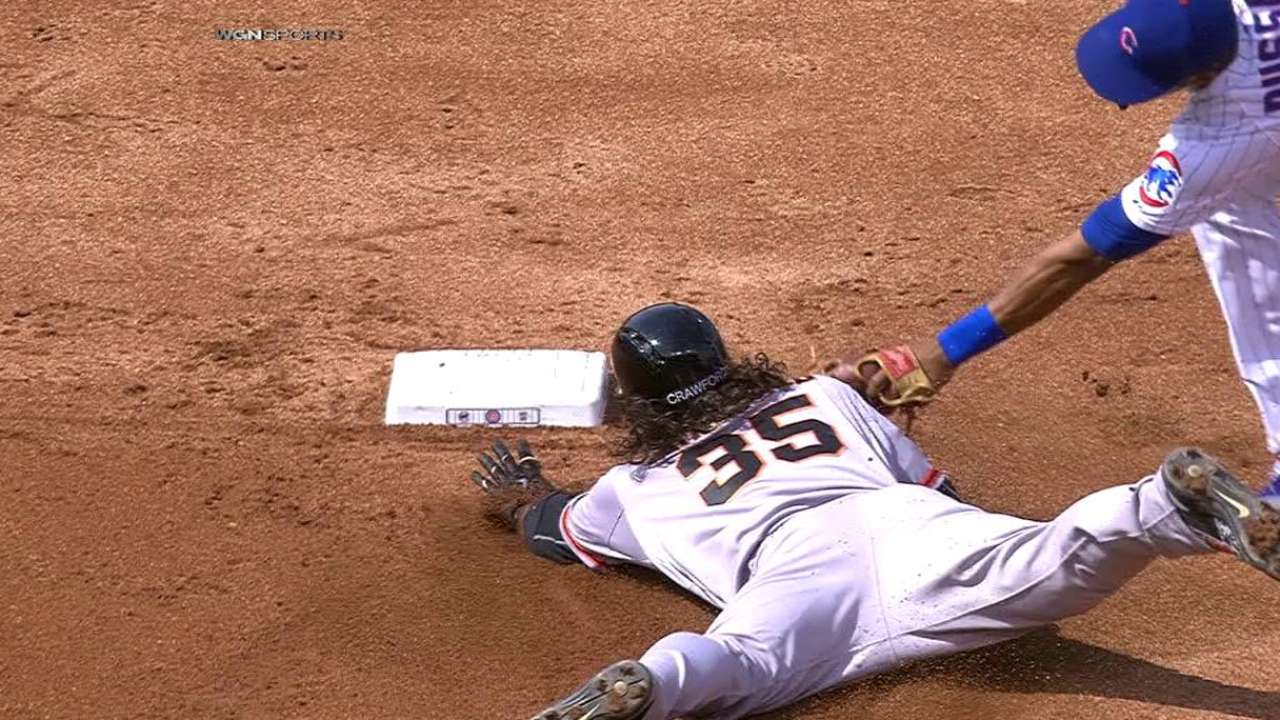 This realignment, hinted about on Thursday, wasn't as dramatic as the Nomar Garciaparra trade that Epstein made in his first full season as the Red Sox's general manager. But it comes with significance for all the players involved, and -- make no question about it -- was triggered by Schwarber's emergence as, at least for now, the most dynamic rookie hitter in a lineup that since April has been built around Kris Bryant and Jorge Soler.
Along with Anthony Rizzo, Bryant, Schwarber and Russell are under the Cubs' control through 2021; Soler, through 2020. But if you're a Cubs fan, don't get ahead of yourself here.
There will be many good years ahead, no doubt. But few of the ones ahead will bring the innocence and golly-gee excitement that has come from watching these electrifying talents in their first seasons.
And who knows how far the Cubs can go from here?
Maddon, Epstein and chairman Tom Ricketts are like the players themselves. They want to find out.
So from here on out, neither contracts nor hurt feelings will matter. The Cubs are going to set to their side any of their long-term concerns and try to have the best lineup on the field possible.
While the Cubs are positioned to capture the second Wild Card spot in the National League -- an ideal scenario for them in October, in my opinion -- they entered Friday scoring only 3.25 runs per game at Wrigley Field (which would match the low set in 1919) and hitting only .236 against right-handed pitchers, the worst figure in the Major Leagues.
They pounded Ryan Vogelsong and three relieves for 12 hits Friday, and it did not appear to be a fluke.
Nor does the fast start by the 22-year-old Schwarber, who in 26 games has hit .345 with six homers, 20 RBIs and a 1.058 OPS. It's the kind of production he's had since Little League, probably T-ball. He hit .333 with 34 homers and a 1.042 OPS in 148 Minor League games.
A night after delivering a three-run homer off Chris Heston, he greeted Vogelsong with an opposite-field double off the base of the wall in left-center, then drove in two with a single that was hit too hard for second baseman Kelby Tomlinson to handle.
There were some who felt the Cubs were overly high on Schwarber when they selected him fourth overall -- the first hitter in the Draft -- in 2014. Some scouts felt he fit more in the American League as a first baseman/DH, but the Cubs were confident he could play left field, if not stay at catcher. Based on early returns, he might be able to do both. He's not really a base-clogger either, as lefty reliever Jeremy Affeldt found out when Schwarber broke for second on his first move and beat first baseman Brandon Belt's throw into second.
One thing Schwarber can do for sure: Hit.
Schwarber's approach appears advanced even when compared to Bryant, who the Cubs selected with the second overall pick in the 2013 Draft after he led the nation in home runs at the University of San Diego. Schwarber put up his own gaudy stats at Indiana University, but did nothing more impressive than having more walks than strikeouts in all three seasons with the Hoosiers.
With Montero expected to return on Saturday against Matt Cain, Maddon will field a lineup that has five left-handed hitters (including switch-hitter Dexter Fowler). In due time, we'll find out if Coghlan -- displaced by Schwarber in left field -- will be exposed defensively at second base.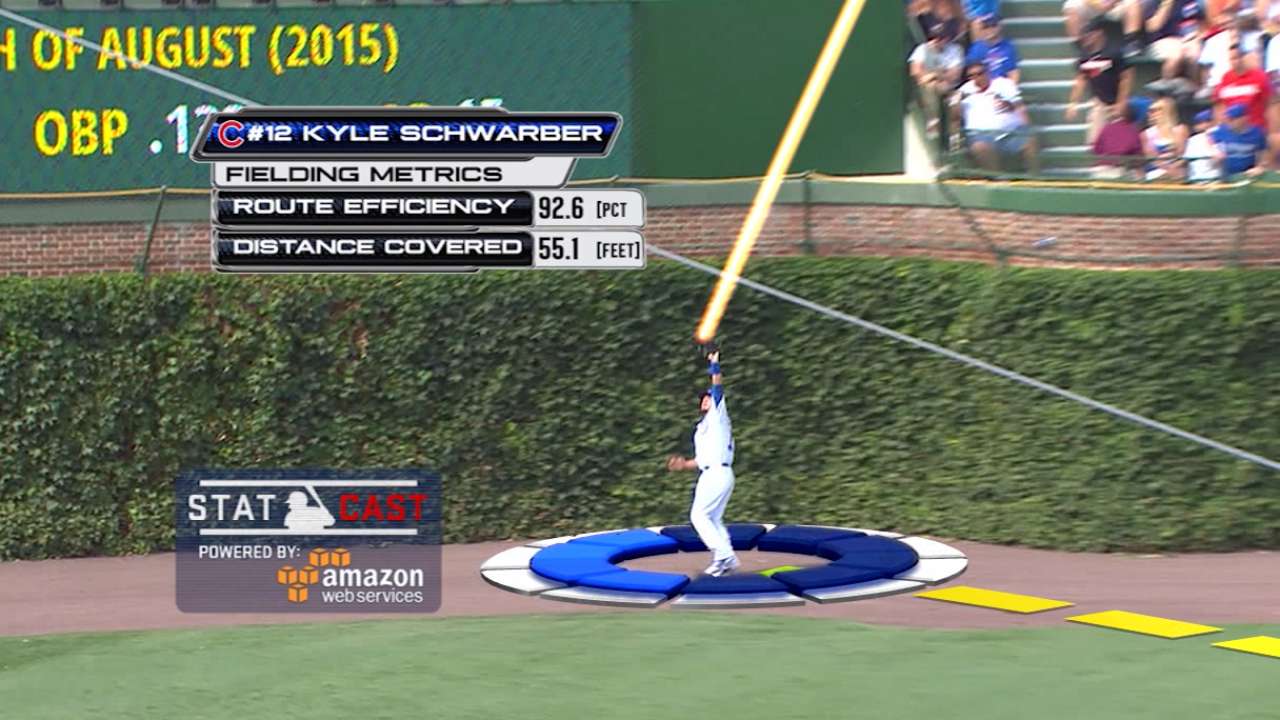 But give Maddon credit for being open-minded enough to give Coghlan a long look there. He sees the former National League Rookie of the Year with the Marlins as having a skill set that fits the so-called "super utility" role that Ben Zobrist thrived in with Maddon's Rays.
Down the road, Javier Baez might hit himself into the infield mix somewhere. But his bat speed didn't help him much in a 52-game stint with the Cubs last season, when he hit .114 against four-seam fastballs. It's been a difficult year for him, due to injury and his sister's death. He needs to settle in with Triple-A Iowa the rest of the way and demonstrate that he's hitting good fastballs again.
There are other intriguing prospects in the wings for the Cubs, including 18-year-old shortstop and No. 2 prospect Gleyber Torres, who may one day push Russell. This abundance of talent is exactly what Epstein envisioned when he arrived from Boston in the fall of 2011, determined to build a "player development machine."
That is happening before the eyes of fans, like the sellout crowds that will jam into Wrigley Field for this four-game series. There's never been a time like this for this franchise, not even the Ernie Banks/Billy Williams/Ron Santo/Fergie Jenkins/Randy Hundley years.
Those teams never had replacements when someone got old or injured. These days the Cubs are becoming like the Cardinals, who have desirable reinforcements lined up behind their regulars.
There will be casualties along the way, for sure, like Edwin Jackson, who was released last month even though he was owed about $17 million. Castro may ultimately prove to be an expensive farewell, but for now, all Maddon has said is that his benching "isn't for one day."
You can't say the Cubs weren't patient with him.
A defensive liability who hasn't mastered the routine play, Castro got the blessing of Maddon over the sure-handed Russell until Friday. Castro wasn't quite an automatic out, but hit .211 with a .523 OPS after batting .342 in his first 19 games. He's owed a little more than $40 million in a contract extension that Epstein awarded him three years ago, when he and Rizzo looked like the team's two building blocks.
Things change.
Castro probably would have been traded before the July 31 non-waiver Trade Deadline if any teams felt he would help them. He remains subject to be traded and is sure to be shopped for change-of-scenery deals in the offseason. But in the meantime, he'll be on Maddon's bench, awaiting a chance to dig his way out of the doghouse.
He's on his own time now. The Cubs aren't waiting for him any longer.
Phil Rogers is a columnist for MLB.com. This story was not subject to the approval of Major League Baseball or its clubs.