Morse excited to face Dodgers, his 'former' team
Outfielder traded to LA briefly before being shipped to Pittsburgh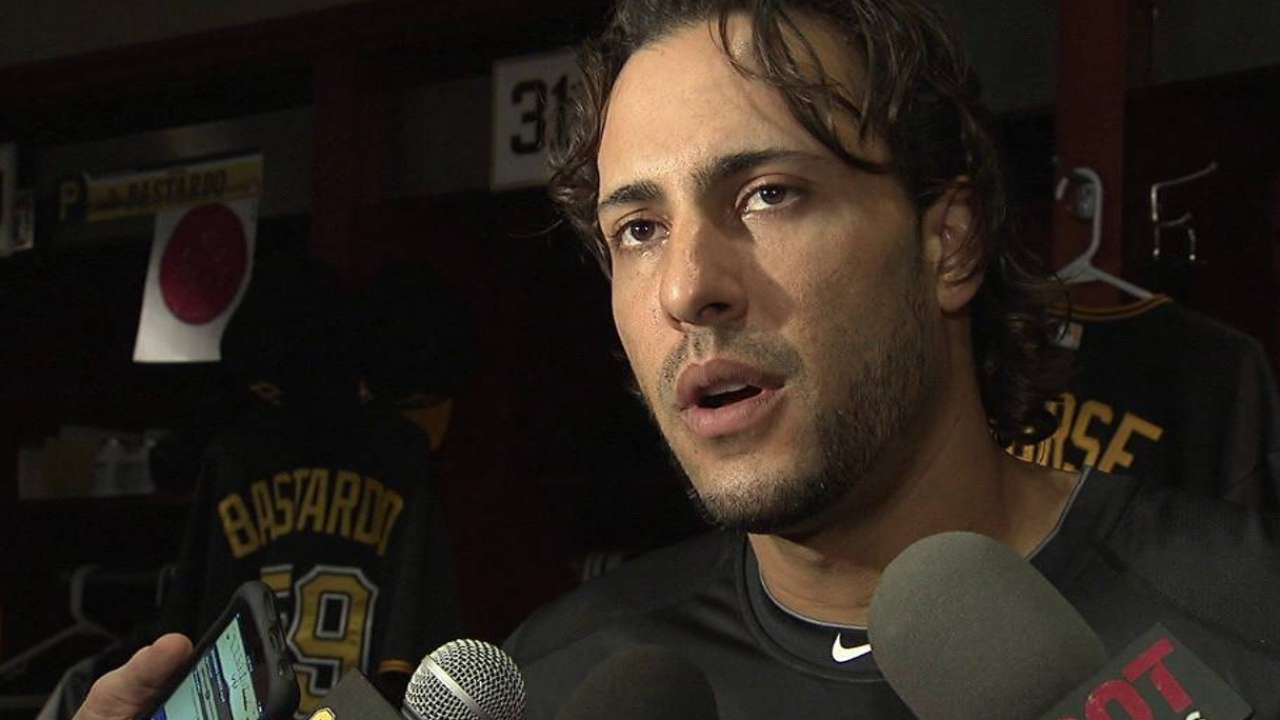 PITTSBURGH -- For some players, having to face former teammates can be an awkward experience. For others, it's fun to line up against old friends. This weekend at PNC Park, it'll be none of the above for Michael Morse.
That's because the Dodgers are Morse's "former" team in name only, and barely even that. The Marlins sent him to the Dodgers as part of a three-team trade last week, then the Dodgers quickly flipped him to the Pirates in exchange for Jose Tabata.
After several days of speculation that he'd been traded followed by a few more days of whirlwind movement, Morse has been able to find the humor in the unusual situation.
"It's tough, facing my old teammates," he said before Friday's 5-4, 10-inning win, breaking into a wide smile. "It's all fun.
"It was pretty different. It was pretty awkward how it went down. The real awkward time was being in Miami and playing in Miami when everybody says you don't play for Miami. That was really weird."
Morse never joined the Dodgers, but said he briefly had a locker waiting for him in Los Angeles. Dodgers starter Mat Latos, part of the same trade, took a picture of Morse's locker, with all his belongings in it, and sent that photo to Morse with a note: "Thanks for the shoes."
Morse started at first base and went 0-for-3 in Friday's series opener against the Dodgers.
Joking aside, Morse is mostly pleased that he (Pirates), Latos (Dodgers) and right-hander Dan Haren (Cubs) were traded from the Marlins to three teams in the postseason mix.
"Me, Latos and Dan, we go from a team that wasn't doing that well to three good teams," Morse said. "It's pretty cool for us. It gets us fired up.
"This is a fun team. It's an easygoing team. They've made me feel right at home. For me, it's awesome."
Worth noting
• Neil Walker and Pirates Charities announced on Friday the 2015 Neil Walker Fantasy Football League, which begins Aug. 29 with a draft at PNC Park.
Fans can join Walker's league for a donation of $1,000, or $1,500 for a two-owner team. The league will be made up of four conferences, with Walker, Charlie Morton, Jeff Locke and Tony Watson each serving as a "conference captain." The winner will be honored in a pregame ceremony and throw out a first pitch at PNC Park in 2016.
The league's proceeds will benefit Pirates Charities, the Pittsburgh Kids Foundation and the Big League Impact Global Fund.
Adam Berry is a reporter for MLB.com. Follow him on Twitter at @adamdberry. This story was not subject to the approval of Major League Baseball or its clubs.