Moustakas, Zobrist swap spots in lineup
After hot start at No. 2, Moose dropped to accommodate new acquisition
KANSAS CITY -- The great experiment of Royals third baseman Mike Moustakas hitting in the No. 2 spot in the order likely is over.
Recently acquired Ben Zobrist once again hit second in manager Ned Yost's lineup on Friday, while Moustakas was dropped to the No. 6 spot.
Yost slid Moustakas into the No. 2 spot right out of Spring Training, a move that shocked fans and observers because of Moustakas' offensive struggles early in his career. But the move worked brilliantly as Moustakas showed he could hit the other way and beat the shift -- he has spent most of the season hitting over .300 despite being a career .236 hitter coming into the season.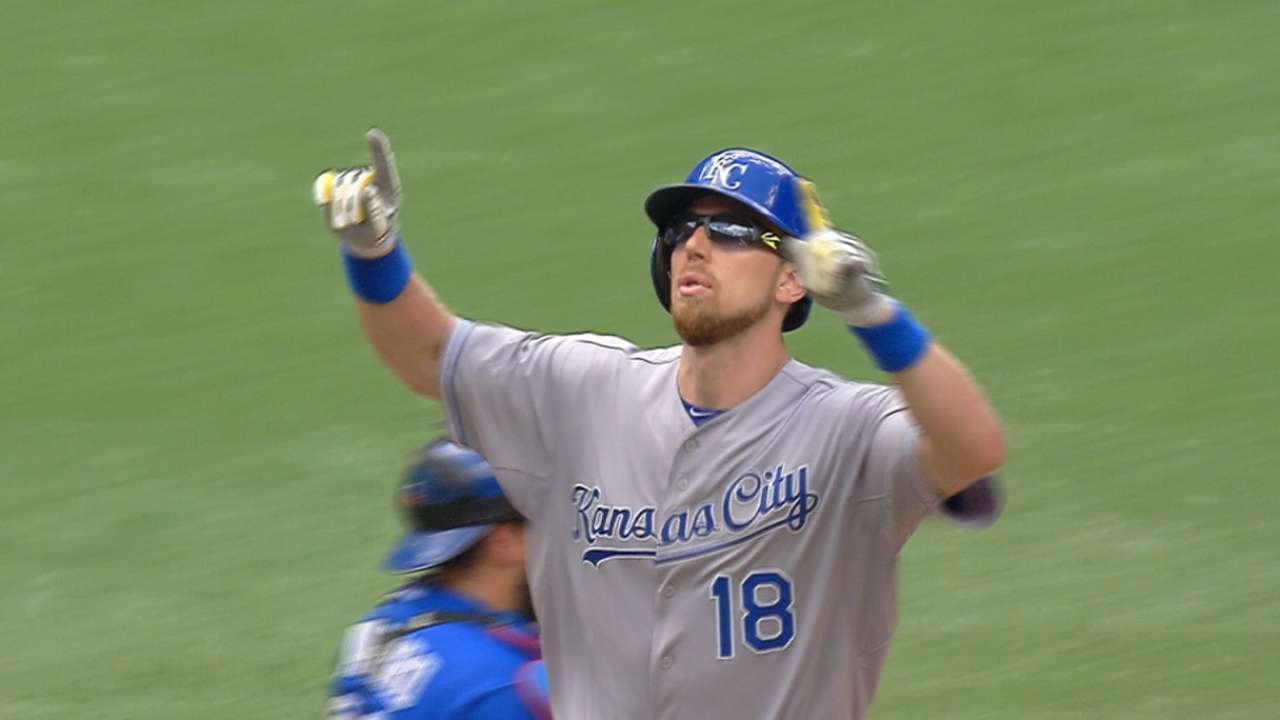 But Yost thinks he has a better option in Zobrist, a switch-hitter, at No. 2. When Zobrist was acquired prior to the Toronto series, Yost said Zobrist would hit sixth. That has changed.
"I didn't envision [Zobrist] as a No. 6 hitter," Yost said. "I envisioned him as a No. 2 hitter. But we kept Moose in the No. 2 spot a couple more days because I wanted to give Moose another couple days to see if he could get going."
Following on 0-for-3 performance in Friday's 3-2 win over the White Sox, Moustakas' slide dropped to 5-for-41 (.122). Zobrist finished 1-for-3.
"Moose did a great job for us there at No. 2," Yost said. "When we broke Spring Training, we didn't really have a No. 2 hitter. So we put Moose there and, up until this point, he has been great there -- .285 [actually .277] with a .340 on-base. But you can envision Moose being more of a run-producer, especially with the top-of-the-order guys getting on base and him driving them in.
"I never envisioned Moose as a No. 2 hitter. He's a run-producer type of offensive player to me. So when we got Ben, we had him hit there once at No. 2 and it looked good, so we left him there."
Even though his days as a top-of-the-order guy appear over, Moustakas isn't complaining.
"I'll just have to keep the same approach I've had all season," Moustakas said. "I'll try to go the other way, try to get on base as much as I can.
"Ben has done a great job up there with homers, getting on base. It's all about whatever is best for the team."
Jeffrey Flanagan is a reporter for MLB.com. Follow him on Twitter at @FlannyMLB. This story was not subject to the approval of Major League Baseball or its clubs.