McCann 'relieved' to return to Yanks' lineup
Catcher wearing knee brace after missing two starts with inflammation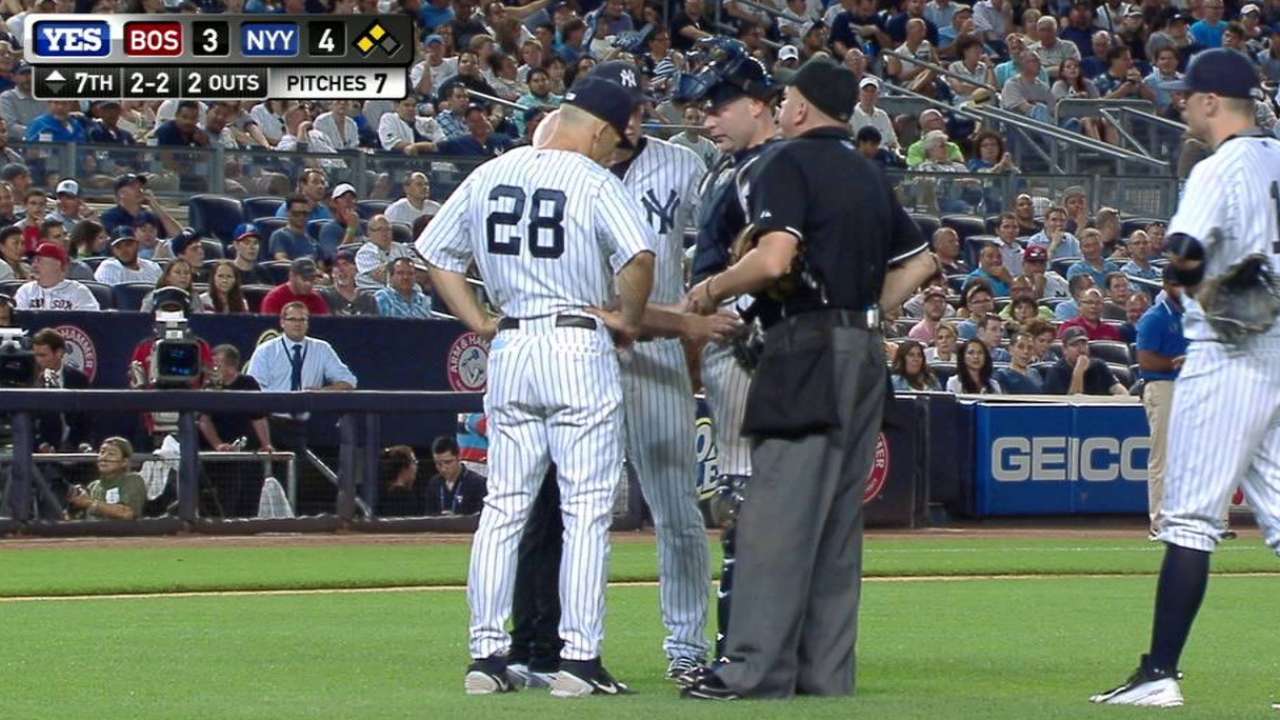 NEW YORK -- The Yankees felt a sense of relief Friday as Brian McCann returned to the lineup healthy and ready to play after not starting for two straight days.
McCann stretched his left knee trying to block a pitch on Tuesday against the Red Sox, injuring his MCL in the process. An MRI showed some inflammation.
McCann pinch-hit Wednesday and did not play at all Thursday, but in Friday's 2-1 loss to the Blue Jays in 10 innings, he was behind the plate and batting fifth and went 0-for-4. He spent all day Friday getting accustomed to a knee brace, which he will have to wear for both offense and defense over the next week or two.
"Very relieved. It could be a lot worse," McCann said. "Any time you feel something in your knee for what I do, it's not good, so I feel like I got lucky."
McCann said he's run on the knee to ensure it's OK and made sure he took the right steps in his preparation before coming back.
Yankees manager Joe Girardi seemed to have no concerns about McCann's status and indicated that the brace shouldn't hinder his ability to catch. The two made sure to communicate with one another throughout the afternoon Friday.
"We feel good that he's coming back, and obviously I said today to Brian, 'Let's go through BP,''' Girardi said. "We really feel he's a player today, but if I have to make an adjustment, I will. But it's nice to have him back in the lineup."
Grace Raynor is an associate reporter for MLB.com. This story was not subject to the approval of Major League Baseball or its clubs.