Polanco set to be honored at Fiesta Tigres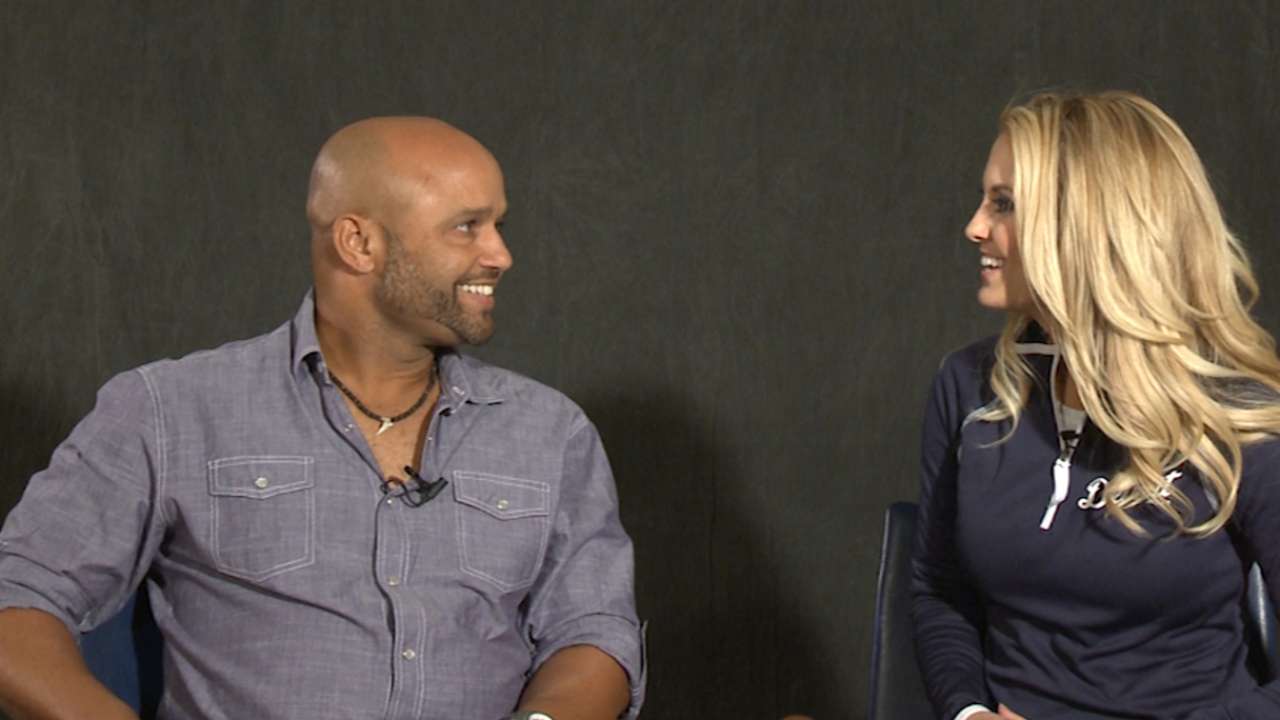 DETROIT -- Placido Polanco spent 16 seasons in the Major Leagues with four teams. The Tigers were neither his longest stop (Philadelphia) nor his first (St. Louis), but they were his most memorable team.
"Every time I come here, I feel like I come home," Polanco told Tigers broadcaster Dan Dickerson on Friday at the annual Fiesta Tigres luncheon. "I feel like I never left. Everybody's very friendly. I played in quite a few places, and this is the only one where we had a place. We even came here for Christmas sometimes."
This weekend isn't a holiday, but it's a celebration. And the 10th annual Fiesta Tigres weekend is a chance for the Tigers to finally honor Polanco for what he meant in the franchise's return to prominence a decade ago.
It wasn't a flashy role, but Polanco wasn't a flashy player. He was the steady, productive, tenacious source at the heart of the Tigers lineup, the ultimate second hitter for a Jim Leyland lineup.
It was the style he learned at a young age coming over from the Dominican Republic on a scholarship through former Major Leaguer Manny Mota, who took him in and taught him the game.
"If you're not going to be a power hitter, you have to be a contact hitter and then play good defense also," Polanco said, "because you can win a lot of games by playing good defense. You might be a very good offensive club, but you're not going to hit every day. But if your defense is there every day, you can win a lot of games. That's one thing I learned at a very young age."
It's a style that might have held back his emergence in the big leagues. He played all over the infield with the Cardinals, then became the Phillies' regular second baseman before losing the job to Chase Utley. He was an infielder without a role when the Tigers were looking to deal Ugueth Urbina in June 2005.
Polanco was the second baseman the Tigers needed. The Tigers, in turn, were the fresh start Polanco needed to become an everyday player again.
"Remember, at that time we already had Pudge [Rodriguez] and we already had [Carlos] Guillen," Polanco said. "When I came over, they told me you're just going to play every day. That wasn't the situation in Philadelphia, so that kind of made me feel more comfortable. And I just showed up every day knowing that I was going to play. That really helped."
Polanco hit .338 down the stretch in Detroit. A year later, they took off, and so did he. Polanco batted .295 with four homers and 52 RBIs in 2006, but he became best known for his postseason performance, batting 7-for-17 against the Yankees in the American League Division Series, then 9-for-17 against the A's to win ALCS MVP honors. His image leaping around the bases on Magglio Ordonez's walk-off homer to complete the series sweep remains memorable.
Polanco had some of his best seasons in Detroit. He finished third in the AL with a .341 average in 2007, earning a start in the All-Star Game, then batted .285 with 10 homers and 72 RBIs in '09, his final season as a Tiger.
Part of the reason it took so long to honor Polanco was that he kept playing so long. His last season was 2013 with the Marlins, and he still hasn't filed for retirement. For now, he's a stay-at-home dad for his two kids back in South Florida, but he thinks of coaching when they get older.
"I still miss it," he said, "just coming back here brings all the memories, being in the clubhouse and walking down the tunnel."
Jason Beck is a reporter for MLB.com. Read Beck's Blog, follow him on Twitter @beckjason and listen to his podcast. This story was not subject to the approval of Major League Baseball or its clubs.