New GM Avila announces front-office promotions
Chadd named assistant GM; Kaline, Leyland, Trammell also retained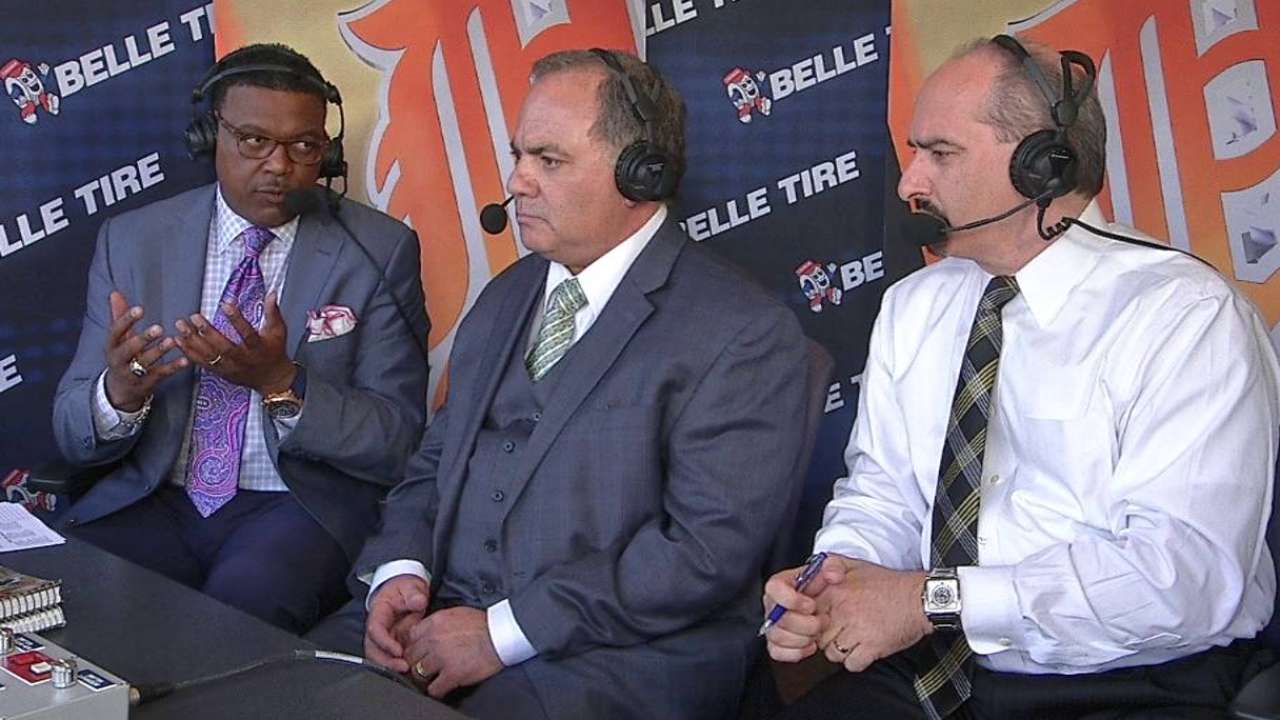 DETROIT -- When Al Avila succeeded Dave Dombrowski as Tigers general manager on Tuesday, Avila said he believed that the assistants he wanted to stick around would stay. On Friday, he made his moves to do so, promoting David Chadd to assistant GM among a handful of front-office promotions and retentions.
John Westhoff, previously vice president and baseball legal counsel, added assistant GM to his titles along with general counsel. Scott Bream was promoted from director of pro scouting to vice president of player personnel. Sam Menzin is the new baseball operations director.
Al Kaline, Willie Horton, Jim Leyland and Alan Trammell are all being retained as special assistants.
"It's in the best interest of the baseball operations department that we maintain continuity," Avila said in a statement. "This is a talented and committed group to our organization, and we believe these changes in responsibilities will further enhance our efforts moving forward."
Chadd, hired by Dombrowski a decade ago as amateur scouting director, has taken on more responsibility over the years from drafting to scouting to player evaluation and development. He spent the past few years as vice president of amateur scouting as well as a special assistant.
Westhoff's tenure with the Tigers dates to Dombrowski's arrival in 2002. He has served as the team's legal authority and chief negotiator on contract negotiations and arbitration filings, as well as administrative matters. In so doing, Westhoff has worked closely with Avila.
Westhoff also worked closely with Mike Smith, who had served as Tigers director of baseball operations until he left last week to work in community development in Detroit. Menzin, who joined the Tigers four years ago on an internship and bolstered the organization's statistical analysis, takes the baseball operations post.
Bream became a valued member of Dombrowski's staff over nine seasons as a Major League scout, then returned as pro scouting director three years ago following two seasons in the Padres' front office.
Scott Reid has been serving as vice president of player personnel, working alongside Bream. Reid's situation wasn't announced, but Avila said in an email that he's still working on the rest of the front-office posts.
The moves quiet some of the speculation on which assistants could follow Dombrowski to his next position, wherever that may be. Dombrowski, for his part, told MLB.com on Wednesday that he expected most if not all of his assistants and advisors to stay with Avila, and that he could hire from elsewhere to build a group of assistants if the opportunity arises.
Jason Beck is a reporter for MLB.com. Read Beck's Blog, follow him on Twitter @beckjason and listen to his podcast. This story was not subject to the approval of Major League Baseball or its clubs.