Royals hold off White Sox in series opener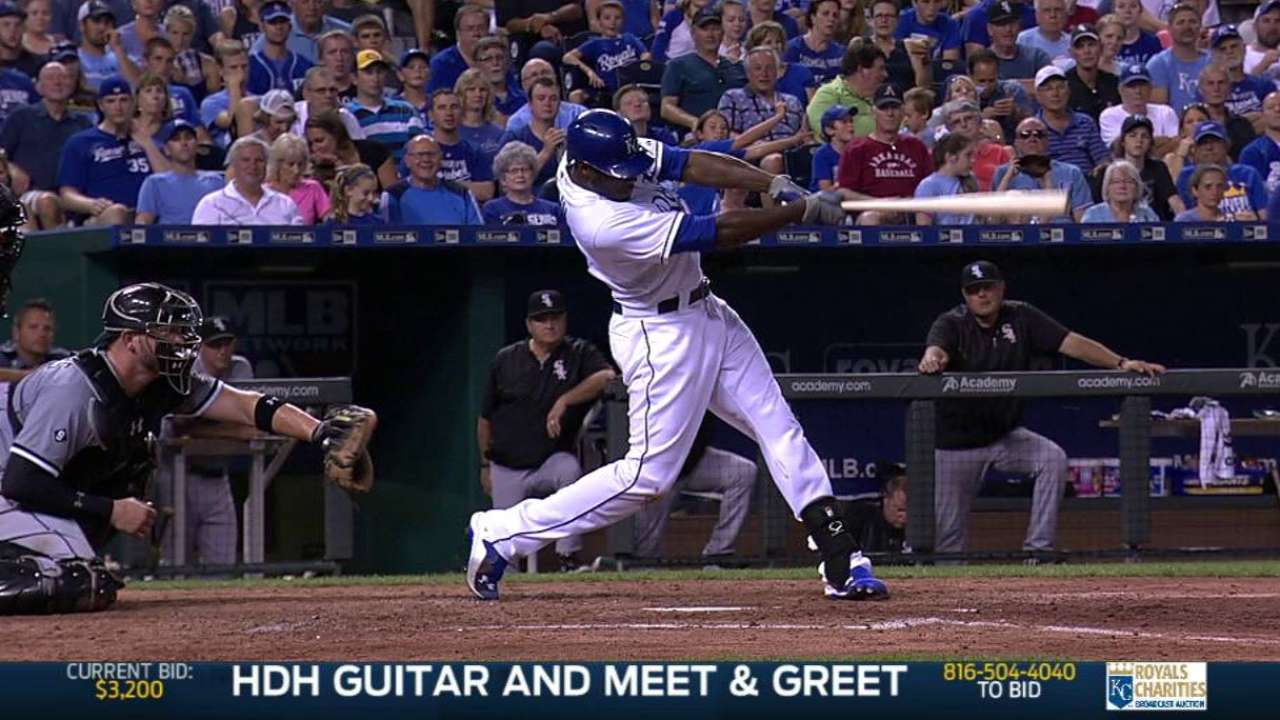 KANSAS CITY -- Right-hander Edinson Volquez gave up just four hits and one run over seven innings, and Lorenzo Cain doubled, tripled and drove in the go-ahead run as the Royals held off the White Sox, 3-2, on Friday night in front of 36,211 fans at Kauffman Stadium.
Volquez outdueled White Sox lefty John Danks, who came into the game with a 9-1 career mark against the Royals. Volquez walked two and struck out three.
"That was pretty good," Royals manager Ned Yost said of Volquez. "Volky's been really, really good for us here all year long, but especially his last three or four starts, he's been excellent. He was excellent tonight again."
Danks gave up just one hit through four innings and had retired 11straight until giving up a walk and a double in the fifth. Danks went six innings, surrendering five hits and three runs.
"I made a couple of mistakes that I got burned with," Danks said. "Overall, I felt like it was a good day. I just got outpitched by a pretty good pitcher himself."
• Eaton hurts shoulder after running catch
MOMENTS THAT MATTERED
LoCain to the rescue: Cain, who tripled in the first inning on a shot into the left-field corner, doubled in the go-ahead run in the sixth. Ben Zobrist led off with a sharp single to left-center, then on a 2-2 pitch, Cain ripped another liner into the corner, scoring Zobrist easily as the Royals went up 2-1. Eric Hosmer followed with a liner into left-center, and Cain scored easily to make it 3-1.
Cain had been struggling, going 8-for-35 on the recent 4-6 road trip.
"Everybody's going to scuffle," Yost said. "That's just part of it, the ups and downs, the cycle of a long baseball season. You're not going to be red-hot all year long. When you are scuffling a little bit, it's big that you can mix in some key hits and big hits to help you win a ballgame. That's exactly what Lorenzo did today with a double and triple today and [Alex Rios] with a big two-out triple to get us on the board there with [Mike Moustakas]." More >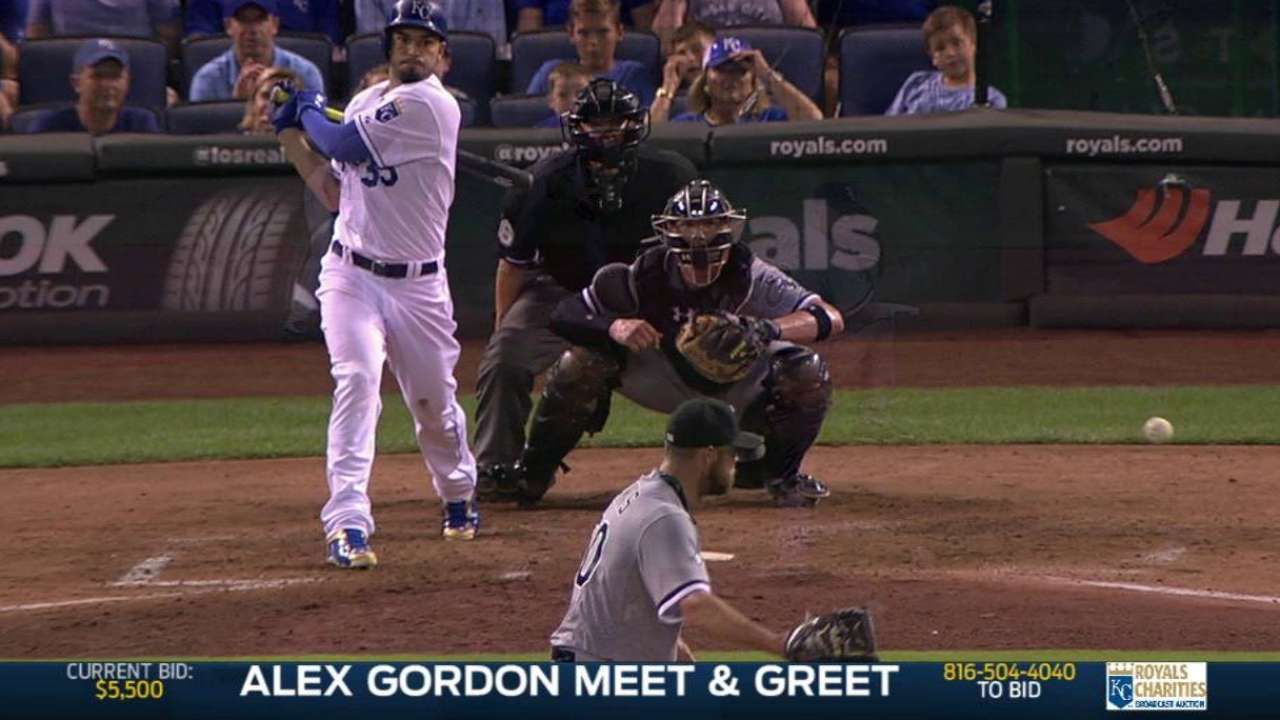 Missed opportunities: The White Sox had a great chance to give Danks the early lead when Melky Cabrera led off the second with a double and Avisail Garcia advanced him with a grounder to second. But designated hitter Adam LaRoche, with the infield in, popped to short left and Alexei Ramirez popped to third. Chicago then had men at second and third and nobody out in the eighth, trailing 3-1. But Tyler Saladino and Jose Abreu struck out and Cabrera flied to right.
"We had plenty of opportunities," White Sox manager Robin Ventura said. "You wish you would have gotten one of them [in the eighth], at least. We didn't get it done."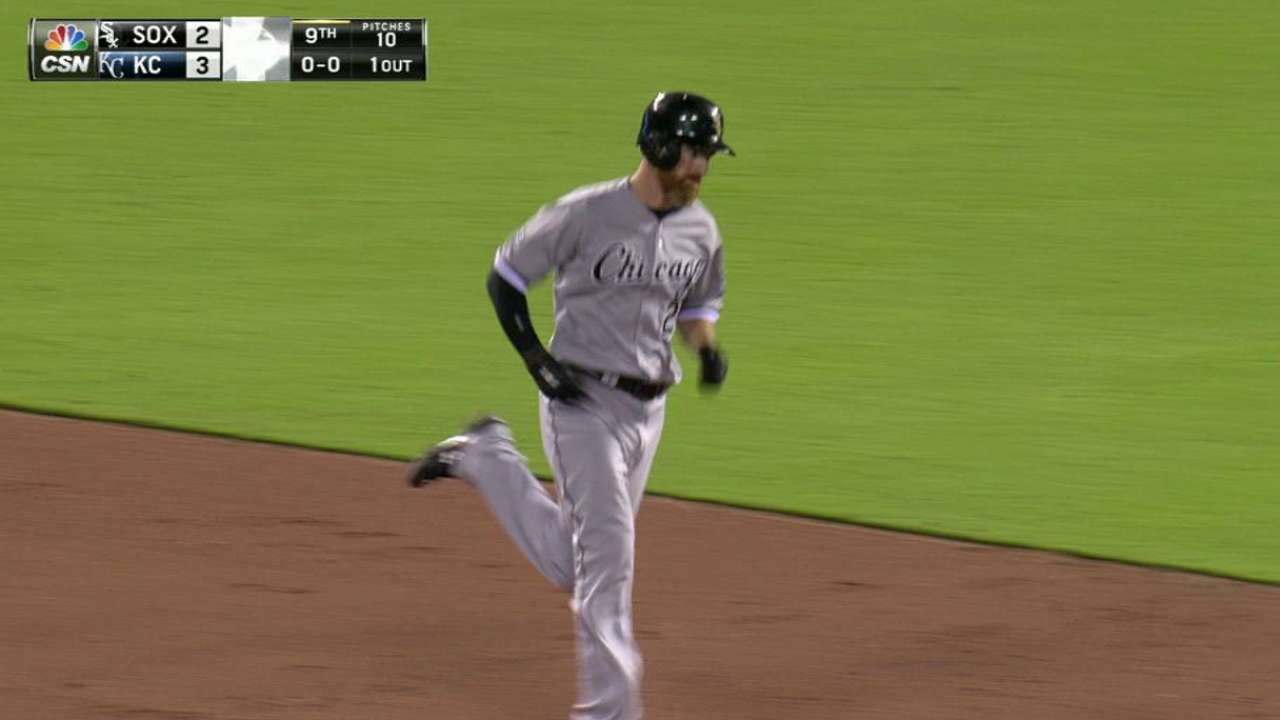 Rios sighting: Rios went just 4-for-31 on the recent road trip, but he helped the Royals take a 1-0 lead in the fifth inning with an RBI double to left. Rios had just missed hitting a homer earlier in the at bat -- his deep drive down the left-field line was just foul. On the double, Moustakas scored from first on a close play at the plate -- the relay throw home from Ramirez was high and Moustakas slid under the tag.
"You got to make the defense make the play," Yost said. "When you're matching up against a guy like Danks, who traditionally, we haven't fared that well against. When you have opportunity in front of you with two outs, you make the defense make the play. We got a run."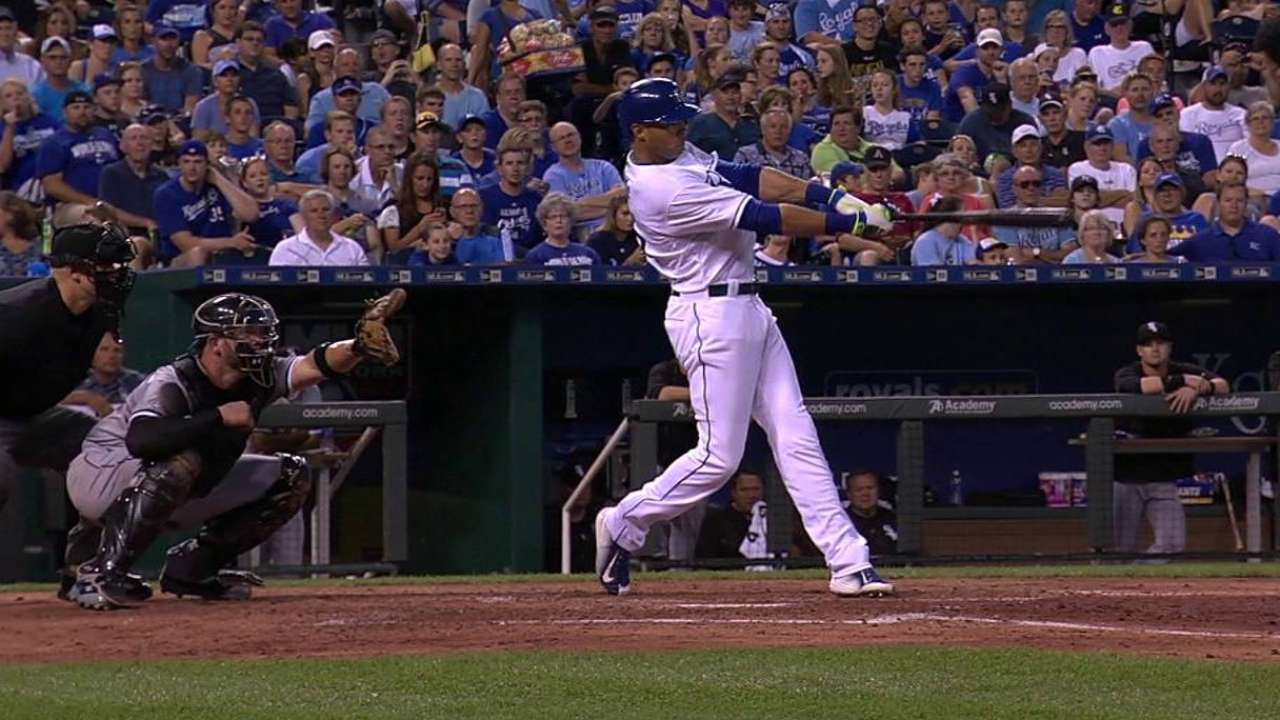 ROYALS WIN CHALLENGE
The Royals challenged an out call at first on Alcides Escobar with two outs in the seventh. Escobar grounded one to deep short and appeared the beat the throw to first, but was called out by first-base umpire Laz Diaz. The out call was overturned upon review.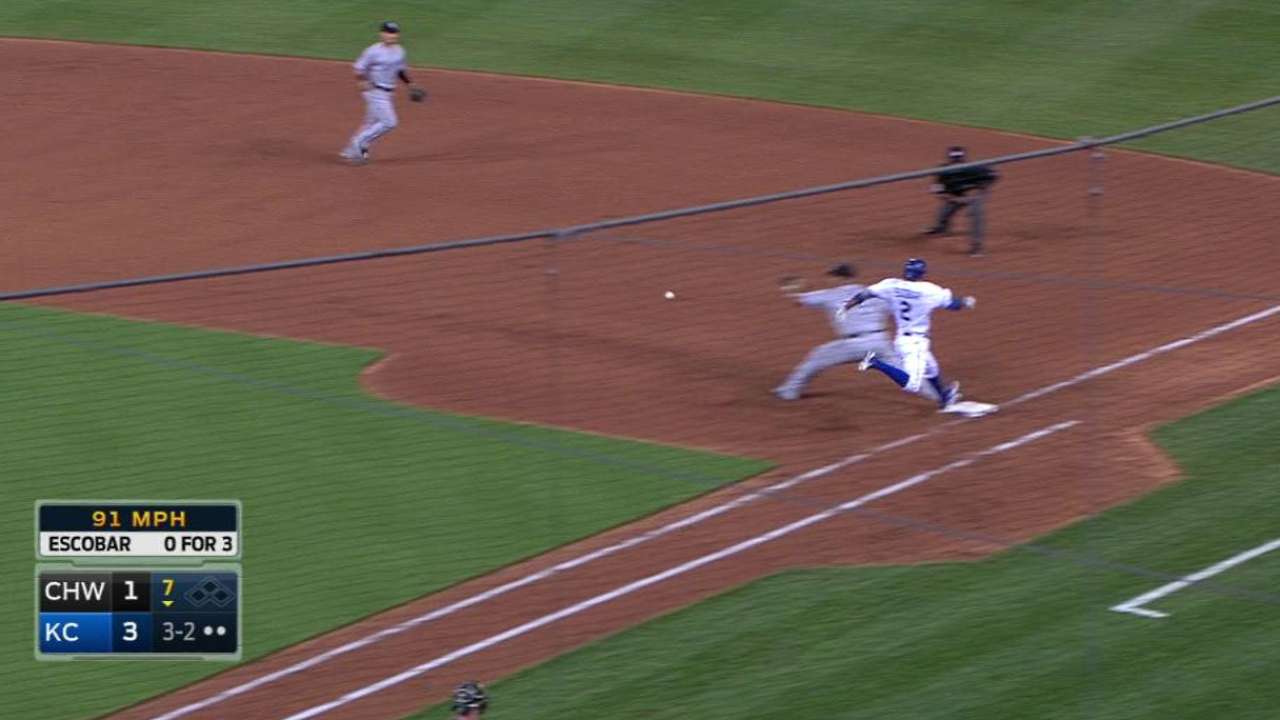 WHAT'S NEXT
White Sox: Right-hander Jeff Samardzija (8-6, 4.35 ERA) will try to turn it around against the Royals on Saturday at 6:10 p.m. CT. He's 0-2 with a 6.23 ERA against Kansas City this season and 0-4 against the Royals in his career. Samardzija also wants to atone for a tough outing his last time out when he worked a season-low 4 2/3 innings against the Yankees and surrendered nine runs on eight hits.
Royals: Right-hander Jeremy Guthrie (7-7, 5.65 ERA) takes the mound for the Royals on Saturday. He was skipped in the rotation last turn through and hasn't thrown since July 29, when he got rocked by the Indians for eight runs over 5 1/3 innings in a 12-1 loss.
Watch every out-of-market regular-season game live on MLB.TV.
Jeffrey Flanagan is a reporter for MLB.com. Follow him on Twitter at @FlannyMLB.Robert Falkoff is a contributor to MLB.com. This story was not subject to the approval of Major League Baseball or its clubs.