Papi's homer propels Sox to win over Tigers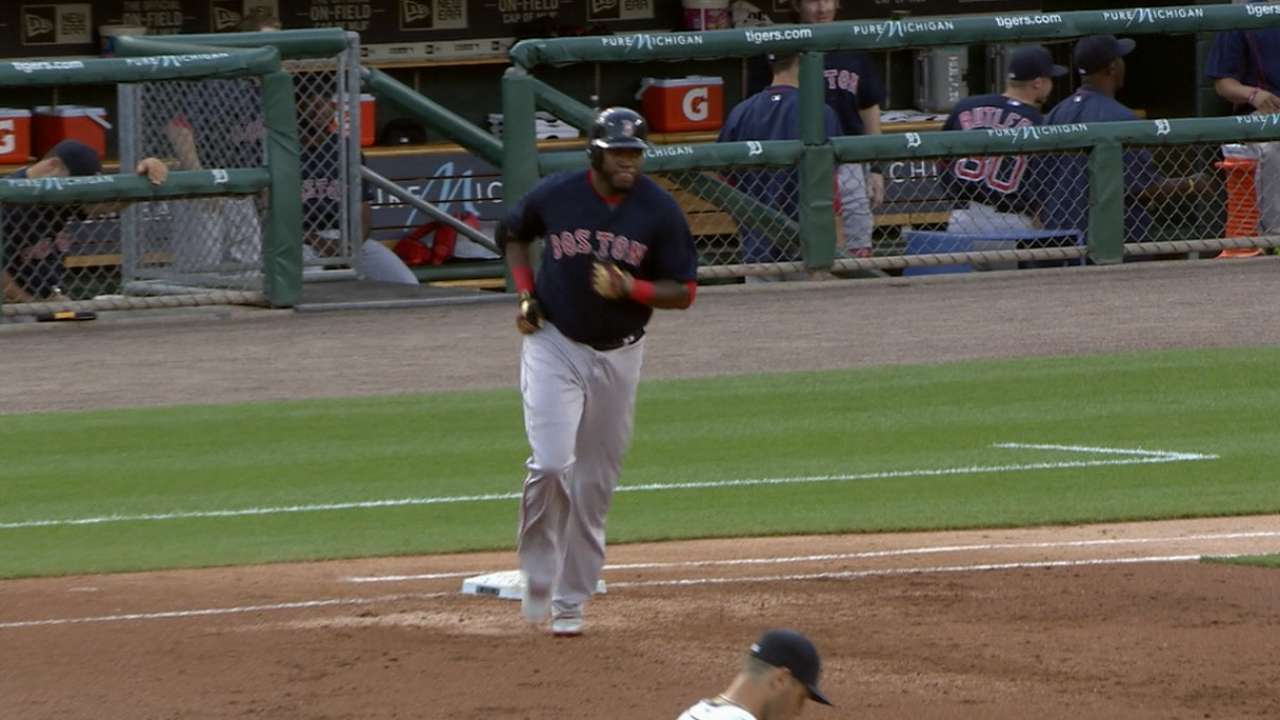 DETROIT -- David Ortiz belted a two-run homer in the third to break it open as the Red Sox spoiled Tigers starter Daniel Norris' home debut in cruising to a 7-2 win in Friday's series opener at Comerica Park.
Ortiz's blast sailed deep into the right-field seats to give Boston a four-run cushion, and consecutive singles from Jackie Bradley Jr. and Brock Holt in the fourth cut Norris' night short. The lefty allowed five runs over 3 1/3 innings.
The Red Sox added two insurance runs on Xander Bogaerts' double off reliever Buck Farmer in the sixth, and Boston's bullpen blanked Detroit over 3 2/3 innings.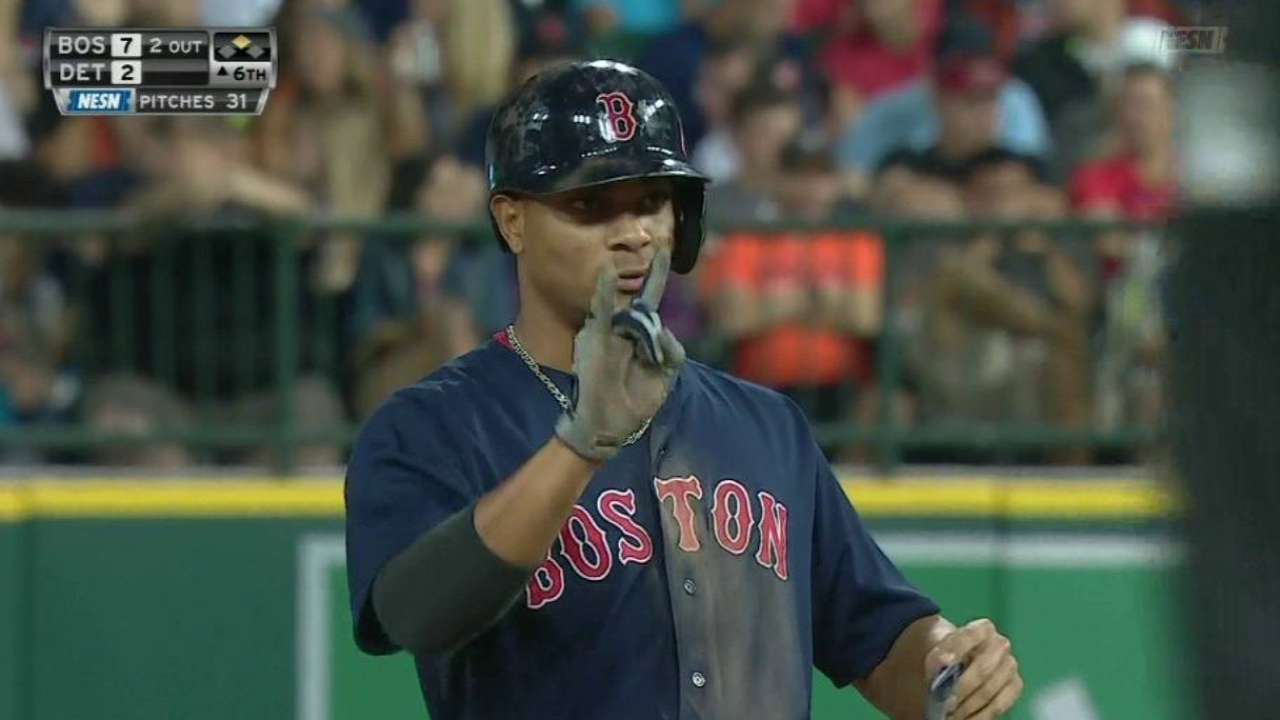 Red Sox starter Joe Kelly struck out seven over 5 1/3 innings in picking up the win.
"For the first three innings [Kelly's start] was almost a carbon copy of five, six days ago," Red Sox manager John Farrell said. "He attacked the zone, he was down in the strike zone, I thought he had probably one of the best changeups of the season, that he was able to throw to mostly left-handers, but certainly some right-handers, as well. A strong beginning."
After his club struck out seven times over the first three frames, J.D. Martinez put the Tigers on the board with a two-run blast in the fourth, cutting the Tigers' deficit to 5-2. While at least one batter reached for the Tigers in the fourth through ninth innings, they couldn't string together enough hits against Kelly or the bullpen to threaten a comeback.
"The one that really hurt was the line drive that [Anthony] Gose hit," Tigers manager Brad Ausmus said, mentioning a missed opportunity in the fifth inning. "If that gets over the second baseman's head, I think it's a completely different ballgame. Instead, it ends up being a double play."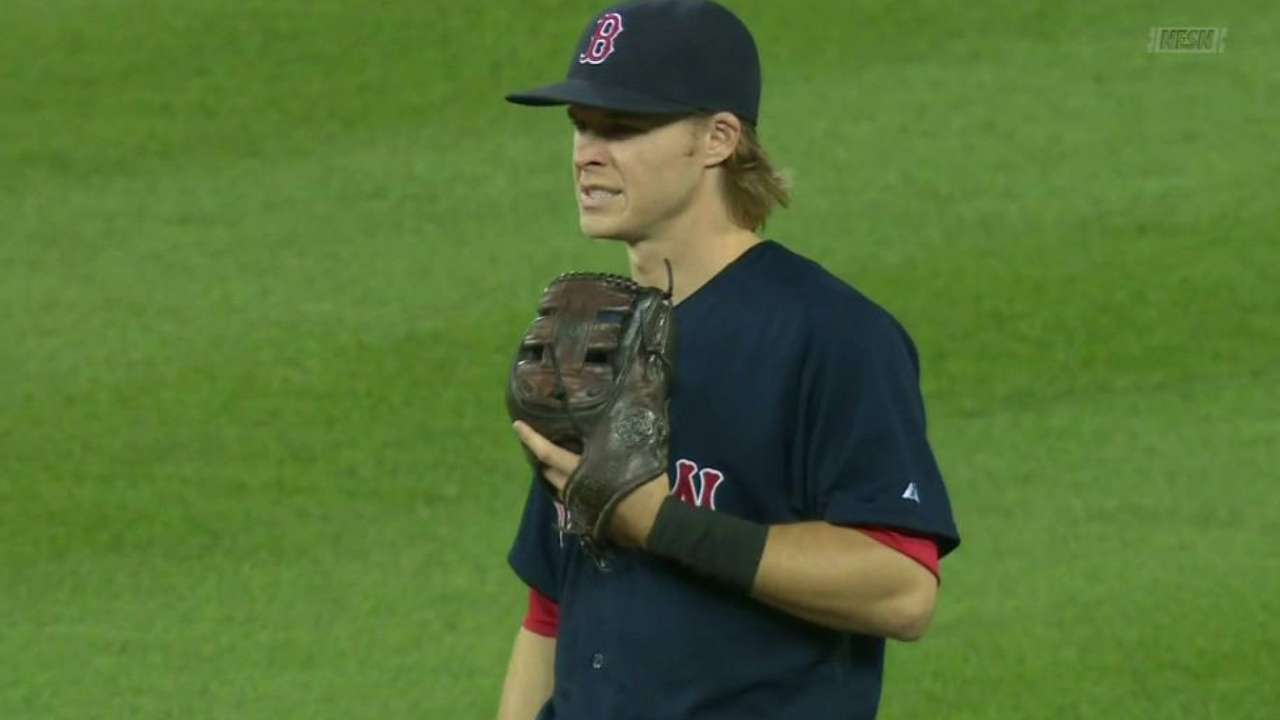 MOMENTS THAT MATTERED
Papi's big blast: After taking a 2-0 lead in the first, the Red Sox added to their lead after Ortiz's homer. The ball was projected by Statcast™ to leave Ortiz's bat at 110 mph and travel 427 feet from home plate. In the last 10 years, Ortiz has homered 25 times against the Tigers, second only to retired White Sox first baseman Paul Konerko, who hit 26 since 2006. His 20 home runs at Comerica Park are the most by any visiting player.
'Just Dingers' Martinez: Detroit's right fielder turned on an 84-mph slider in the fourth inning to reach the 30-homer club in style; his two-run shot was projected by Statcast™ to land 422 feet away from home plate in left-center. The 27-year-old, who retooled his swing before being signed by the Tigers last spring, has 53 home runs in fewer than two full seasons with the club.
Rally falls short: Trailing by five, the Tigers loaded the bases with one out in the ninth after two walks and a double against Red Sox reliever Justin Masterson. Closer Koji Uehara entered and quickly cleaned up the mess, striking out shortstop Jose Iglesias and inducing an Ian Kinsler groundout to secure the win.
Kelly delivers: The right-hander turned in a much-needed solid performance in picking up his fourth win of the season. Outings like these have not been common sights for Kelly, but they're the ones he, and the team, need to see more often. More >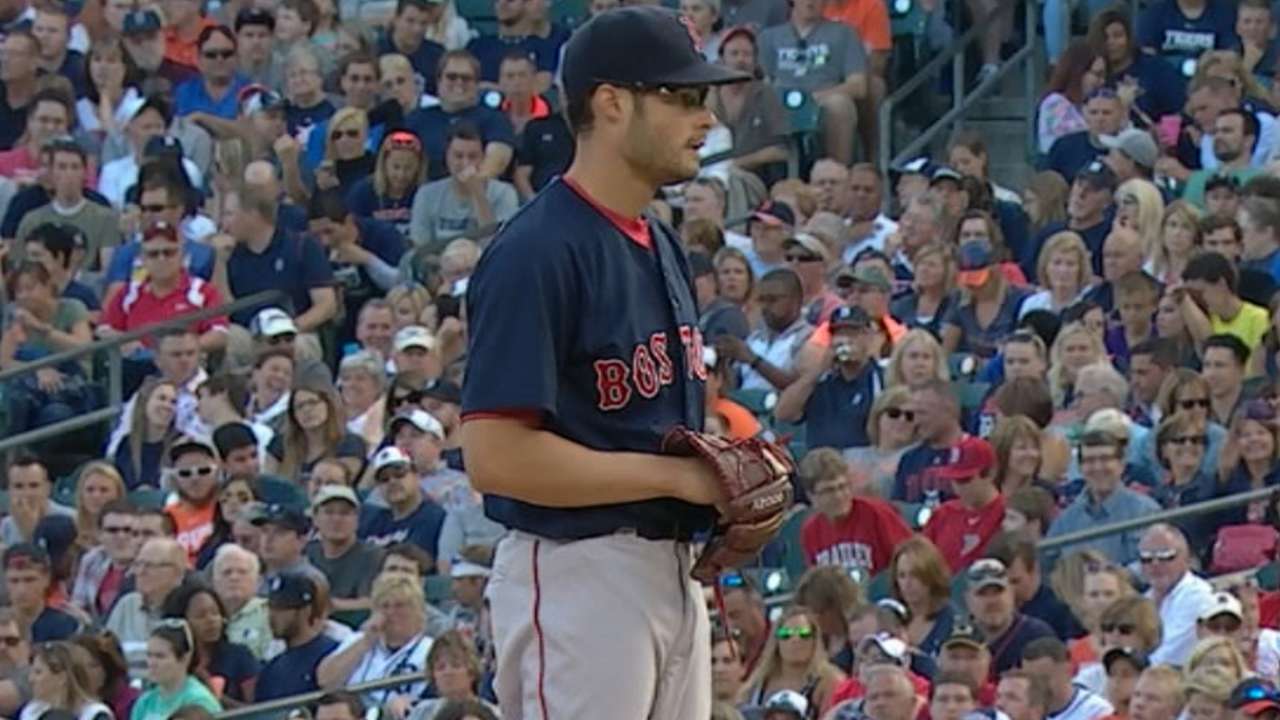 "I had a good mix of pitches going on early," Kelly said.
"The changeup's always felt good, but the slider definitely felt better today. Curveball, when I threw it, it felt pretty good."
INJURY UPDATE
Brought in with the bases loaded in the ninth inning, Red Sox closer Koji Uehara earned his 25th save of the season the hard way. After striking out Iglesias, Uehara threw an 86-mph fastball in a 1-2 count to Kinsler, who hit a comebacker that struck Uehara in the right wrist. After recovering to throw to first for the final out, Uehara headed to the clubhouse for X-rays. Results were negative and he is day to day with some bruising and swelling. More >
REPLAY REVIEW
With two out in the fourth inning, Farrell challenged whether Tyler Collins made it safely back to first base on a pickoff attempt from Kelly. Collins, who didn't slide into the bag, was initially ruled safe by first-base umpire Ted Barrett, but the call was overturned after a review.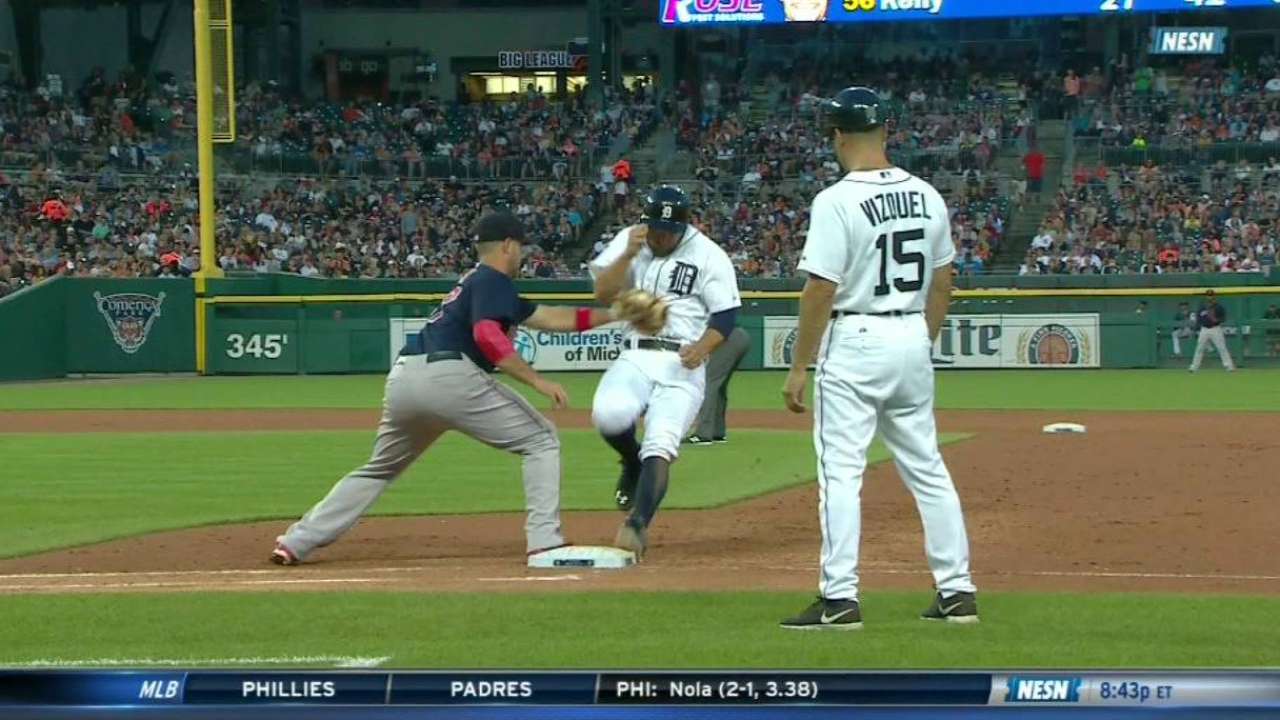 WHAT'S NEXT
Red Sox: Left-hander Wade Miley will start the middle game of this road series on Saturday at 7:08 p.m. ET. Miley (8-9, 4.55 ERA) has logged three quality outings in his past four starts.
Tigers: Right-hander Alfredo Simon (10-6, 4.55), who is still dealing with a lingering groin injury, is set to take the ball for the series rematch on Saturday at Comerica Park.
Watch every out-of-market regular-season game live on MLB.TV.
Alejandro Zúñiga is an associate reporter for MLB.com. Catherine Slonksnis is a contributor to MLB.com. This story was not subject to the approval of Major League Baseball or its clubs.