Castro sits as Cubs keep Schwarber in lineup
Maddon shuffles positions to take advantage of rookie's hot streak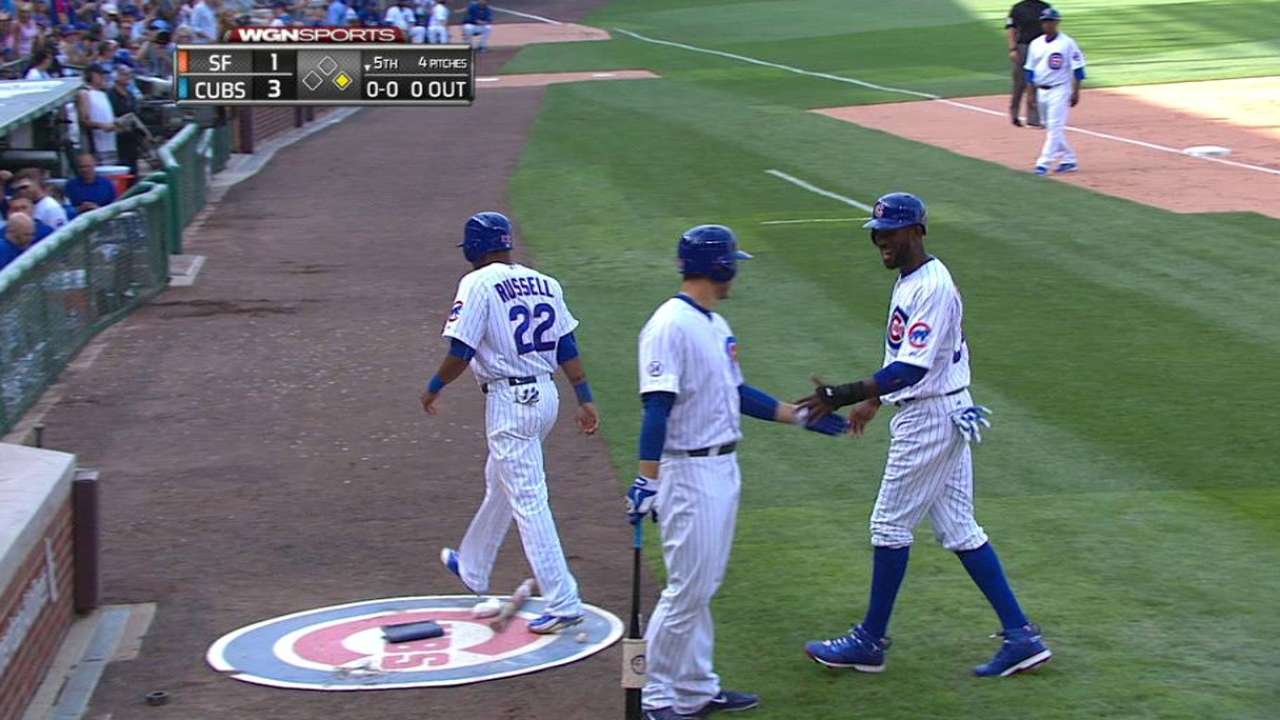 CHICAGO -- In an attempt to find more offense, manager Joe Maddon plans on keeping rookie Kyle Schwarber in the lineup. That meant Starlin Castro had to sit on Friday.
It worked against the Giants, as Schwarber delivered a tiebreaking two-run single in a five-run fifth in the Cubs' 7-3 victory. The rookie now has a five-game hit streak (8-for-19), and he has an extra-base hit in each game.
To keep Schwarber in the mix when he's not catching, he'll be in left field, and that created a domino effect on Friday. With Schwarber in left, outfielder Chris Coghlan moved to second base, Addison Russell switched from second to short, and Castro was on the bench.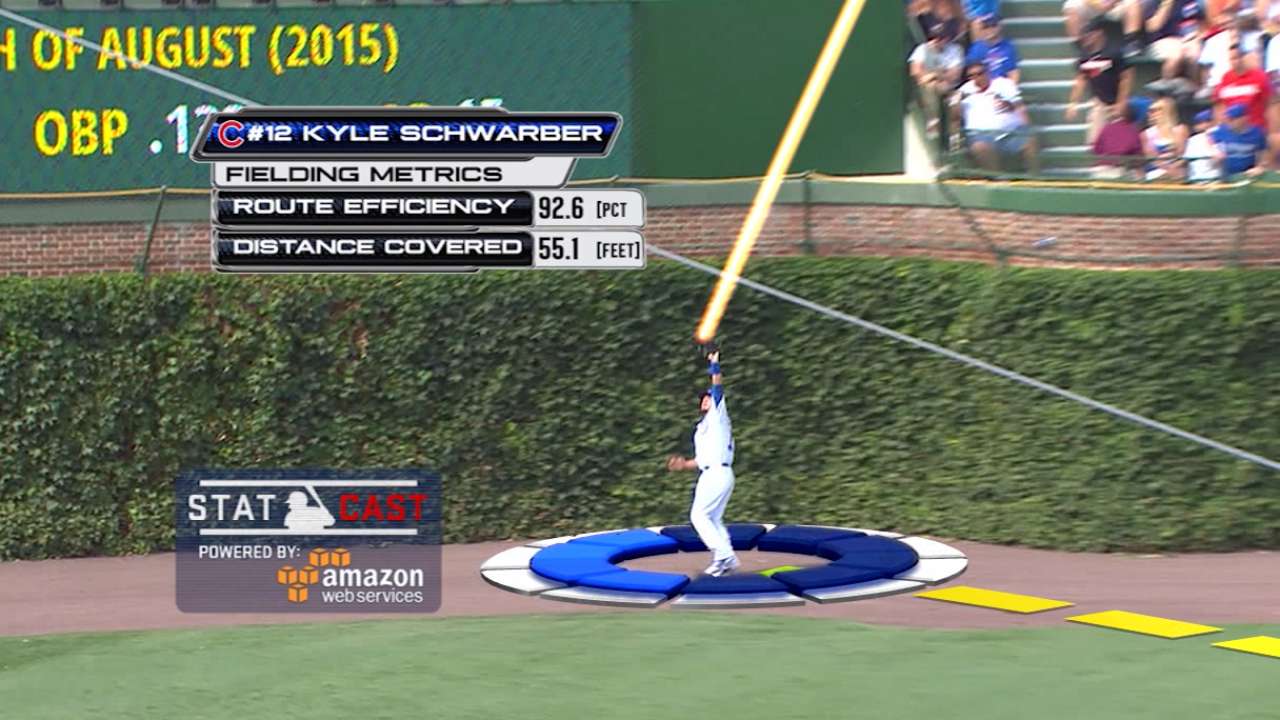 "I told Starlin, 'It's not a day off,'" Maddon said of the shortstop, who is batting .236. "I wanted him to understand that up front. I did not give him any promises on how he'll be utilized other than just, 'Stay ready off the bench.'"
Maddon emphasized the move was not "punitive" and said Castro, a three-time All-Star, took the news well. If Castro was hitting better, would Maddon have made this move?
"Probably not," Maddon said. "If he was playing his normal offensive game, you probably don't do something like this."
Asked about Maddon's efforts to keep him in the lineup, Schwarber smiled.
"It's a nice compliment," Schwarber said.
Maddon had talked with president of baseball operations Theo Epstein about the moves, and he met with Castro prior to posting Friday's lineup.
"This isn't a permanent benching," Epstein said. "It's just a recognition of where we are in the standings, how many good options we have with the players we have returning now, and it's a nod to Joe's ability to push the right buttons and put the best lineup on the field any given night."
With Miguel Montero back from the disabled list, Schwarber's time behind the plate will be limited.
"At the end of the day, it's about the Cubs winning," Maddon said. "Schwarber is the impetus regarding this maneuver, more than Starlin. We have to include Kyle right now. You've got to include [Coghlan], based on performance and our lack of offense."
The Cubs need help after batting .222 in July. Epstein said he's been puzzled by Castro's struggles at the plate.
"It's been a year where he hasn't gotten comfortable at the plate, for whatever reason," Epstein said.
The Cubs' 2014 first-round Draft pick, Schwarber was in the Minor Leagues one year ago. Now, he's batting .345 in the big leagues. Is Epstein surprised at the rookie's success?
"Yes and no," Epstein said. "I don't think it's ever appropriate to expect a completely seamless transition, because big league pitching is so hard to hit, especially for young players. No, on the other hand, because he's such a mature, polished, intelligent, gifted hitter. We felt he could handle some of the best pitching in the world.
"Maybe the surprise is just over a year into his professional career, he's catching victories in the middle of a pennant race at the big league level."
Carrie Muskat is a reporter for MLB.com. She writes a blog, Muskat Ramblings. You can follow her on Twitter @CarrieMuskat and listen to her podcast. This story was not subject to the approval of Major League Baseball or its clubs.