Explaining revocable waivers and post-deadline trades
Notes on Hall of Fame tributes, Solarte, Amarista, Upton Jr.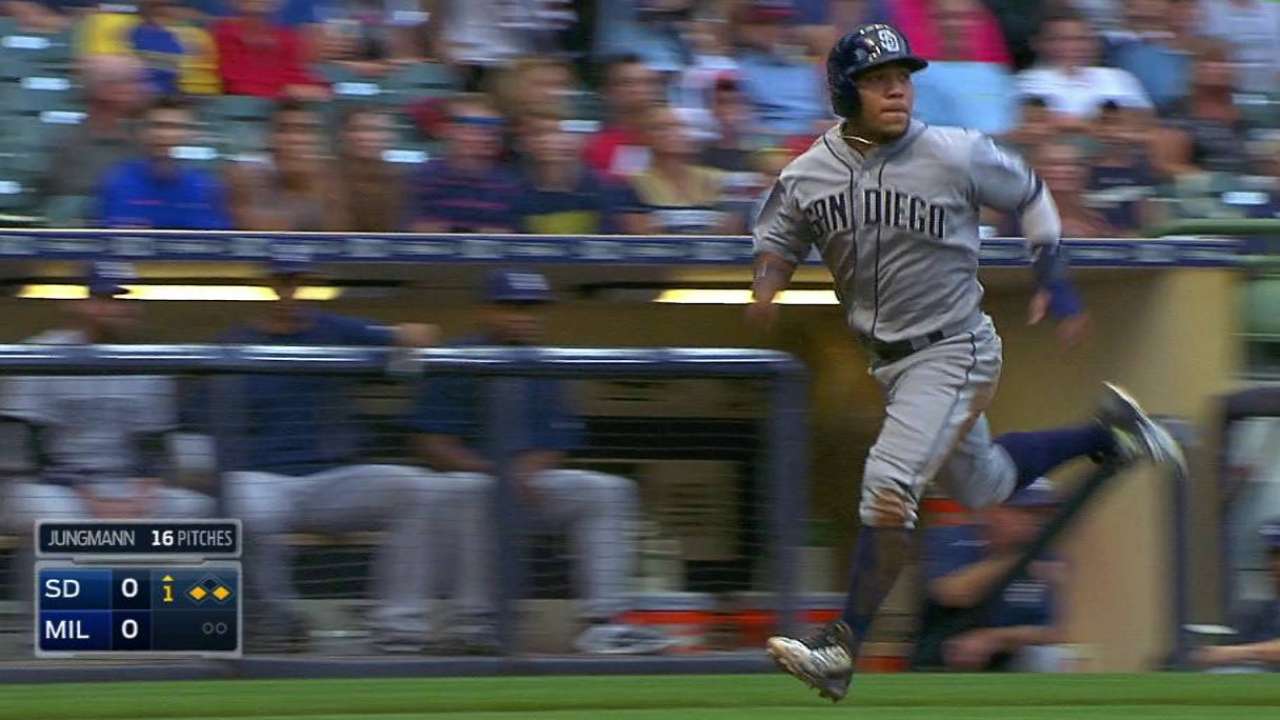 Bill Center, longtime sportswriter for U-T San Diego, is an employee of the Padres.
I saw the apparent news this morning. Sources have told various baseball media people that the Padres have placed outfielder Matt Kemp and right-handed starting pitcher James Shields on revocable waivers. I have no reason to doubt those rumors.
A friend asked me, "What does that mean?"
My response: probably nothing.
First of all, the average fan would be surprised to know the names of all the players on waivers at this time of the season. On some teams, 100 percent of the players are put on revocable waivers. The reason why fans don't hear more about this is because teams aren't allowed to discuss the names of players they have put on revocable waivers, nor are they allowed to identify players from other teams placed on waivers. Some of the names leak out this time.
Now, back to why players are placed on waivers at this time of the season.
First of all, there are two kinds of waivers: revocable and non-revocable. A team can recall a player from revocable waivers, but he can be placed on that list only once. A player cannot be withdrawn from non-revocable waivers, and any player on that list can be claimed by another team.
Why place a player on revocable waivers?
Trades can still be made after the July 31 non-waiver Trade Deadline. But all post-July 31 trades are waiver deals, meaning the player has to be traded from the waiver list.
Here's how it works. Players on either waiver wire can be claimed by any team in reverse order of their records.
Players on revocable waivers can be pulled off by the waiving team, which can also negotiate a trade with the team making a claim. If a trade can't be completed, the waiving team again withdraws the player from revocable waivers.
Players on non-revocable waivers cannot be withdrawn. If they are claimed, they go to the claiming team. If they are not claimed, they can be traded, released or optioned to the Minor Leagues. Teams place players on revocable waivers to determine which other clubs might be interested in making a trade for the player. More than 95 percent of the time, the player on revocable waivers remains with the team placing him on waivers.
In 1998, the Padres claimed right-handed reliever Randy Myers off waivers from Toronto to block Atlanta from acquiring Myers. The Padres then negotiated a trade acquiring Myers -- only to learn later that the Braves weren't interested in acquiring him. Myers cost the Padres nearly $12.6 million in 1999 and 2000, even though he was injured and never pitched again.
FROM THE SCORECARD
• The Padres will honor Dick Enberg, winner of the 2015 Ford C. Frick Award, for excellence in baseball broadcasting during pregame ceremonies Friday night at Petco Park before the Phillies-Padres game. Winning the Frick Award places the recipient in the broadcasting wing of the Hall of Fame. Enberg was inducted into the Hall of Fame last month in Cooperstown, N.Y.
• Saturday evening, the Padres will induct former shortstop Garry Templeton (1982-91) and former catcher Benito Santiago ('86-92) into their Hall of Fame. Their induction raisesthe number of men in the Padres Hall of Fame to 11. Templeton and Santiago will join former players Tony Gwynn, Trevor Hoffman, Randy Jones, Dave Winfield and Nate Colbert; Hall of Fame broadcaster and former manager Jerry Coleman; former manager Dick Williams; franchise-saving owner Ray Kroc, and founding club president Buzzie Bavasi in the Padres Hall of Fame. Ceremonies begin around 5:15 p.m. PT.
• Third baseman Yangervis Solarte was 0-for-4 Thursday to end his hitting streak at 11-straight games. He was 19-for-46 (.413) during the streak with three doubles, two triples and two home runs for seven RBIs and seven runs scored. He had a .438 on-base percentage during the streak and a .761 slugging percentage for a 1.199 OPS.
• Center fielder Melvin Upton Jr. is 5-for-12 during a four-game hitting streak with a double and a homer for two RBIs and three runs scored. Over the past month, Upton is hitting .320 (16-for-50) with two doubles, a triple, two home runs, six RBIs and nine runs scored. He has raised his batting average from .152 to .240.
• Infielder Alexi Amarista was 0-for-4 Thursday, snapping a four-game hitting streak during which he was 7-for-16 with two doubles, two triples and a home run for five RBIs and three runs scored.