MLB.com Columnist
Terence Moore
Grissom fulfilled destiny in 1995 World Series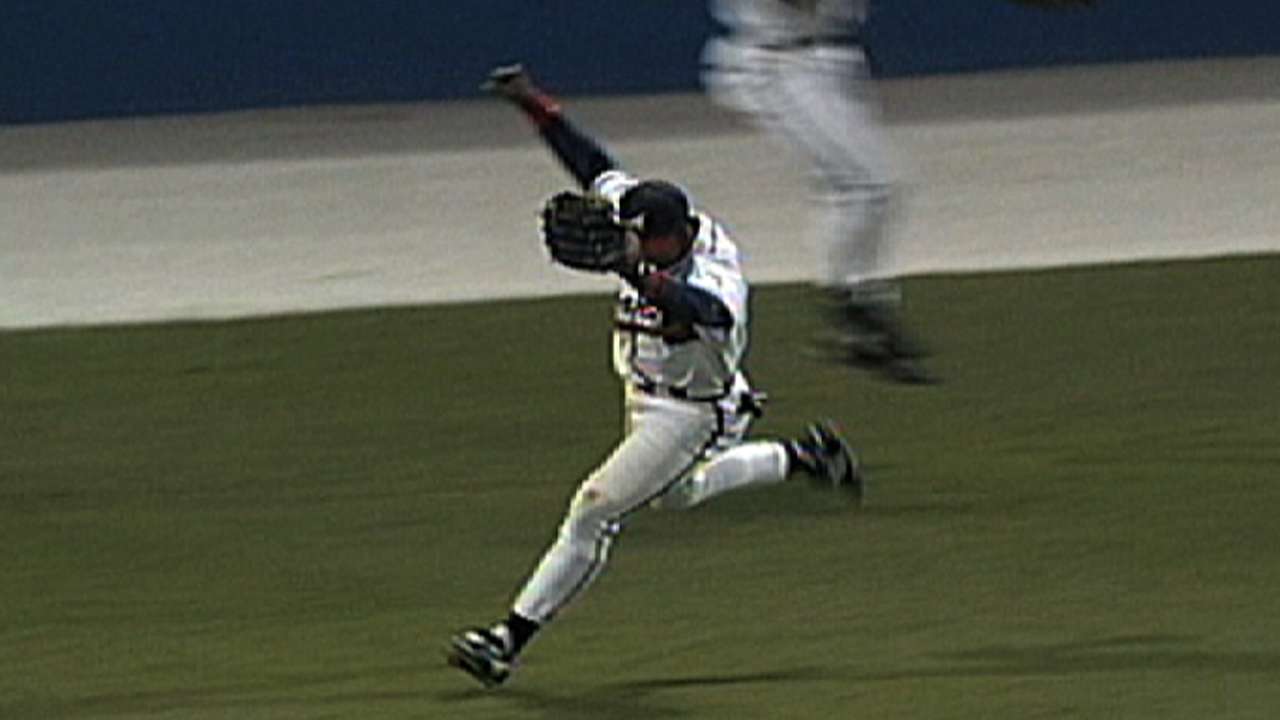 ATLANTA -- This is about Marquis Grissom and destiny, but let's start with some background. From now through the end of the weekend at Turner Field, the Braves will do a couple of things: They'll play the Marlins and they'll hug a 20-year-old memory as tightly as possible.
What a memory. Actually, what a team.
Back then, with the Braves near the start of a record streak of 14 consecutive division titles, they managed their first and only World Series championship since moving south from Milwaukee in 1966. Atlanta's World Series-clinching moment came at old Atlanta-Fulton County Stadium in Game 6 against the Indians. Local fans hadn't witnessed such a feat, despite having the likes of Hank Aaron, Phil Niekro, Dale Murphy and a slew of other Braves standouts.
The 1995 Braves' biggest heroes from that Game 6 are among those slated to attend Friday's pregame ceremony at Turner Field. Tom Glavine, who held the Indians' potent lineup to one hit through eight innings, is expected to attend, as well as David Justice, who provided the game's only run with a solo homer, and Mark Wohlers, the former Atlanta closer who sealed the 1-0 victory with a perfect ninth inning.
Then, there will be the other guy.
Who secured the last out for the Braves that night against the Indians to make the stadium explode? He's the same guy who was in his first year with Atlanta. He's the same guy who captured one of his four career Gold Gloves that season. He's the same guy who stole nearly 40 percent of the bases (29) for what otherwise was a plodding team.
He's the same guy who spent his youth as a diehard Braves fans. He was born and raised in Atlanta, and he still lives in town, where he works with youth through his highly productive baseball academy that deals with children's athletic, mental and spiritual lives.
That guy is Marquis Grissom.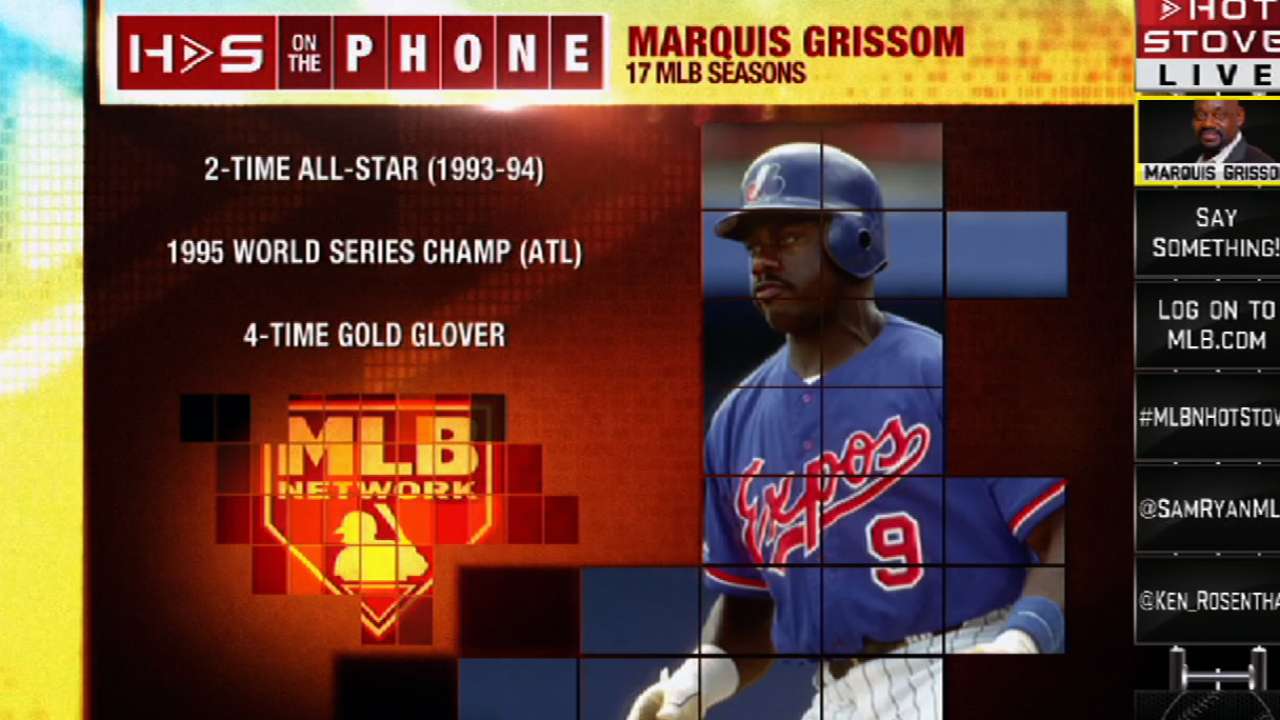 I mean, Grissom still tingles when he recalls the flight of that ball from Carlos Baerga heading his way in the top of the ninth of Game 6. There he was, working as a 28-year-old center fielder on his favorite team, with two outs, and with tons of friends and relatives (he grew up with 14 siblings) throughout Atlanta yelling like crazy. Grissom's eyes were widening by the moment.
"At that time, I was just thinking, 'Come on down, ball,' and I'm thinking, 'We just won the World Series,'" Grissom said. "There was no thought of me missing the ball or dropping the ball. That didn't even enter my mind. I did go into this matrix, where everything just slowed down, and I'm still telling the ball in my mind, 'Come on down. Come down. Come on down.' But for that split second, I was just blown away, thinking of all the hard work I'd done as a Little Leaguer, high schooler, college player, Minor League player.
"Winning that ultimate trophy, man, that was unbelievable."
And it truly was. For one, Grissom spent his opening six years in the Major Leagues through 1994 with the Montreal Expos. The Expos were the antithesis of those Braves teams that spent the early part of the decade building the foundation to become a postseason fixture.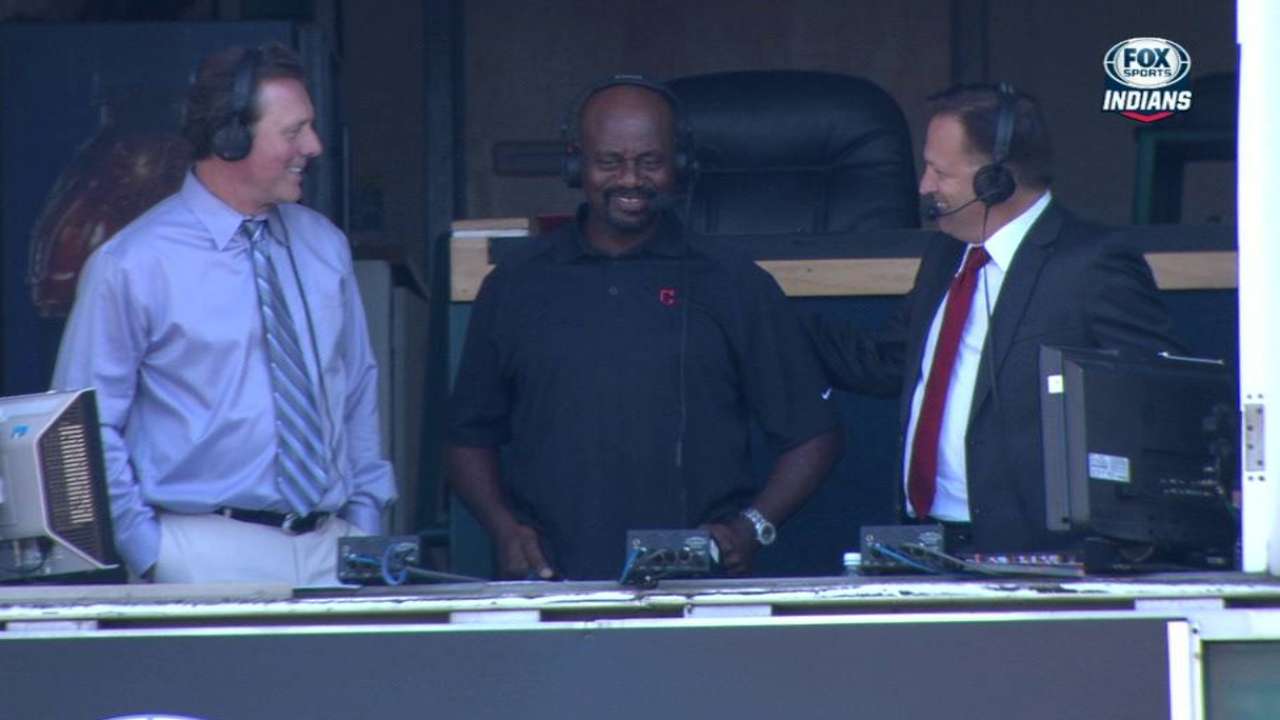 Still, there was Montreal's streaking squad of 1994. Courtesy of a solid roster that featured Grissom, Pedro Martinez, Moises Alou, Larry Walker and others, the Expos were the talk of baseball. They led the second-place Braves in the National League East by six games after going 74-60, but a work stoppage wiped out the rest of the season, including the World Series.
Who knows? Grissom and Montreal could have ended Atlanta's string of division titles right there.
"You know what? I get asked that all the time, but I can't say we were better in 1994 than the Braves," Grissom said. "They had a lot of veteran players who were pretty much proven. They had Cy Young Award winners and other great players. We had a bunch of young guys, and even though we were very talented and had a lot of guts, you just don't know how we would have reacted once we got to the playoffs."
Even those Braves could relate to that. Despite going from worst-to-first in 1991 to reach the World Series, they encountered a Twins team that did the same. Minnesota won. After Atlanta reached the World Series again in 1992, it couldn't handle Toronto. The next year, the Braves lost in the NL Championship Series to the Phillies, and then came the Expos nearly taking the NL East before they were saved by that work stoppage.
That's why the 1995 World Series was huge for Atlanta's legacy.
"To be honest with you, I never felt any of that," Grissom said. "When I first got traded to the Braves, the first thing that came to my mind was like, 'Why in the world do they need me?' They had such a great team already. I had spent all of those years playing against them, and we couldn't get past them. So once I got there, I didn't feel any urgency to win, but I did say to teammates, 'We've got an unbelievable team here. We've got a great chance of not just going to postseason play, but of winning the World Series.'
"Then, of course, once the season began and you get acclimated, you see the willingness of everybody to play at a whole different level for the rest of the way, and we all could envision in our minds the ultimate goal."
But did the Braves' hometown guy envision the final out settling into his glove?
"No way," Grissom said, laughing.
Terence Moore is a columnist for MLB.com. This story was not subject to the approval of Major League Baseball or its clubs.