Pillar discusses favorite gravity-defying catches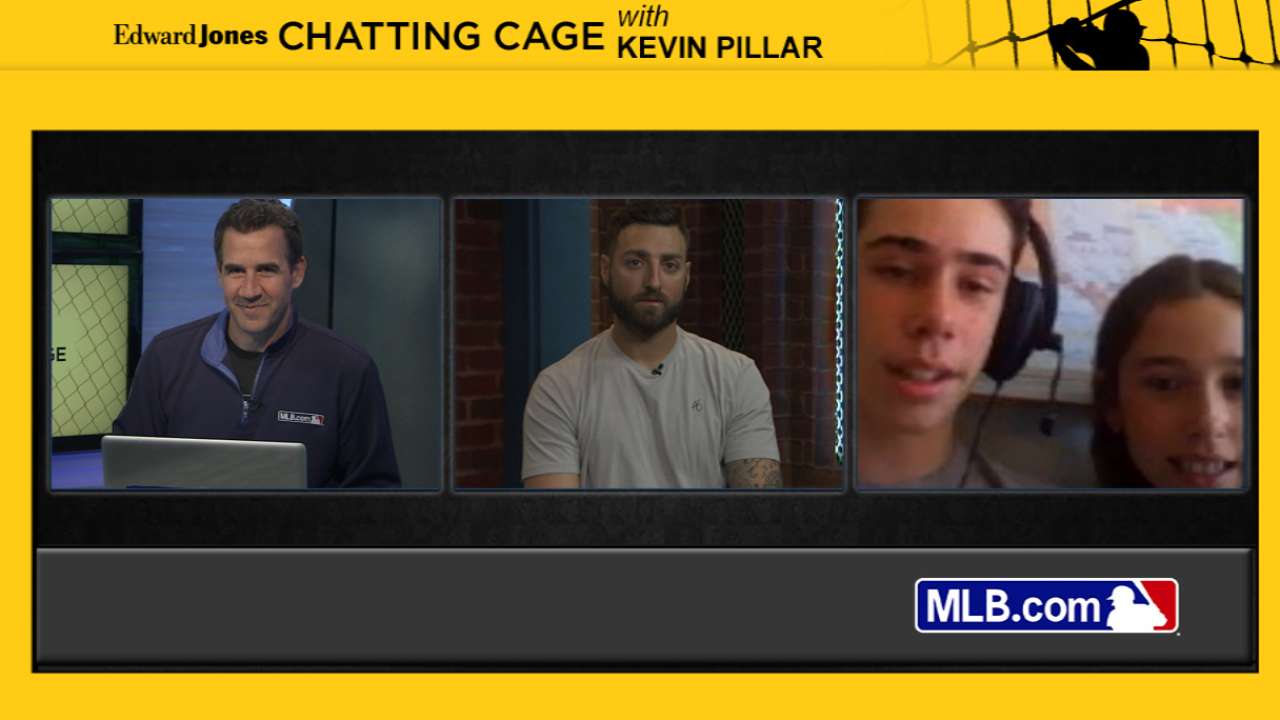 NEW YORK -- Before boarding the 1 p.m. bus from the Blue Jays' team hotel in Manhattan up to Yankee Stadium on Friday, Kevin Pillar visited the MLB.com studios to interact with fans in the Edward Jones Chatting Cage, and to have some fun in the @MLB social media room. Naturally, everyone there -- and indeed, all around Major League Baseball -- was talking about his latest sick catch from the night before against Minnesota. The highlight was one of four dazzling grabs featured as GIFs on large video screens all around him.
"Which one is your favorite?" Pillar was asked.
"That one," he replied, pointing to his Jackie Robinson Day catch in Toronto, where he went over the wall to rob Tim Beckham. "It's only been done one other time in that stadium."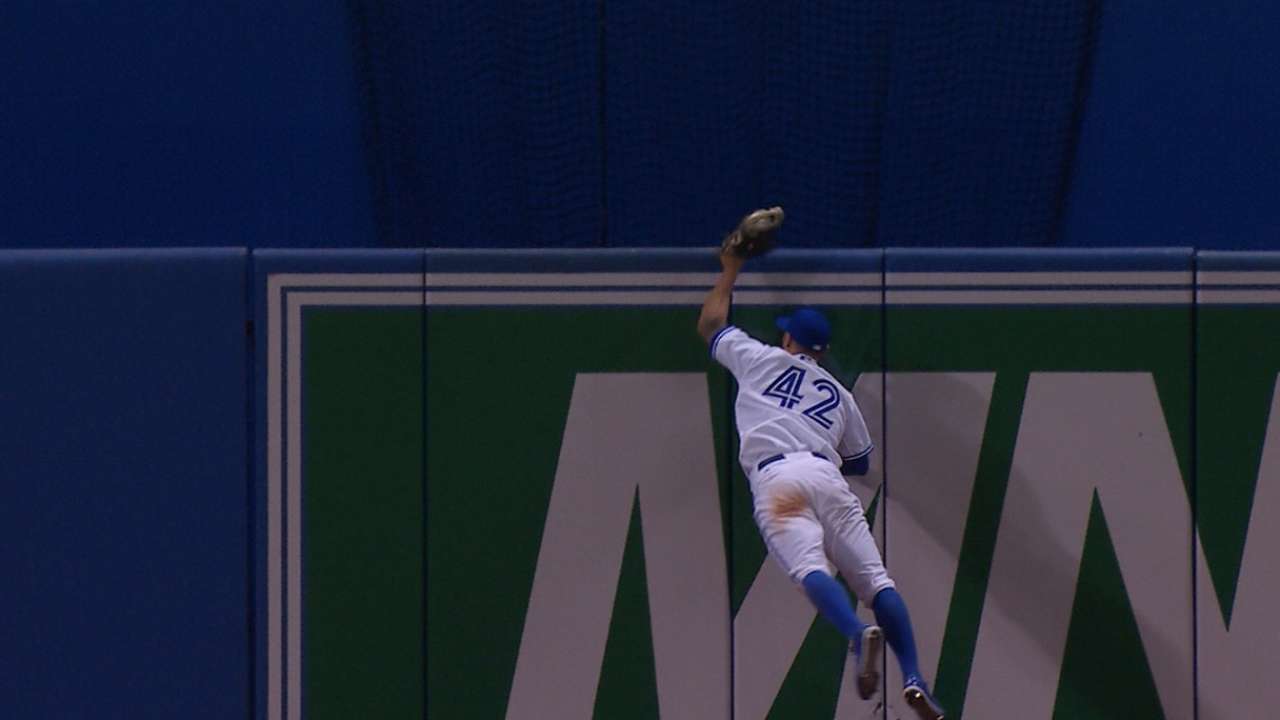 If every Gold Glove voter was in the room to see Pillar surrounded by so many remarkable defensive plays, it would be tough to imagine giving one of the three outfield awards in the American League to anyone else. There will be plenty of competition when that time comes, but here in August, this is what Pillar's life has become -- a thrill reel.
"Can you fly?" Pillar was asked in the Chatting Cage.
"For a short period of time," he answered. "A very, very short period of time. But, yeah, I can."
"What was going through your mind when you made that catch last night?" a fan named Logan asked from Chicago.
"You're just trying to win games," Pillar said. "The more and more you play the position, you get comfortable with it. The more you get to know your opponents and the pitching staff, you start anticipating things. Last night was one of those rare occasions where I kind of felt like I knew where the ball was going to go before it went. We just try to take the best routes to the ball, and if we've gotta dive, we've gotta dive, but ultimately we're trying to get outs so we can win games."
Steve from London, Ontario, said he has a son playing outfield in Little League, and he wanted to know whether Pillar's style of play is "purely instinct" or whether it was learned. Steve said his son is "a bit hesitant to get aggressive on those more challenging catches," and he wanted to know how Pillar acquired the talent.
"I definitely think the No. 1 thing is instinct," Pillar said. "That just comes from repetition. The more and more he plays out there, the more comfortable he's going to get. You make your first diving catch like that, and that feeling you get makes you want to do it again and again. It's just a matter of him getting out there and just continuing to read balls off the bat. The best time for us is during batting practice. That's where I get the majority of my work in.
"I don't know if he plays any other sports, but me playing other sports growing up also allowed me to be a little more aggressive out there... But he'll have that moment when he makes a diving catch, and he'll realize how much fun it is, and the ground's not that painful when you make a catch. Then the sky's the limit from there."
Now that Pillar and his Blue Jays teammates have significantly more roster help, their next three-game series against the Yankees will be big for them. It's a chance for Toronto to chip further into New York's AL East lead.
"This is as big as a series can get at this time of the year," Pillar said. "We're playing great baseball right now, and the Yankees have been playing great baseball all year. With the new additions and the newfound confidence that this team has, we're looking forward to this matchup."
If you want some sound advice for aspiring ballplayers, whether you are a player or a parent, then be sure to watch the full video of Pillar's appearance.
"The biggest thing I can share is, just maintain that belief in yourself," Pillar said. "We all take different paths to where we get, and some are longer, some are shorter. The biggest thing that helped me was, one, I've always worked hard. I love the game. Baseball's a game of failure, and you've got to learn how to accept it. But learn from it, and try to improve."
Pillar's high point so far was on April 15, when he joined Rajai Davis (2012) as the only known players to have scaled the wall and rob home runs at Rogers Centre.
More recently, Thursday's diving catch to rob Minnesota's Miguel Sano brought a Toronto crowd of 34,847 fans -- and many more across Canada -- to their feet. Not his top choice, but it's up there.
During the MLB.com visit, Pillar got to enjoy that impressive grab for a bit longer before taking the early bus up to the Bronx to resume the work it takes to soar at his level.
"It's always fun to be able to do things like this," Pillar said of the Chatting Cage visit. "This is definitely something that I've always wanted to do. I enjoy watching them when I have some free time, and just to be able to interact with fans is fun."
Mark Newman is enterprise editor of MLB.com. Read and join other baseball fans on his MLB.com community blog. This story was not subject to the approval of Major League Baseball or its clubs.