Seager takes over as top fantasy prospect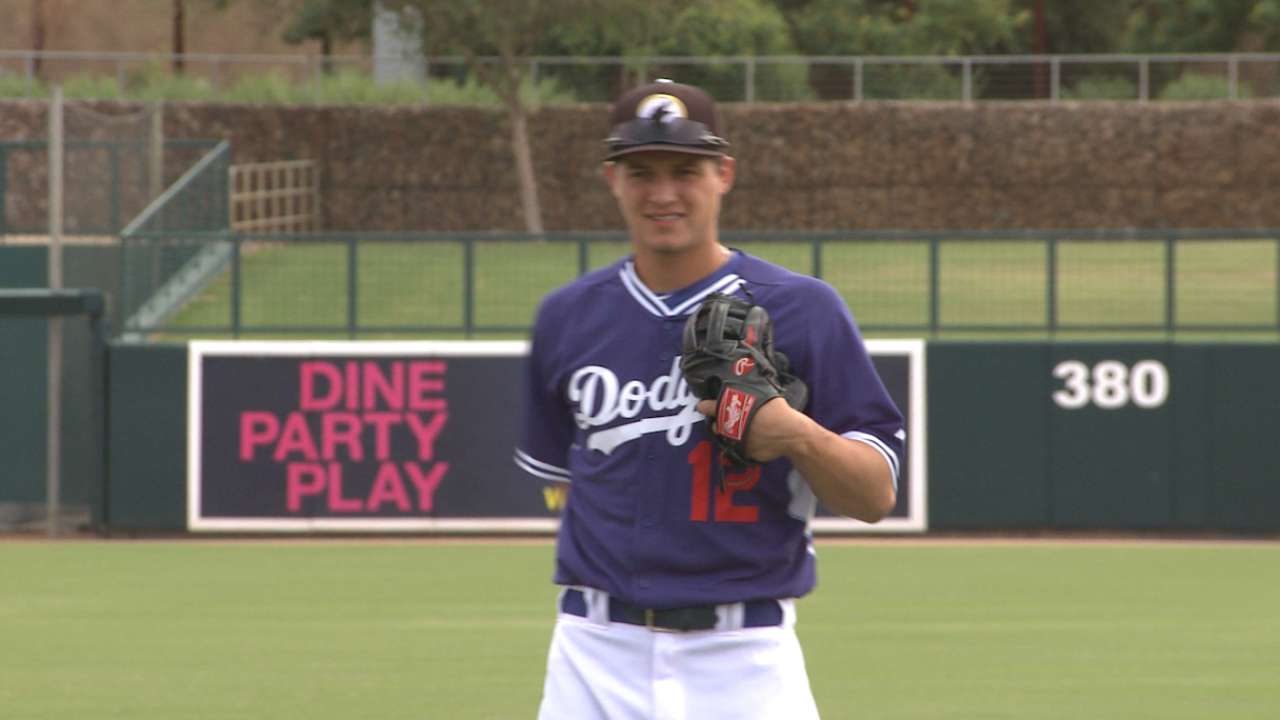 Every week, the MLBPipeline.com crew will rank the top 10 fantasy baseball prospects in the Minor Leagues. These rankings are based solely on expected 2015 fantasy production in the Major Leagues, in contrast to the MLBPipeline Top 100 Prospects list, which reflects long-term value in all phases of the game.
It's always a big deal when a team promotes a highly ranked pitching prospect to the Major Leagues. However, rarely does it happen three times in a two-day span like it did this week with Henry Owens, Jon Gray and Luis Severino.
Owens, Boston's second-highest ranked pitching prospect, took the mound on Tuesday night at Yankee Stadium, and it appeared he might be headed for an early exit after a shaky first inning. But the left-hander settled down and ultimately turned in a successful outing, allowing three runs on five hits with five strikeouts over five innings.
Gray, Colorado's top pitching prospect, also made his debut on Tuesday, and like Owens, he struggled early in the game. Facing the Mariners at Coors Field, Gray, the No. 3 overall Draft pick in 2013, yielded a pair of runs in the first inning and another in the fourth, which turned out to be his final inning despite throwing only 77 pitches. The 23-year-old right-hander gave up five hits and two walks, striking out four.
The following night belonged to Severino, the Yankees' No. 1 prospect, who made his highly anticipated debut against Boston in front of a packed house at Yankee Stadium. The hard-throwing 21-year-old allowed just one run on two hits and piled up seven strikeouts over five innings. Severino's explosive fastball reached 97 mph, while his slider, which at times registered in the low 90s, generated a handful swinging strikeouts.
1. Corey Seager, SS, Dodgers (Last rank: 5). Jimmy Rollins' .634 OPS this season is the lowest mark of his 16-year career, and the switch-hitter is batting just .197 in 314 at-bats against right-handed pitching. Seager, 21, represents a clear offense upgrade at shortstop for the Dodgers, as he's continued to surge toward the Major Leagues this year behind a .298/.350/.495 batting line, 14 home runs and 29 doubles in 97 games between Double-A Tulsa and Triple-A Oklahoma City.
2. Hector Olivera, 3B/2B, Braves (Last rank: 3). The Braves expressed serious interest in Olivera last spring before losing out to the Dodgers, who landed the 30-year-old Cuban infielder with a six-year, $62.5 million pact (which included a $28 million bonus). However, Atlanta finally got its man in last week's 13-player trade with the Dodgers and Marlins, and he'll cost the club around $22 million over the next five years. Sidelined with a hamstring injury since mid-July, Olivera will require rehab assignment before taking over the hot corner for the Braves, but he could be a big-time fantasy contributor in September.
3. Domingo Santana, OF, Brewers (Last rank: 2). Acquired in the Carlos Gomez /Mike Fiers trade, Santana has a more direct path to the Major Leagues with Brewers and stands to receive significant playing time over the final two months of the regular season. The 23-year-old outfielder has a ton of raw power and he's tightened his approach this season in Triple-A, but questions remain about whether he'll make enough quality contact to be an impact player in the Majors.
4. Aaron Judge, OF, Yankees (Last rank: unranked). Judge and Severino have been linked all season as the Yankees' top pitching and hitting prospects, respectively, and the organization's refusal to part with either player before last week's non-waiver Trade Deadline only reaffirmed their significance in the Bronx Bombers' long-term agenda. Judge has cooled off since moving up to Triple-A Scranton/Wilkes-Barre in late June, but the 6-foot-7, 275-pound outfielder could give the Yankees' aging offense a boost down the stretch.
5. Robert Stephenson, RHP, Reds (Last rank: 8). Stephenson's development this season in the high Minors surely factored into Reds' decision to trade both Johnny Cueto and Mike Leake before the Deadline. The 22-year-old hurler is 4-0 with a 2.25 ERA, .197 opponents' batting average and 36 strikeouts in 36 innings (six starts) since moving up to Triple-A Louisville in early July. More importantly, he's walked only 3.2 batters per nine innings at the Minors' highest level, an enormous improvement compared to the 4.9 BB/9 he posted at Double-A Pensacola. The Reds recently turned to David Holmberg and Keyvius Sampson to fill vacancies in the starting rotation, but it's only a matter of time until Stephenson gets the call.
6. Jose Berrios, RHP, Twins (Last rank: 9). The Twins dropped their fifth consecutive game on Thursday and are just 5-14 since the All-Star break. Bad pitching has been the source of the team's second-half struggles, as Twins hurlers have combined for a 5.26 ERA while yielding an MLB-worst 31 home runs. Berrios, 21, has been excellent this season in the Minors, posting a 3.23 ERA and 126/35 K/BB ratio in 128 1/3 innings (21 starts) between Double-A Chattanooga and Triple-A Rochester. The hard-throwing right-hander has the stuff and command to make an immediate impact in the big leagues, and he shouldn't run in to any workload-related concerns after accruing 140 innings last season.
7. Trevor Story, SS, Rockies (Last rank: unranked). Story has put up impressive numbers this season in the Minors, batting .275/.349/.536 with 18 home runs, 59 extra-base hits and 15 stolen bases in 99 games between Double-A New Britain and Triple-A Albuquerque. The 22-year-old shortstop has some swing-and-miss to his game and probably won't hit for average, but he should still offer plenty of fantasy value thanks to a blend of power and speed at a premium position.
8. Joey Gallo, 3B/OF, Rangers (Last rank: 10). Gallo has struggled to get back on track after being demoted to the Minors, batting just .202 with 48 strikeouts in 30 games for Triple-A Round Rock. However, the 21-year-old slugger connected for three home runs on Thursday, giving him six home runs in his past six games, and he's raised his OPS nearly .100 points in that span.
9. Aaron Blair, RHP, Diamondbacks (Last rank: unranked). Blair doesn't project to miss many bats in the Major Leagues, but there's something to be said for his ability to consistently pound the zone, induce ground balls and work deep into games. After allowing eight earned runs in four innings in his debut for Triple-A Reno, the 23-year-old right-hander is 4-0 with a 2.37 ERA and 32 strikeouts in 38 innings over his past six starts.
10. Jose Peraza, 2B/SS, Dodgers (Last rank: unranked). The Dodgers gave up a potential star-caliber talent in Hector Olivera at the Trade Deadline, but they also got one back in Jose Peraza, who is now the leading candidate to replace Howie Kendrick at second base in 2016. The 21-year-old's excellent contact skills and plus-plus speed make him a true top-of-the-order threat, while his .322 batting average and 87 steals since the start of 2014 is a strong indicator he's ready for the big leagues.
Dropped out: Daniel Norris, LHP, Tigers (Last rank: 1/promoted); Luis Severino, RHP, Yankees (Last rank: 4/promoted); Jon Gray, RHP, Rockies (Last rank: 6/promoted)
Mike Rosenbaum is a contributor for MLB.com. This story was not subject to the approval of Major League Baseball or its clubs.