Gallo, Brinson among 10 top prospect performers Thursday
Rangers top prospect crushes three homers, No. 4 prospect hits his first Double-A jack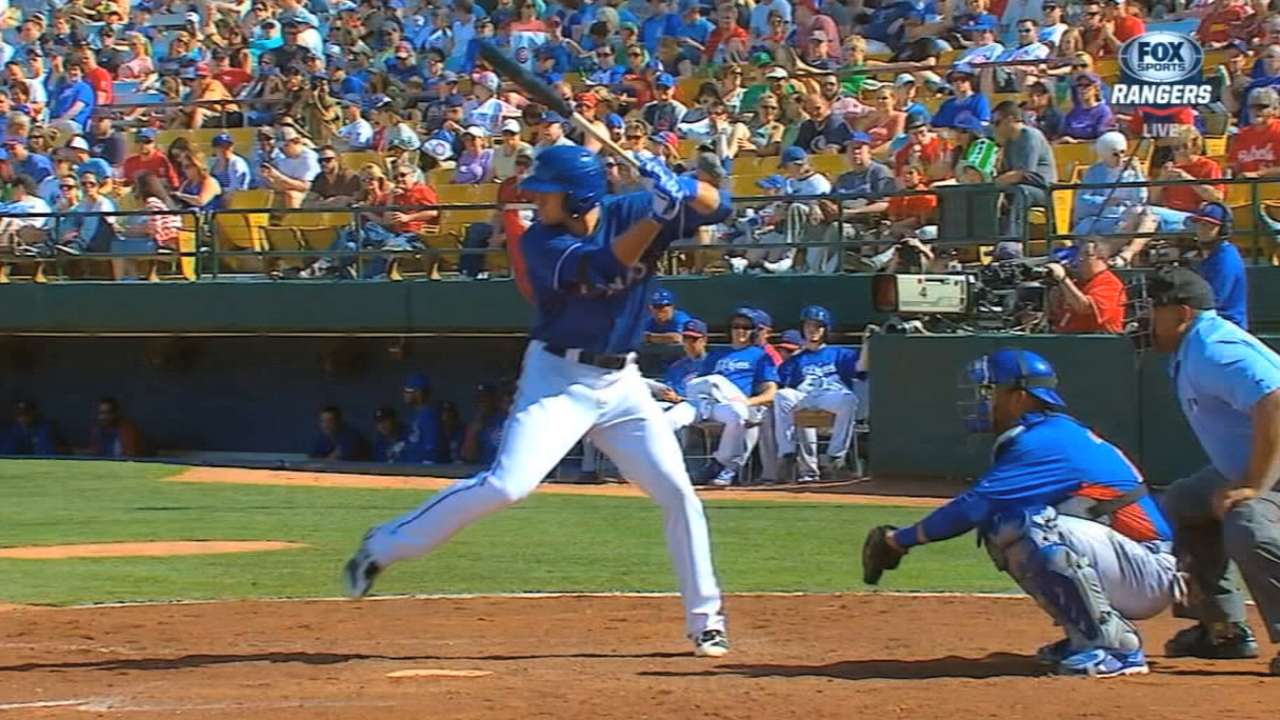 The center fielder has gotten off to a great start for the RoughRiders, hitting .393 with 11 RBIs through seven games. He spent most of the season at Class A Advanced High Desert, where he put together a .337/.416/.628 line with 13 homers and 42 RBIs in 64 games.
Brinson and Gallo could form a formidable tandem for Texas' big league club in the future. Thursday marked the fifth time Gallo has hit three homers in one game in his Minor League career.
The 21-year-old is a little more than a month removed from his first stint with the big league club. In Arlington, he hit homers in each of his first two games, but eventually cooled off to finish .218/.306/.448 with five roundtrippers and 13 RBIs in 25 outings.
Thursday's outburst is the continuation of a recent hot streak. Gallo has six homers and eight RBIs in his past six games.
Rangers No. 6 prospect Chi Chi Gonzalez helped Round Rock seal a 6-1 win over New Orleans.
The right-hander allowed one run on eight hits while striking out three in seven innings. The win was his first since July 8 and Rodriguez stands at 5-7 with a 4.09 in 13 Triple-A starts.
The rest of the 10 best performances from top Minor Leaguers
• Astros No. 13 prospect J.D. Davis homered for the third straight game for Class A Advanced Lancaster. The third baseman finished 3-for-4 with two RBIs and is 7-for-14 with six RBIs over the past three nights. He explained his change in approach after Wednesday's game. "I feel really good," Davis told MiLB.com. "A lot better than where I was after I just got drafted. [I'm] trying to be fundamentally sound, working on my footwork, my hands and just taking bits and pieces of the advice they're giving me and applying it. It's gone a long ways -- feeling a lot more confident over there." The 22-year-old has 19 jacks and 79 RBIs on the year.
• A trio of Astros first-year players earned Class A Short Season Tri-City a team no-hitter against Aberdeen. The ValleyCats won, 5-0, thanks to the work of three of Houston's 2015 Draft picks: Kevin McCanna (13th round, Rice), Ralph Garza (29th round, Oklahoma) and Zac Person (ninth round, LSU). McCanna started the game and allowed the team's only blemish -- a walk -- in four innings that included five strikeouts. Garza was fantastic, striking out seven batters in four frames. He turned the ball over to Person in the ninth and the 22-year-old required 15 pitches to sit down the final three hitters. "You can't help being aware of it, but it's one of those things where if you don't talk about it, it's easy to swallow it," Person told MiLB.com. "I told myself not to think about it, because if I thought about it, it would have hindered me." Tri-City last had a no-hitter in 2008, when Shane Wolf, David Miller and Ashton Mowdy helped the ValleyCats defeat Oneonta, 10-0.
• Athletics No. 7 prospect Chad Pinder is on a roll and showing few signs of slowing down. The shortstop hit his fourth homer in three games for Double-A Midland on Thursday, over which time he's gone 7-for-13 with 11 RBIs. Pinder has hit in 10 straight contests and 28 of his past 29 games. Pinder is hitting .324/.373/.505 with 23 doubles, 14 homers and 73 RBIs for the RockHounds on the year.
• Blue Jays No. 9 prospect Conner Greene used an improved curveball to help rack up a career-high 10 strikeouts in Class A Advanced Dunedin's 3-1 win over Daytona. He's won two in a row and stands at 2-3 with a 2.25 ERA in seven starts. "I've gotten into a lot of 0-2 foul-ball matches," Greene told MiLB.com. "But today, something just clicked and they weren't fouling the ball off as much. My curve, I was throwing it well for strikes 0-0 and not in strikeout counts, and then I could get swings on it for a strikeout, the curve and the fastball. I think everyone I struck out was either a low curve or a high fastball."
• Cardinals No. 3 prospect Jack Flaherty smashed his previous career best with a dozen strikeouts for Class A Peoria. He nearly doubled his old high (seven) and surrendered just one run on five hits in six innings. While the right-hander did not earn a decision, he still has not lost since May 31, a streak of 11 starts. Flaherty stands at 6-1 with a 2.75 ERA and has fanned 66 batters against 25 walks.
• Indians No. 1 prospect (No. 32 overall) Bradley Zimmer homered for the second straight night. The Double-A Akron center fielder finished 2-for-5 with a double, home run and two RBIs as the RubberDucks defeated Harrisburg, 4-2. Zimmer's line reads .227/.341/.440 with three homers and 13 RBIs in 20 games for Akron and he now has a three-game hitting streak, over which time he's cranked four extra-base hits. Cleveland's top prospect was having quite a year for Class A Advanced Lynchburg before his mid-July promotion -- he hit .308/.403/.493 with 10 homers and 39 RBIs for the Hillcats.
• Marlins No. 1 prospect (No. 61 overall) Tyler Kolek struck out a career-high nine batters for Class A Greensboro, but he couldn't end a nine-game winless streak. The 6-foot-5 right-hander gave up two runs on three hits in five innings as the Grasshoppers fell to Kannapolis, 2-1. Kolek now sports a 4-9 record, along with a 4.42 ERA that has not dipped below 4.00 since April 28.
Alex M. Smith is a reporter for MLB.com. This story was not subject to the approval of Major League Baseball or its clubs.