MLB.com Columnist
Phil Rogers
Cubs' clash with Giants has big-series vibe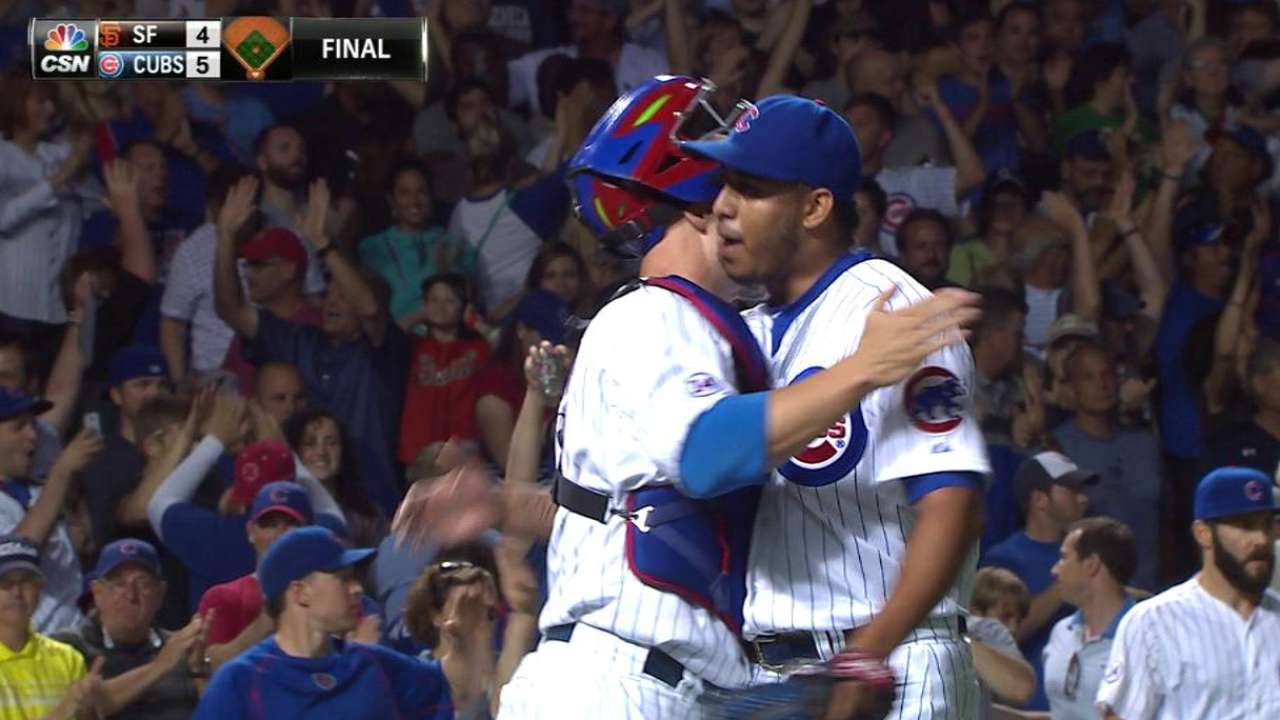 CHICAGO -- Joe Maddon hooked Jason Hammel so quickly that the veteran seemed dazed behind the mound, like his manager had landed a Ronda Rousey-style haymaker. Meanwhile, in the other dugout, Bruce Bochy left Chris Heston in for two more innings after he'd fallen behind by five runs in the second.
With the Giants at Wrigley Field for four games over the weekend, it's the biggest series of the Theo Epstein era in Chicago. Bochy understands that, and he'd love to win three out of four himself, but let's not get carried away.
All things in life are relative, including the significance of the Cubs overtaking the Giants in the National League Wild Card standings on Aug. 6, with 55 games still to play.
Bochy, who has managed the Giants to three championships in the past five years, was asked before the Cubs' 5-4 victory if he considers this a big series. He didn't come right out and say no, but he did point out he was resting his best player, Buster Posey.
"You get to September, it's a little different," Bochy said. "I'm giving Buster a day [off]. I probably wouldn't do that in September, but there's a lot of baseball left."
Indeed there is, and everyone knows it.
But when you haven't had a winning season since 2009, played a playoff game since 2008, won a playoff game since 2003, won a pennant since 1945 or won a championship since 1908, well, it's never too early to hang on every pitch.
"I never tell the fans to [temper it]," Maddon said. "I don't think I've actually told the players to temper it. I'm not into temperance, I guess. The fans here have been great all year. Everywhere we've gone, it's almost like a playoff atmosphere on a nightly basis."
And, if the Cubs keep winning at the pace they have all season, it will only get better as the summer rolls along.
• Giants a "good test" for contending Cubs
While Maddon has installed four rookies into the Cubs' everyday lineup -- the latest being Kyle Schwarber, who smashed a three-run homer off Heston on Thursday -- his best trick has been to position his team in the middle of a Wild Card race that breaks down to be three teams for one spot.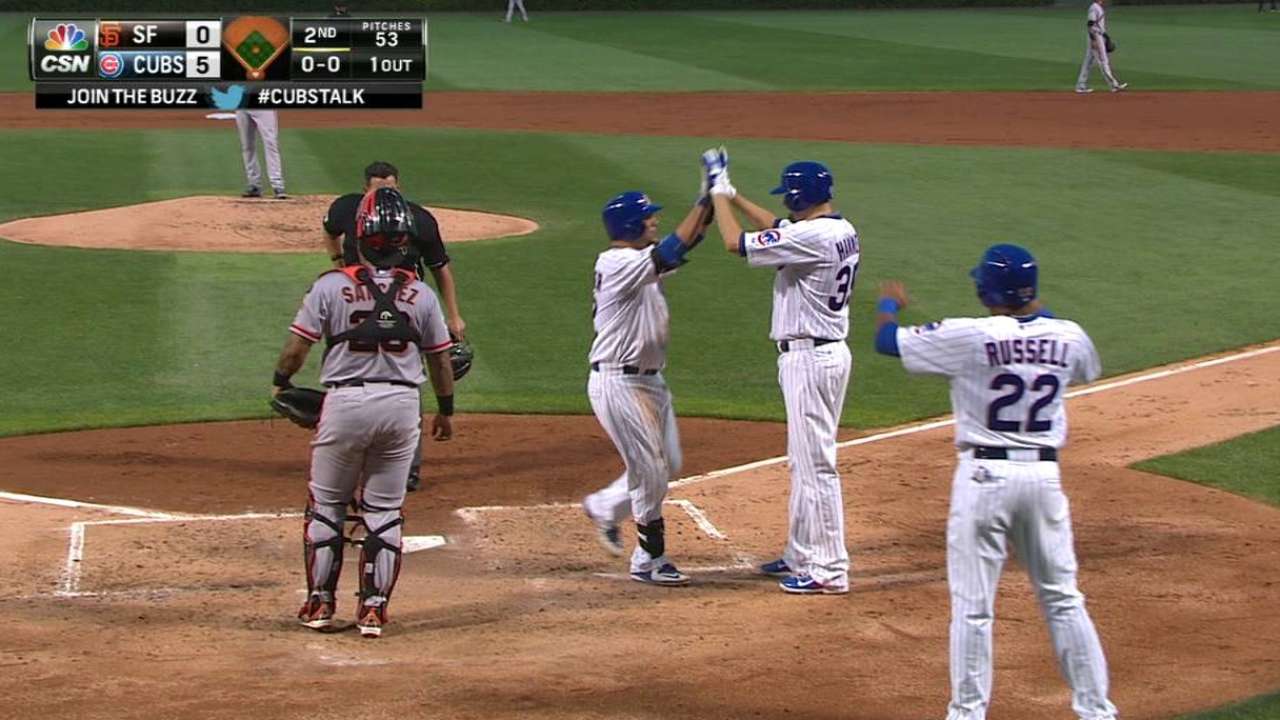 When Hector Rondon nailed down the victory in the series opener, it marked the fifth time in two weeks that the second of two NL Wild Card spots (the Pirates so far seem secure with the first spot) changed hands between the Cubs and the Giants. The latest shift was in the Cubs' direction, regaining the half-game edge they had lost with a 7-5 defeat Wednesday night in Pittsburgh.
At 59-48, the Cubs are on track to win 89 games. They're 9 1/2 games behind St. Louis in the NL Central, but the crowd didn't seem to give that much thought heading into the night.
While the Giants remain focused on their three-game deficit behind the Dodgers, Maddon admits he's happy to look at the Wild Card standings. That's especially true in a stretch like this one, when the Cubs have won seven of eight.
"I do look at standings," Maddon said. "I like to look at them when we're winning. I don't look at them so much when we're losing, so I'm a front-runner with that."
Give Maddon credit for pulling Hammel after only 76 pitches. He was a candidate for the All-Star team in the first half, but he hasn't been as impressive lately, and Maddon acted quickly when Hammel, protecting a 5-2 lead, walked the first two hitters of the fifth inning.
The easy thing to do would have been to leave Hammel in the game, as he needed three more outs to qualify for the victory, but Maddon knows Hammel well and didn't like what he was seeing. He summoned reliever Justin Grimm, and he retired three straight to get out of the inning.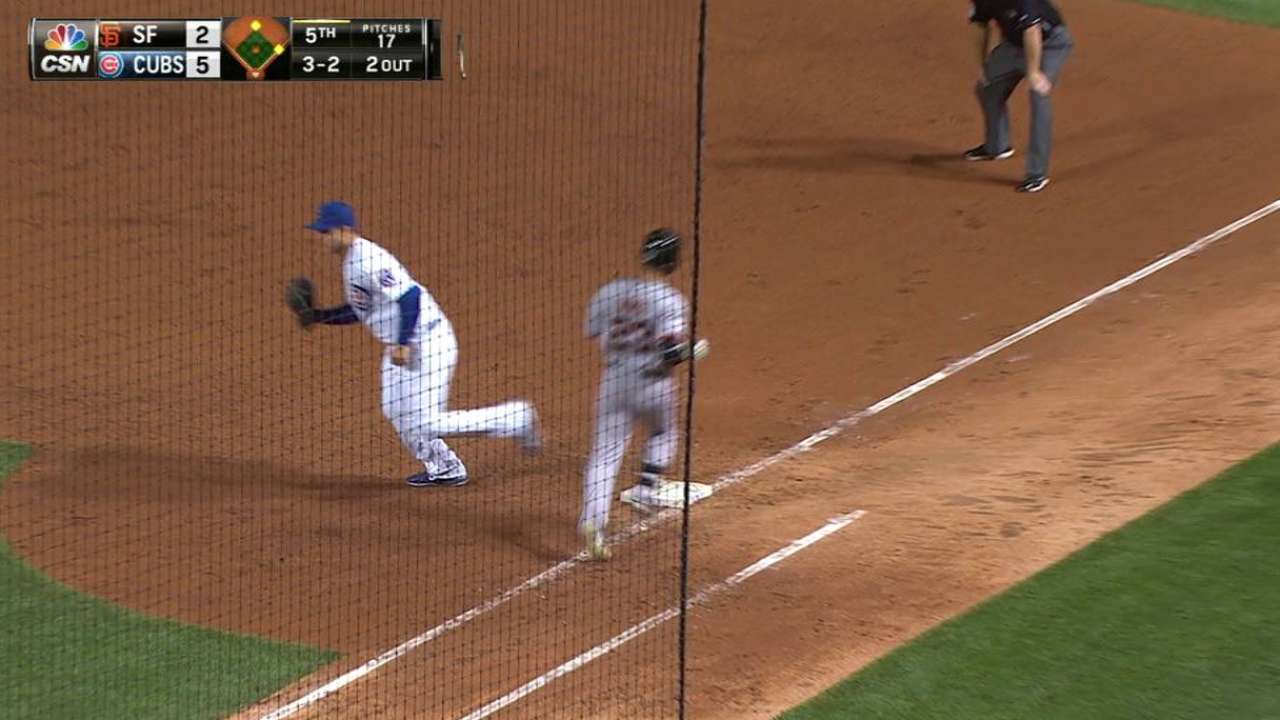 Maddon worked miracles with the 2008 Rays, who manufactured a 31-win improvement during the regular season, then rolled through the Red Sox to the World Series. That's the kind of roll he's hoping to duplicate in his first season with the Cubs.
"It's very familiar to me," Maddon said about this season. "I like the young group. I like where we are right now. You'd always like to be a little farther along, but we'll take it. The vibe, you absolutely can't beat it. It's spectacular. It's unbeatable. You can talk about soccer, something else. But baseball-wise, it's unbeatable. What we're going to participate in this weekend, it's going to be great for everybody. But let's just play Thursday's game first."
Two-run homers by Brandon Belt and Brandon Crawford would get the Giants within one run after they'd fallen behind, 5-0. Bochy, like Maddon, handled his bullpen beautifully (using five relievers to work four scoreless innings) and wound up getting Posey a shot at tying the game.
Pinch-hitting in the ninth against Rondon, Posey's long fly was caught by left fielder Matt Szczur (one of four reserves used by Maddon, who emptied his bench). Advantage, Cubs, in a season series with six games remaining, including three at AT&T Park from Aug. 25-27.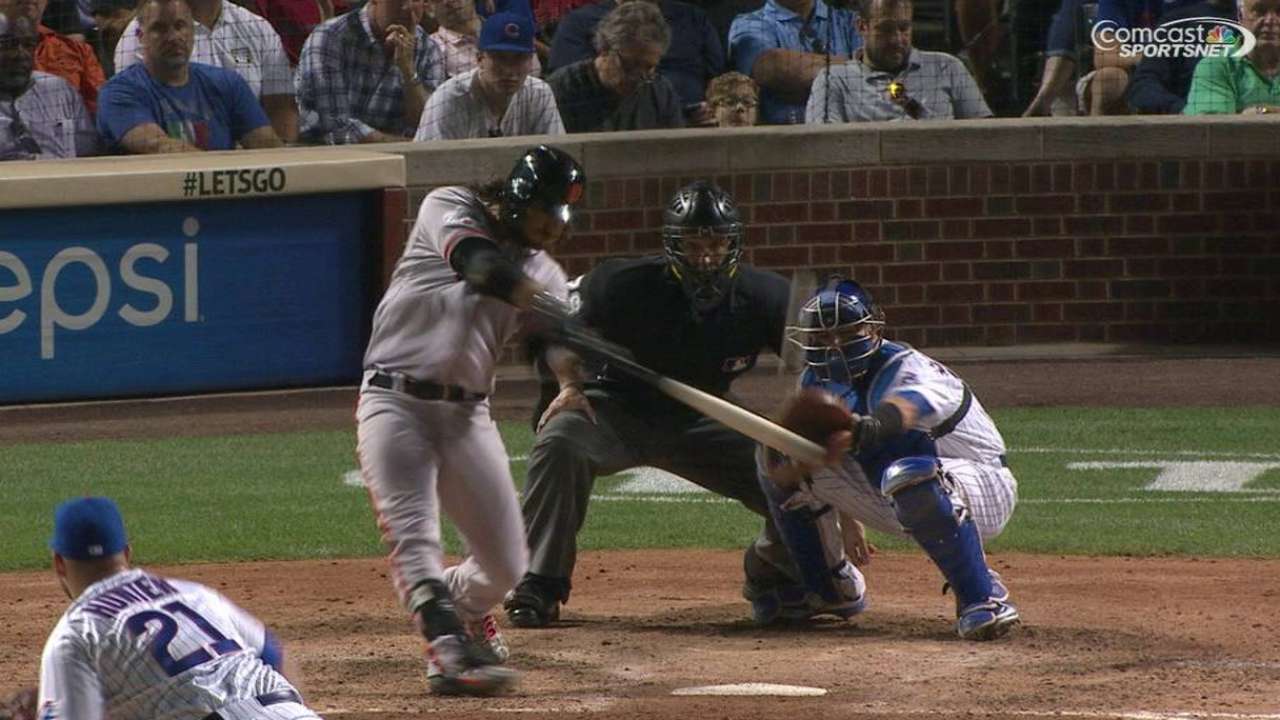 The Cubs would seem to have caught a break with the Giants scratching Mike Leake (strained hamstring) from Friday afternoon's game. Ryan Vogelsong will get the start against Jon Lester.
Before the game, Maddon will do what he tries to do most days: Grab a bike ride along the lakefront, line up a good restaurant for a meal and, somewhere along the line, catch a little sleep.
"I have a good time," he said. "Guilty."
Phil Rogers is a columnist for MLB.com. This story was not subject to the approval of Major League Baseball or its clubs.