Twins option Duffey, call up Herrmann, Achter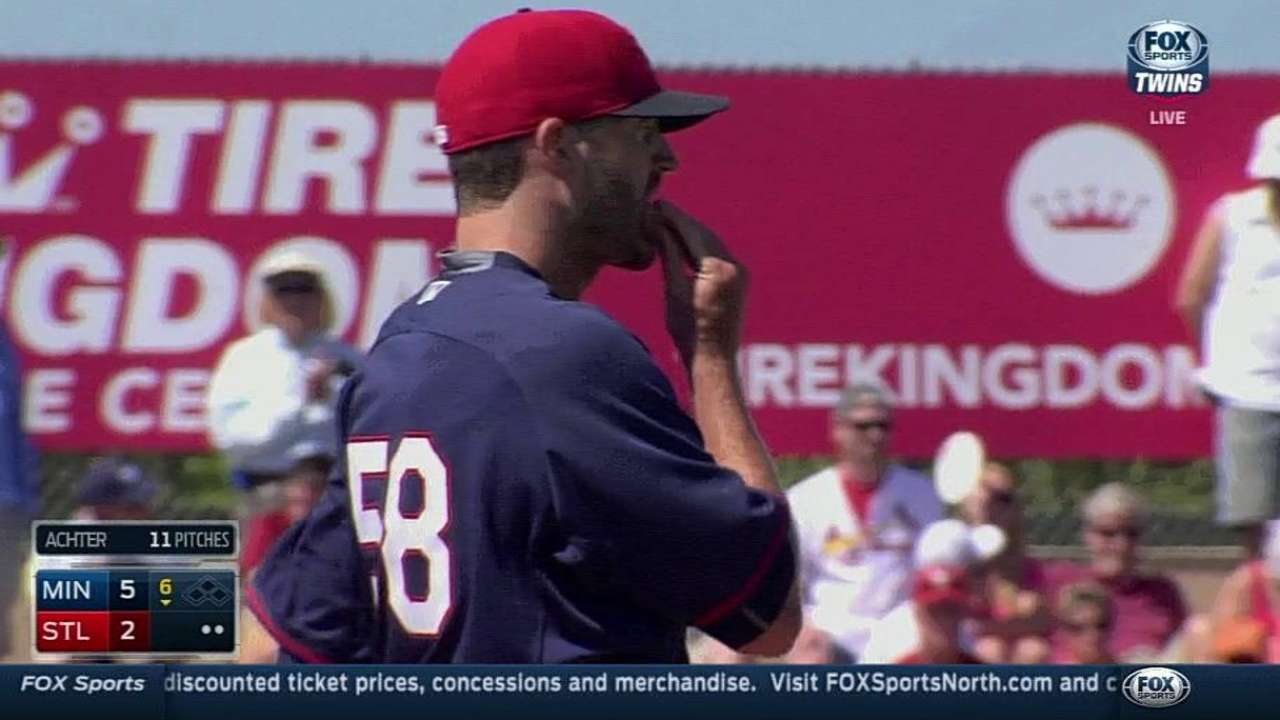 CLEVELAND -- Prior to Friday's series opener in Cleveland, the Twins made a pair of roster moves, recalling right-handed relief pitcher A.J. Achter and catcher Chris Herrmann from Triple-A, optioning right-handed starter Tyler Duffey and designating for assignment catcher Eric Fryer.
The addition of Achter gives the Twins a nine-man bullpen for the time being. With an off-day on Monday to travel from Cleveland back to Minnesota, the Twins don't need a fifth starter until Aug. 15.
"To keep Duffey around here until next Saturday didn't make a lot of sense," Twins manager Paul Molitor said. "We talked about position players that could come up and possibly help us here in the short term, but we didn't get very far with that discussion. It became more apparent that our best option was to go ahead and add another pitcher."
Left-handed starter Tommy Milone is eligible to return from the disabled list on Aug. 16.
Achter made his Major League debut last season with the Twins, allowing four earned runs in 11 relief innings. This year, he's pitched exclusively at Triple-A, posting a 2.82 ERA in 44 2/3 innings with 45 strikeouts and 12 walks.
"He's had a deserving year in terms of him getting an opportunity," Molitor said. "His name has surfaced multiple times when we've either had injuries or thought about switching people out."
Herrmann opened the season as the team's backup catcher but struggled at the plate, batting .156/.239/.281 with one home run in 72 plate appearances before being optioned to Triple-A for Fryer. Fryer didn't fare much better, batting .167/.286/.222 in 21 plate appearances, while Herrmann posted a .706 OPS in Triple-A.
Duffey allowed six earned runs in two innings in his Major League debut on Wednesday in Toronto.
Worth noting
• On July 6, young right-hander Trevor May officially transitioned to the bullpen after making 11 starts. Since then, he's posted a 2.92 ERA in 11 appearances, with a 13:2 strikeout-to-walk ratio. In Thursday's outing, an eighth-inning showing against Toronto, May struck out Troy Tulowitzki, Jose Bautista and Edwin Encarnacion in a scoreless frame. In Friday's 10-9 win over the Indians, he earned the win by pitching a scoreless eighth inning.
Molitor officially named May his set-up man moving forward, and a return to the rotation this season seems unlikely.
"He's adjusted so well, and I think his confidence level is high, as is mine in terms of bringing him in games, that it's kind of minimized any desire I have to try to mold him back into the rotation right now, unless I knew it was going to be a longer stint," Molitor said.
August Fagerstrom is an associate reporter for MLB.com. This story was not subject to the approval of Major League Baseball or its clubs.