MLB.com Columnist
Barry M. Bloom
Vintage CC delivers for Yankees
NEW YORK -- There were glimpses of vintage CC Sabathia at certain moments of the Yankees' 2-1 win over the Red Sox on Thursday night at Yankee Stadium. And with the Yanks leading the Blue Jays by 4 1/2 games in the American League East, that glimpse hasn't come a moment too soon.
The big left-hander labored, particularly in the fifth inning, when Boston scored a single run and Sabathia loaded the bases with two out for the always dangerous David Ortiz by walking Xander Bogaerts on four pitches. It was his second walk of the inning.
But for the first time in what has been a long and frustrating comeback season, Sabathia had plenty of velocity, digging in to get Big Papi swinging at what he said was a two-seam fastball that registered at 94 mph to end the threat. An obviously charged-up Sabathia punched the air twice and screamed as he stomped off the mound.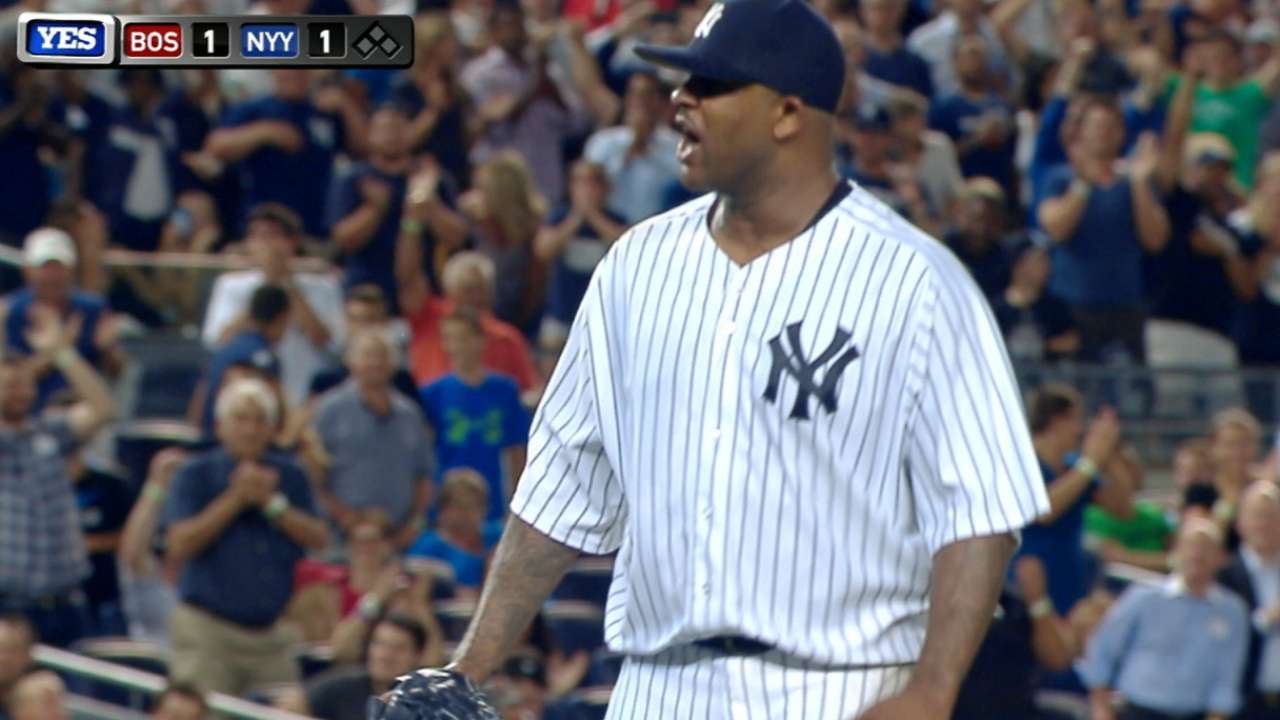 "Obviously, I was little fired up," Sabathia said. "That passion, I think, has been missing. It's a fine line for me, so I have to be careful. But it worked out for me tonight."
Sabathia slowed everything down, working deliberately throughout the pivotal inning, calling young catcher John Ryan Murphy to the mound at one point to discuss the pitch sequence. The pacing, he said, was deliberate.
"I was just trying to make sure I didn't get too far ahead of myself," Sabathia said. "It's been something that has been plaguing me this whole year, just letting innings speed up on me. I just didn't want [the inning] to get out of control. It was a conscious effort."
Sabathia was at his cantankerous best. He had a slight confrontation with home-plate umpire Rob Drake about the location of a 2-2 pitch to Hanley Ramirez during the fourth inning. Drake called the pitch a ball, running the count full before Ramirez grounded out.
Sabathia walked off the mound toward second base to compose himself, as he had throughout the night. Drake apparently misconstrued the gesture and took umbrage, Sabathia said.
"It had nothing to do with him," Sabathia said. "I didn't complain about one pitch all night. For him to come out and tell me not to walk around the mound, it [ticked] me off."
The two continued to jaw as the inning ended, but manager Joe Girardi ran out of the dugout to talk to Drake, and cooler heads prevailed.
The way Sabathia set up the lefty-swinging Ortiz the very next inning was a thing of beauty. Sabathia started the crucial at-bat with a fastball for a ball, his fifth in a row. Ortiz then stood there with his bat on his shoulder, watching Sabathia dance across the plate with a pair of 79-80-mph sliders that put him in control at 1-2.
"He had seen the breaking ball a couple of times for strikes, but he hadn't seen the two-seamer in," Sabathia said. "And it ran just enough to get him off of it."
It was obvious that Ortiz didn't know what to expect, as Sabathia drew back for everything he had and threw that big fastball for the out pitch. As Sabathia screamed in glee, Ortiz strode back to the dugout, shaking his head but unfazed.
"I would be [fired up], too," Ortiz said. "That's the one inning where he threw me three really good pitches. I don't mind. When I go deep, I put on my show, too. It goes back and forth."
Even though Sabathia was already sitting on 89 pitches, Girardi sent him out for the sixth. He retired the side in order on only 10 more pitches, punching out Pablo Sandoval swinging for emphasis to end the outing.
"I mean, we still liked his stuff," said Girardi, explaining that decision. "We were going hitter by hitter in that sixth inning. We still liked what he had, and I let him go through it."
Sabathia pitched six innings, allowing a run on a Rusney Castillo single that deflected off the glove of diving shortstop Didi Gregorius, three hits in all, three walks and eight strikeouts.
If the Yankees can get this kind of work from the aging Sabathia in the season's final seven weeks, they will have a much better chance of winning another division title.
"Tonight was the best I've seen him in a while," Ortiz said. "His velocity was up. He was locating his pitches."
Sabathia doesn't know where the extra speed came from.
"I'm 35 years old. It goes and it comes," he said. "I don't think there's much I can do."
But that has not been the norm, and that is the problem. Coming off a 2014 season seriously curtailed by knee surgery, Sabathia is 4-8 with 5.34 ERA in 21 starts. He's won just once since June 7 and has only worked into the eighth inning a single time during his last nine outings.
Sabathia's previous start, on July 30 in the heat and humidity of Texas, was his most alarming. He lasted only five innings, giving up five runs on nine hits, and wound up in the hospital with dehydration.
Girardi postponed Sabathia's next start a couple of days, so he hadn't pitched for a week when he took the mound against the Red Sox on Thursday night.
Sabathia said the extra days help at this point, and he'll have an extra day again when he pitches against the Indians in Cleveland on Wednesday thanks to Monday's off-day after a weekend series at home against the Jays.
"I used to hate the rest," Sabathia said. "But at this age now, whatever rest they want to give me, I'll take it."
And the Yankees will take Thursday night's version of Sabathia, of course, as much as he can give it.
Barry M. Bloom is a national reporter for MLB.com and writes an MLBlog, Boomskie on Baseball. Follow @boomskie on Twitter. This story was not subject to the approval of Major League Baseball or its clubs.