Kazmir fondly reflects on A's tenure
Houston lefty back in Oakland, but won't face former club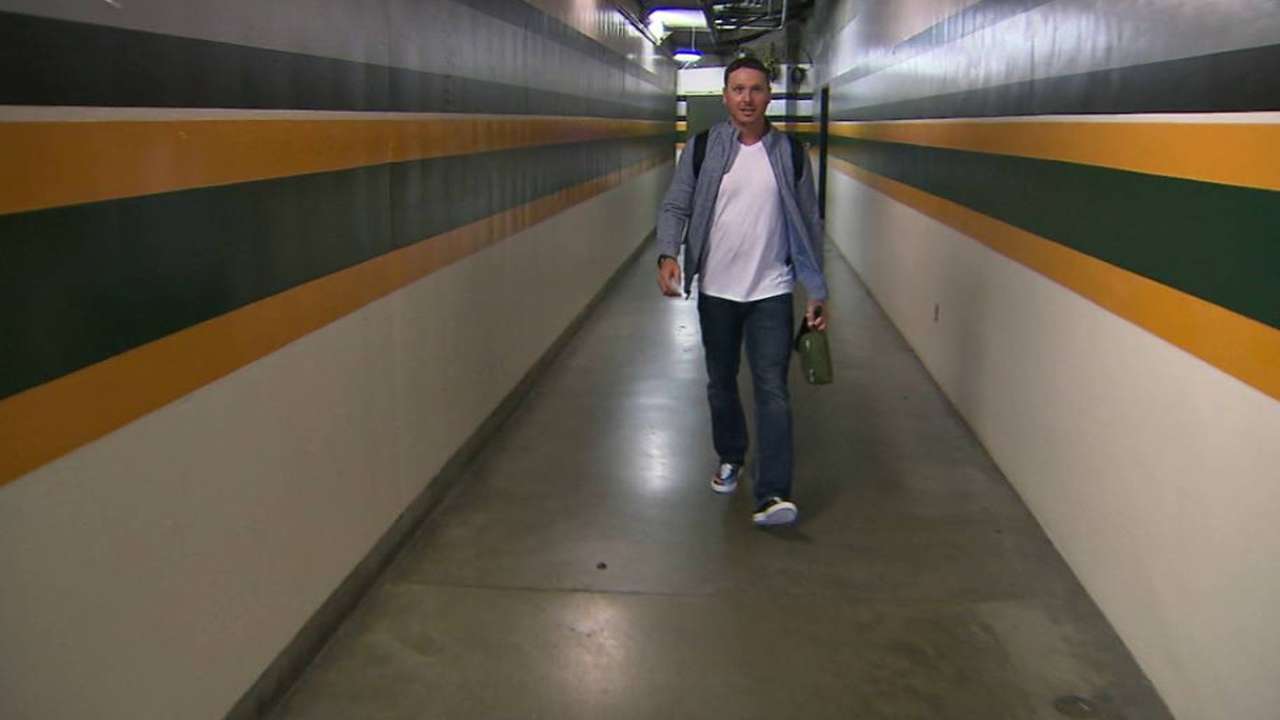 OAKLAND -- Scott Kazmir doesn't feel like he's been away from the Coliseum for long.
That's partially because seeing old teammates and friends Thursday reminded the Astros left-hander of the fond memories he has from his time in Oakland. It's also because he's only been gone two weeks.
Kazmir, who was traded to Houston on July 23, makes his return to the Coliseum this week as the A's host the Astros in a four-game set. The left-hander pitched Wednesday against the Rangers and won't face the A's in the series, but that's OK with Oakland manager Bob Melvin.
"I'm sure he looks a little different without the white shoes and the green and gold," Melvin said, "but other than when he pitches against us, we wish him the best. He had a big impact on a lot of guys here and is a true pro."
"I like pitching here, but it's good to have these days off," Kazmir said. "It would have been fun facing those guys."
Kazmir made sure to catch up with all his former teammates, particularly the pitchers. He said he still keeps in touch with many of them, notably his good friend and mentee Sonny Gray.
"It's not like I'm going to say, 'Hey, let's talk about your pitching or whatever,'" Kazmir said. "It's just having that veteran presence where any of the young guys can lean on you for advice or any type of questions that they have."
Though Kazmir said he cherishes the time he had in Oakland, he's quickly acclimated to life in Houston. Kazmir snatched American League Pitcher of the Month honors in July and has only given up one earned run in 20 1/3 innings in three starts with the Astros.
He's loved competing in a pennant race with a club that not many expected to contend at the start of the season. He admits he misses the extra foul ground in Oakland, but he likes pitching in Houston, too.
Kazmir's also enjoyed playing back home. He lives about 40 minutes from Minute Maid Park, but, as he put it, "it's worth the drive."
"It's a little weird, seeing friends and family and being able to sleep in my own bed during the season," he said, smiling, "but I can definitely get used to it."
Trevor Hass is an associate reporter for MLB.com. This story was not subject to the approval of Major League Baseball or its clubs.