LeMahieu comfortable anywhere in lineup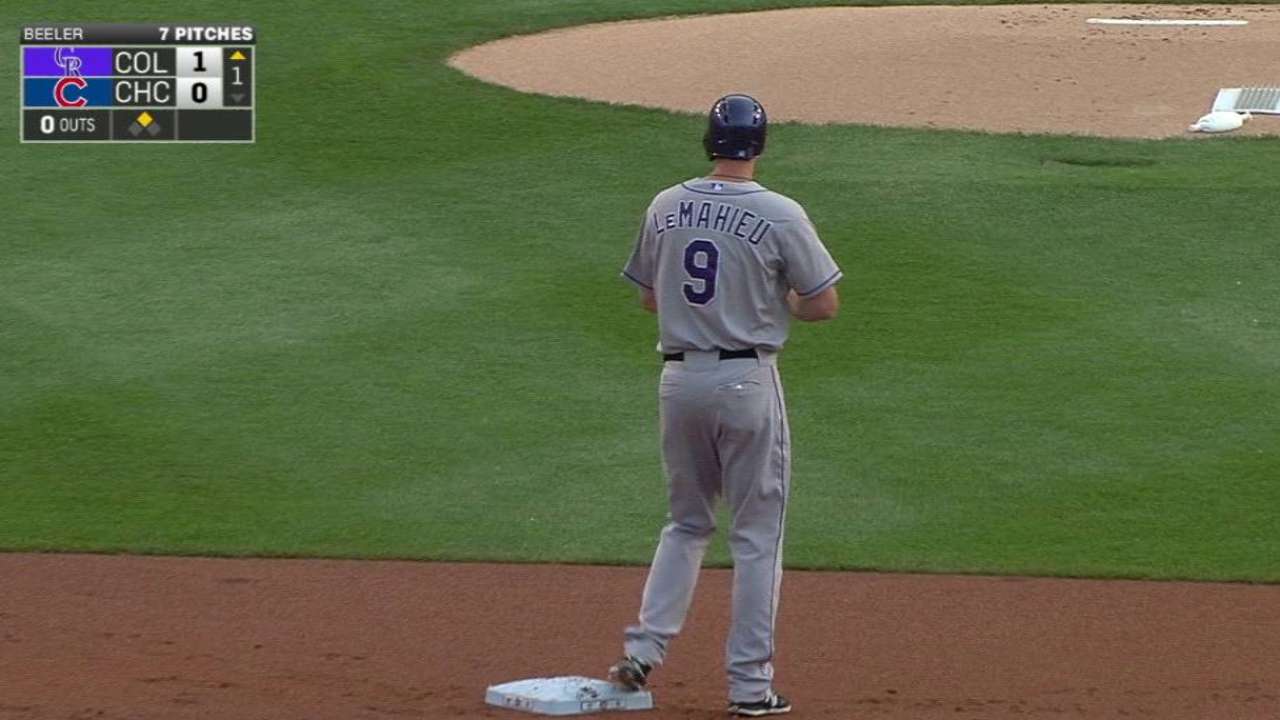 DENVER -- The Rockies know they can count on second baseman DJ LeMahieu, no matter what they ask.
Going into Thursday's games, LeMahieu ranked sixth in the National League with a .322 batting average. But he is the most versatile of the top hitters when it comes to where he falls in the order. Manager Walt Weiss has started LeMahieu in the No. 2 slot 52 times and the eight-hole 22, but has started 28 games in other spots.
LeMahieu has been on the move since the Rockies dealt Troy Tulowitzki to the Blue Jays on July 28 and adjusted their lineup. He has hit fifth three times, second and sixth two times apiece, and third once. Despite the changes, LeMahieu hit .406 in April and .400 in July to become the first Rockies player since Larry Walker in 2002 to reach .400 in two months.
"Where I hit in the order doesn't really affect me too much," said LeMahieu, who earned Rockies Defensive Player of the Year honors in 2013 and a Rawlings Gold Glove Award in 2014, but now looks to be a complete player. "The only spot that's a lot different for me is the eight-hole."
LeMahieu is pitched carefully from the No. 8 spot with the pitcher behind him, but he has still has a .410 average from there.
"But besides that, if you're not in the eight-hole, it's all the same. I'm pretty comfortable hitting anywhere. My whole career, I've bounced around all the time, so this year is pretty much the same as I've been doing."
Cleanup is the only spot that LeMahieu hasn't started.
"Walt knows that," LeMahieu said. "He says he's going to try to get me in the four-hole. But I don't really care where I hit. I've done it my whole career. I think some guys like to be in one spot, but that's not the case for me."
Where LeMahieu is hitting the ball is more impressive than where his name shows up on the lineup card. In the tradition of successful Rockies hitters past, such as Todd Helton, Tulowitzki and (during the 2007 playoff run) Garrett Atkins, LeMahieu is hitting line drives the other way.
Whereas three of his four homers have been to the pull side, LeMahieu has hit 11 of his 15 doubles to center or right, and all three of his triples to right. Opposing teams are trying everything -- shifting to the pull side in the infield but shading the outfield the opposite way -- but he is still lining the ball into holes.
LeMahieu came out of LSU, like many collegiate hitters, adept at going the other way. Weiss said upon taking over as manager in 2013 that he thought there was more force in LeMahieu's bat -- an assessment that has proven true.
"He's a pretty good offensive player, period," Weiss said. "He's a good hitter with a rock-solid approach. He doesn't vary from that approach. He has conviction when he steps in the batter's box, playing with a lot of confidence. He's been very valuable for us."
Thomas Harding is a reporter for MLB.com. Follow him on Twitter @harding_at_mlb, and like his Facebook page. This story was not subject to the approval of Major League Baseball or its clubs.