Stolen bases not a priority with Yanks' bats clicking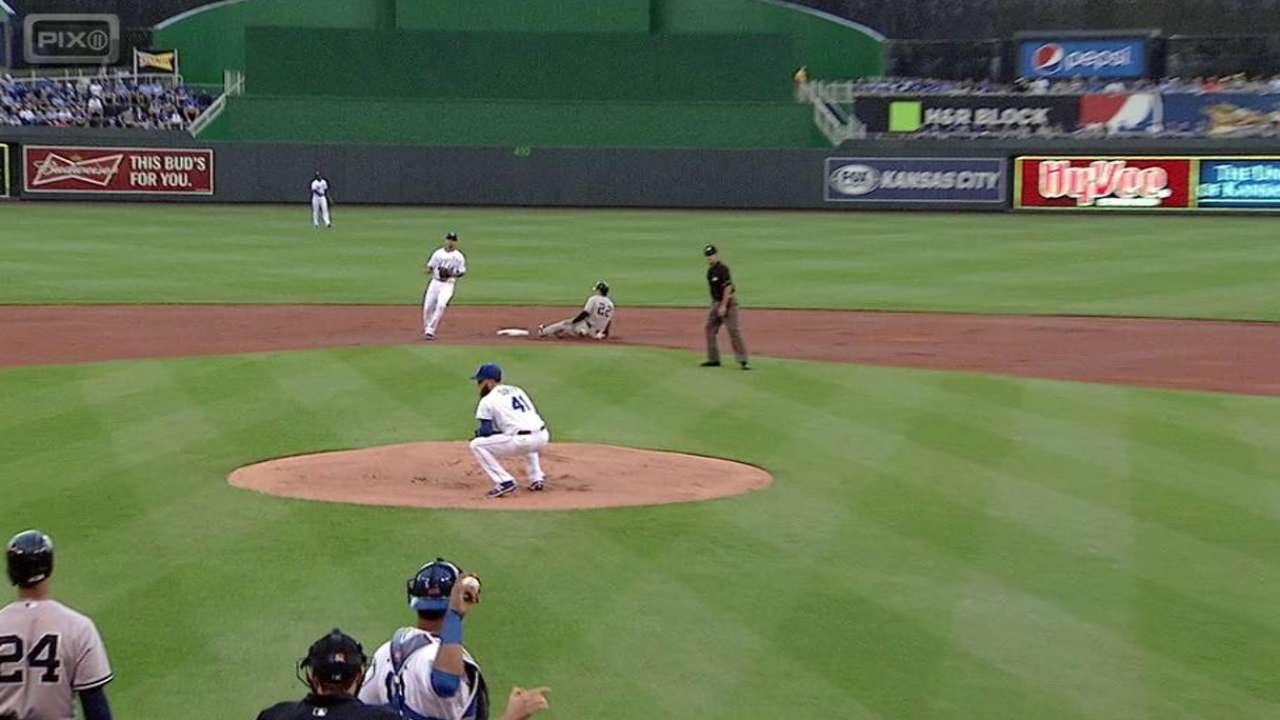 NEW YORK -- When the Yankees signed Jacoby Ellsbury before the 2014 season and slotted him atop their lineup, the implication was clear: he and Brett Gardner were going to get on base and run opposing teams ragged.
For a season, they did just that. The pair of lightning-bug outfielders stole 60 bases between them in 2014, which kept the Yankees' lineup afloat after injuries and a well-publicized suspension left a hole in the middle of the order.
For most of 2015, it was the same -- the two outfielders combined for 29 stolen bases through July 1. Then, suddenly, they stopped running. Gardner hasn't attempted a steal since June 12, and Ellsbury hasn't since July 11.
As the Yankees' power bats have ramped up -- the Yankees boast the best offense in the Major Leagues since the All-Star break -- they've turned away from small ball in favor of home runs and off-the-wall doubles. That shift has made stolen bases a high-risk luxury.
It hasn't been a concentrated effort to steal fewer bases or take less risks on the basepaths, but the Yankees know who they are, and won't fight that style.
"I think it's an understanding that we all have about our offense as we got a better idea of what we have," manager Joe Girardi said.
With so many power hitters in homer-happy Yankee Stadium, the Yankees' lineup can be a threat at almost any time. When balls are flying into the stands at this rate, an extra 90 feet on the basepaths becomes a moot point.
"With Alex [Rodriguez] and Tex [Mark Teixeira] swinging the bat so well behind us, you're essentially in scoring position when you're on first," Gardner said. "We haven't been hard pressed to manufacture runs in that way."
Entering Thursday, the Yankees rank third in the Major Leagues with 145 home runs this season, 79 of which have come at home. They also rank near the bottom of MLB in stolen bases, with their 40 swipes coming in at No. 25.
Girardi dismissed the idea that baserunning had become unimportant for his club. There's still an emphasis on taking extra bases when they're available and being aggressive on the basepaths, but it's a numbers game now: is it worth risking an out to steal a base when a home run scores you anyway?
"I think that whenever your guys can get the extra base, we want them to get the extra base," Girardi said. "However, not at the expense of being thrown out or taking a chance, so it has to be a pretty good calculated risk."
Alden Woods is an associate reporter for MLB.com. This story was not subject to the approval of Major League Baseball or its clubs.