Kershaw's streak tops today's games to watch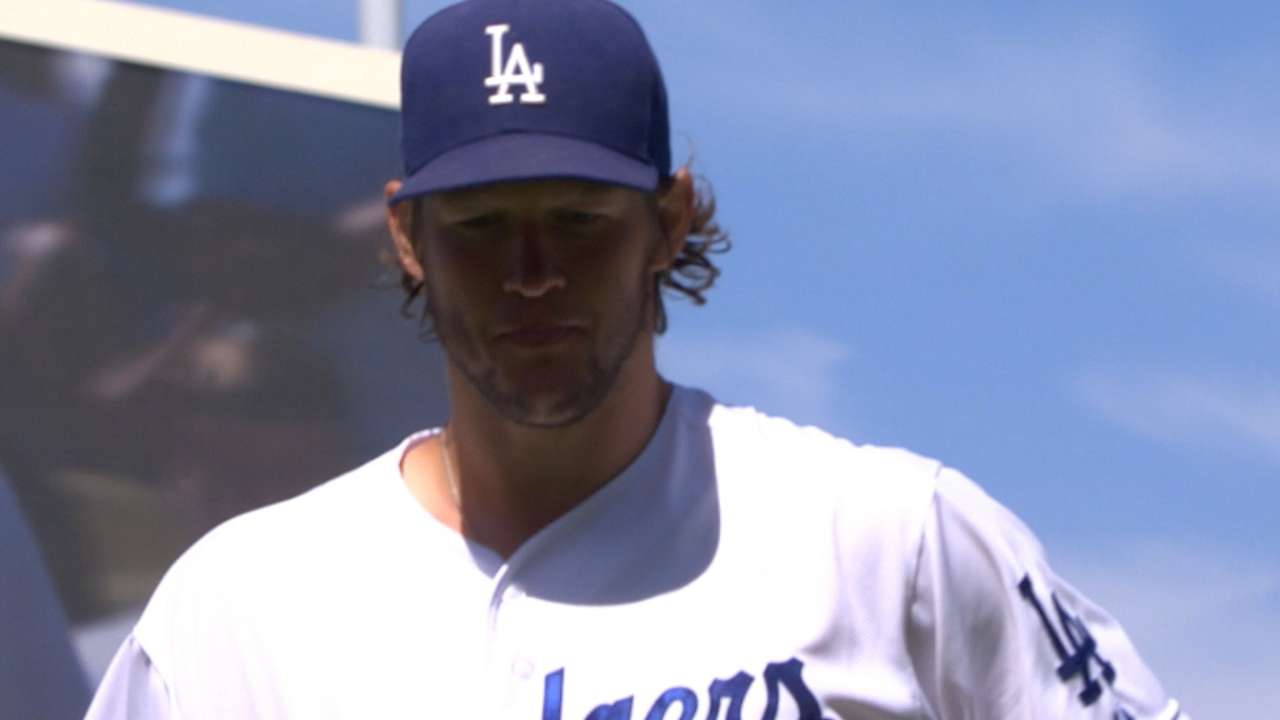 Clayton Kershaw is on a roll, but he'll have to contend with a potential playoff opponent tonight in Pittsburgh. Kershaw, the two-time defending National League Cy Young Award winner, has thrown 37 straight scoreless innings, but he'll face a Pirates team that has been dominant at home.
Pittsburgh is currently in control of the NL's first Wild Card and is one of only four teams in the league that have managed to win 35 games at home this season. Gerrit Cole has a 2.29 ERA and a league-high 14 wins this season, and he's 8-2 with a 2.60 mark in 10 home starts.
Kershaw has had four straight scoreless starts, and his streak includes three innings of a start in which he allowed one earned run on July 3. Throughout the streak, Kershaw has allowed 17 hits, while holding opposing hitters to a .133 average and registering a 0.49 WHIP. He's struck out 49 against one walk.
Here are a few other matchups and games to look forward to tonight.
Blue Jays and Bombers: TOR @ NYY, 7:05 p.m. ET
The heavy lifting for the American League East title starts right here. The Yankees still hold the lead in the East, but they'll face the supercharged Blue Jays 13 times in August and September. Toronto and New York are the only teams in the AL to have scored more than 500 runs thus far.
The Blue Jays are getting an MVP-level performance from Josh Donaldson, and they have three players with more than 20 home runs (Donaldson, Jose Bautista and Edwin Encarnacion). R.A. Dickey, tonight's starter and the 2012 NL Cy Young Award winner, has gone 6-10 with a 4.06 ERA in 22 starts.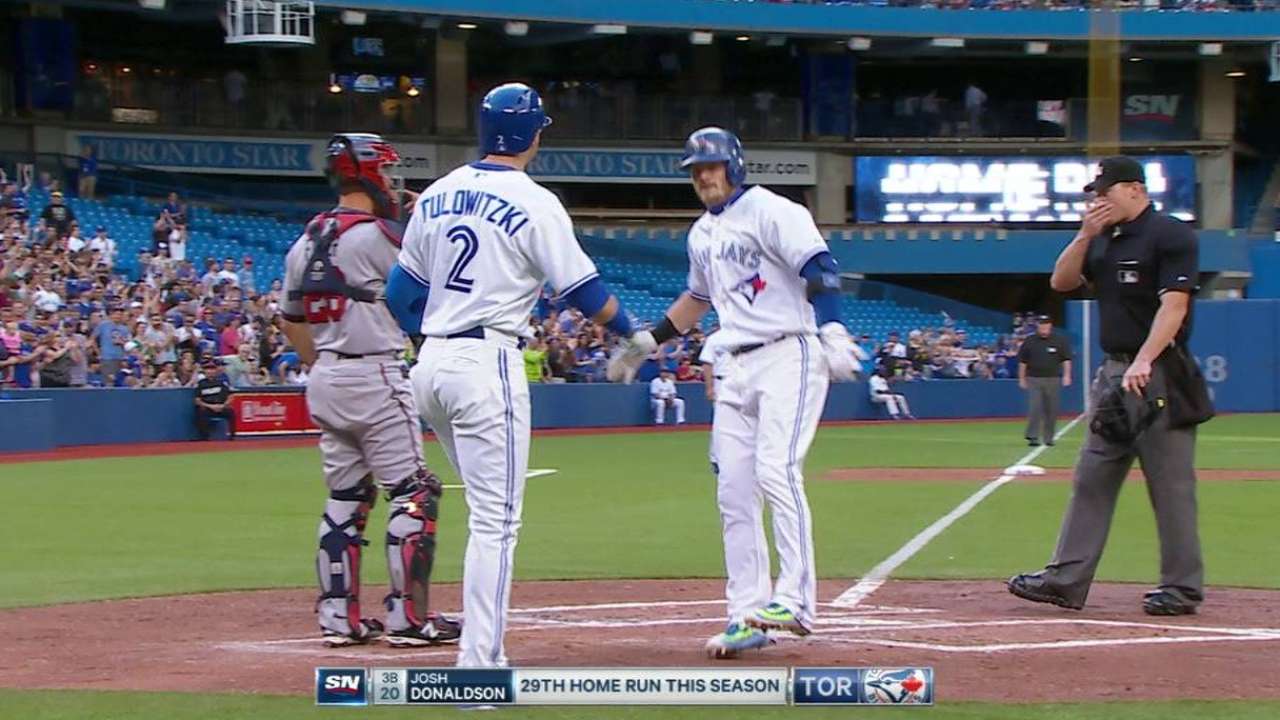 Dickey will be matched against New York's Nathan Eovaldi. Eovaldi has posted an 11-2 record and a 4.30 ERA, and he leads the AL in winning percentage (.846). Eovaldi, 25 years old, was especially good in July, when he notched a 4-0 record and a 3.09 ERA in six outings.
Ace Ascending: NYM @ TB, 7:10 p.m. ET
If you expected Jacob deGrom to have a sophomore slump, think again.
deGrom, the reigning NL Rookie of the Year, owns the third-best ERA (2.09) in the Major Leagues and has held opposing hitters to the third-lowest batting average (.199) of any pitcher in baseball. deGrom will try to keep rolling against the pitching-rich Tampa Bay Rays.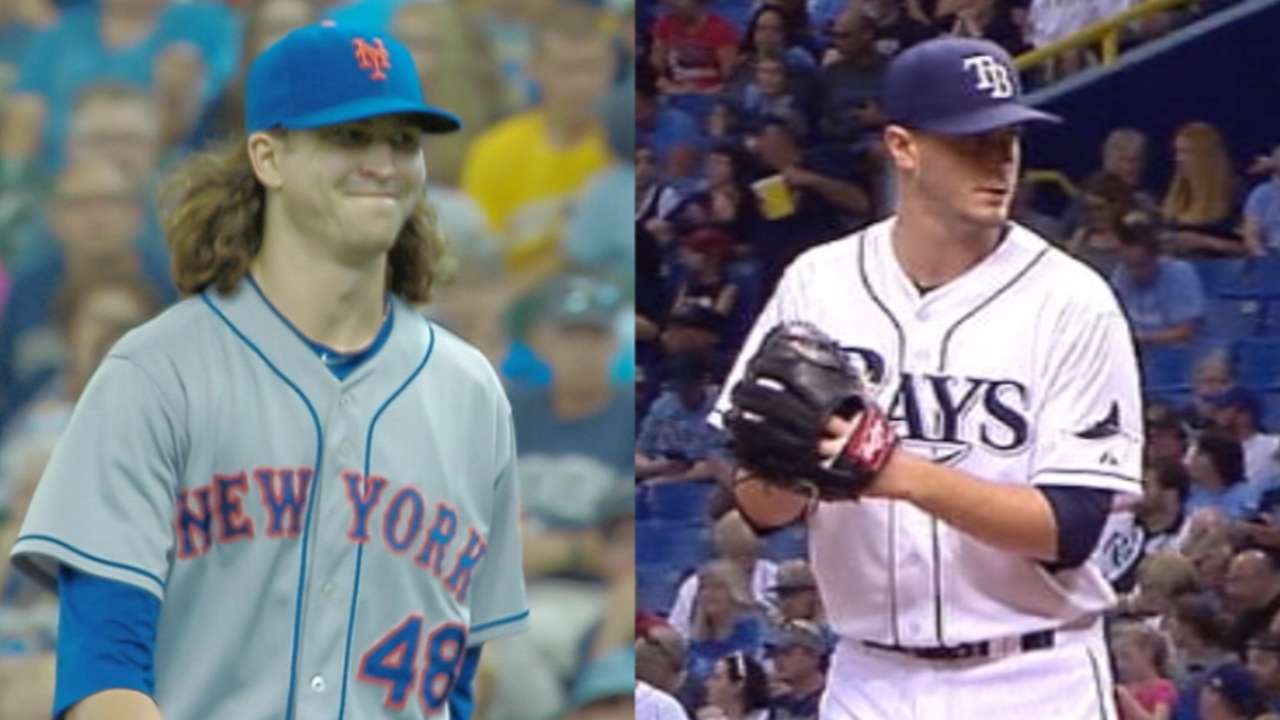 The Rays will start Jake Odorizzi, who's logged a 6-6 record and a 2.86 ERA in his second full season as a starting pitcher. Last year, Odorizzi went 11-13 with a 4.13 ERA over 31 starts. The 25-year-old has been especially good at Tropicana Field this year, owning a 3-2 record and a 1.41 ERA.
The Mets have won six straight games to open up a narrow lead in the NL East, but they've been really good at home (38-18) and a totally different team on the road (20-32). The Rays, meanwhile, are one game under .500, and they're 27-30 at home and 27-25 on the road.
Hamels Time: TEX @ SEA, 10:10 p.m. ET
Cole Hamels allowed five earned runs in his first start for the Rangers following a Trade Deadline deal, but he'll get his second start against Seattle, the third-lowest scoring offense in the AL. The left-hander threw a no-hitter two starts ago, but even with that gem, he has a 7.43 ERA over his last four outings.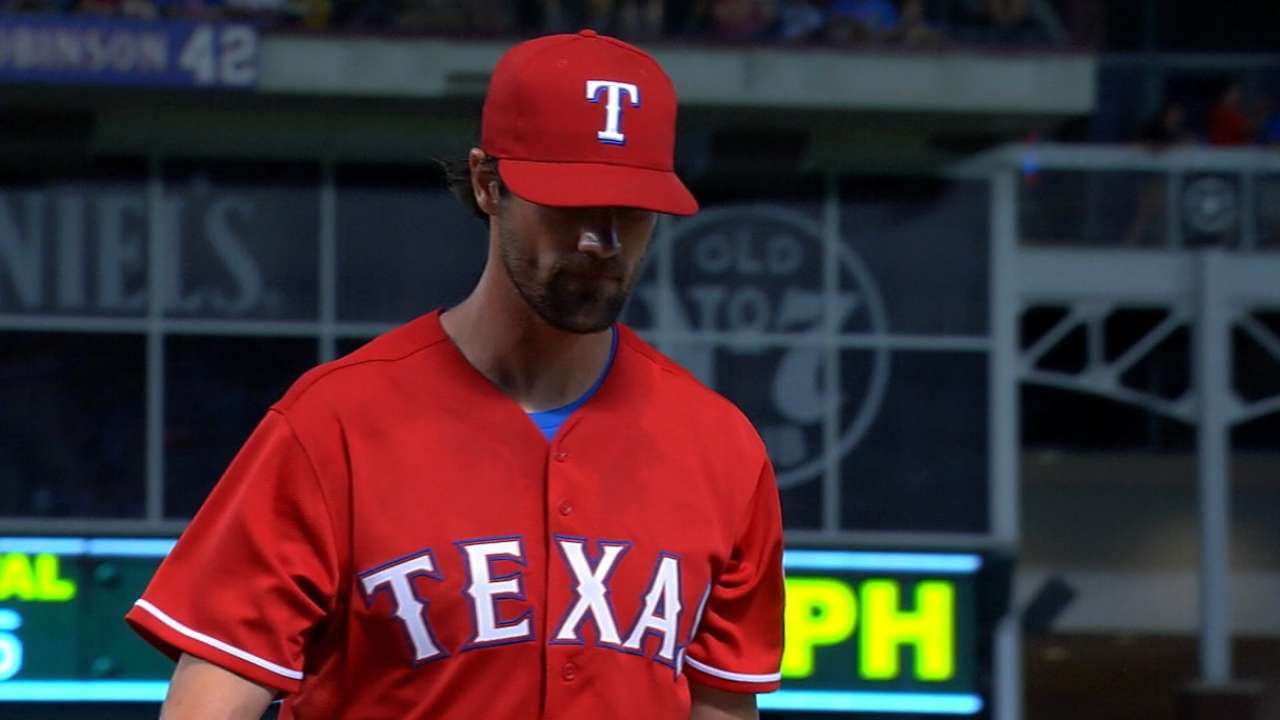 Veteran Hisashi Iwakuma will get the ball for Seattle, and he's managed a 2-2 record and a 4.47 ERA in his nine starts. Iwakuma, 34 years old, has gone 2-1 with a 2.83 ERA over his last five outings. The Mariners, surprisingly, have a losing record at home (22-31) and a .500 mark on the road (28-28).
Texas has the same kind of record, notching a 23-29 mark at home and a 31-24 record on the road. The Rangers are one game over .500 and 12-7 since the All-Star break.
Spencer Fordin is a reporter for MLB.com. This story was not subject to the approval of Major League Baseball or its clubs.