Pujols shares game's fundamentals with campers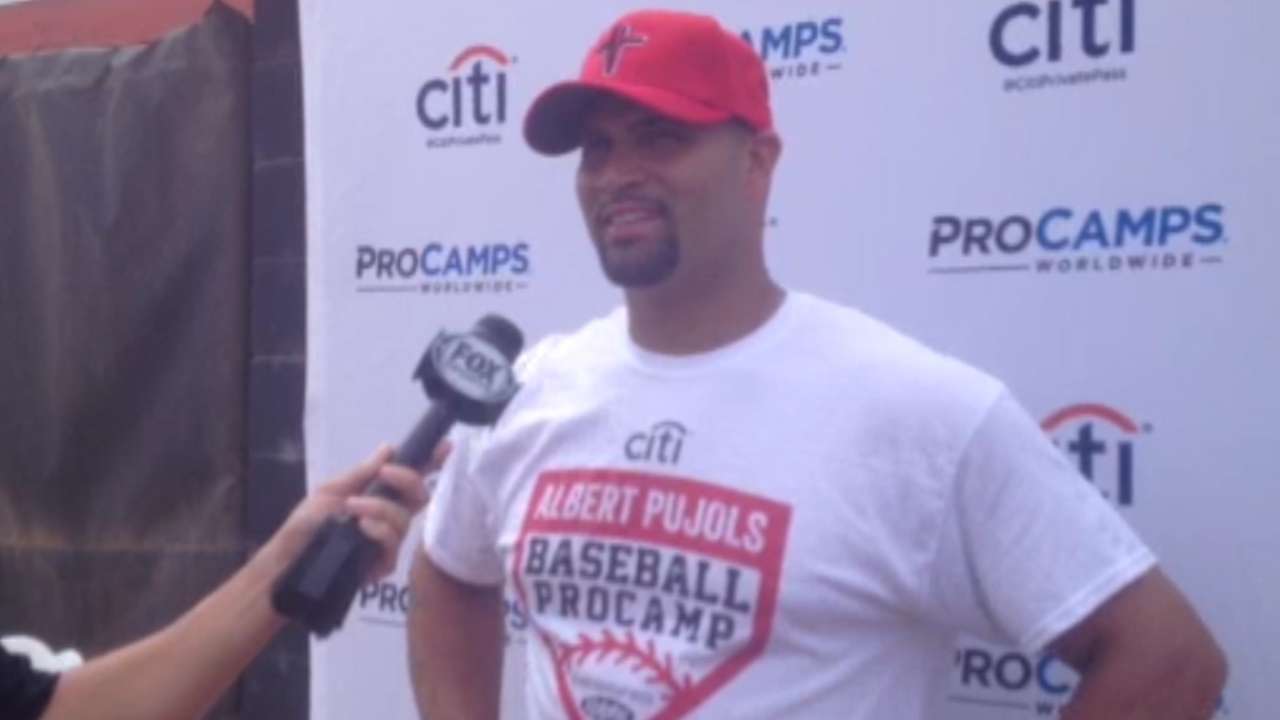 ANAHEIM -- As a solitary cow plodded across the neighboring field behind him, Albert Pujols was throwing Wiffle balls to 10-year-olds at Orange High School on Thursday morning.
Coach Pujols, as they called him, was spending the Angels' off-day teaching baseball at his ProCamp for more than 250 first- through eighth-graders.
"I did this in St. Louis, I do this in the Dominican Republic," Pujols said. "Some of these kids, they never get the opportunity to say hello to me, or get an autograph, or talk baseball. To have an opportunity like this, it was something that I never had as a little boy, so I know how important it is to give back."
Pujols patrolled the various instructional stations set up around the field, as participants practiced the different parts of the game. He showed one group how to field ground balls from a strong defensive stance, explaining that the first step should be toward the ball and the most important thing is to catch the ball first. He showed another group how to keep weight on the back leg, to avoid jumping at the baseball and to keep the head down to drive through the ball.
"All they want to do is ask, 'How can you get better to hit home runs?'" Pujols said, smiling. "I tell them, 'You can't think about hitting home runs -- all you need to think about is putting good, quality swings on it and the ball goes out of the ballpark.'"
Pujols took photos with all of the groups, signed autographs and participated in a Q & A session with the full camp -- insisting on fielding more questions even after the program host was ready to wrap things up.
Pujols talked about his passion for baseball and that "When you're born in the Dominican Republic, the first thing they give you is a glove and a ball." He told the campers that he was a shortstop growing up before being drafted as a third baseman; then, when Cardinals manager Tony La Russa asked the 21-year-old rookie in 2001 if he could play the outfield, he responded that he would play anywhere, because he just wanted to make the lineup. In his first All-Star-Game that year, Pujols recalled, he even played second base.
The several hundred young players in attendance drank in every word.
"This is what you play for -- you play to give back," Pujols said. "Help these kids, as much as you can, that want to be like you."
David Adler is an associate reporter for MLB.com. Follow him on Twitter @_dadler. This story was not subject to the approval of Major League Baseball or its clubs.