Padres struggle in once-promising road trip
Club drops final three games to Brewers to finish trip 5-5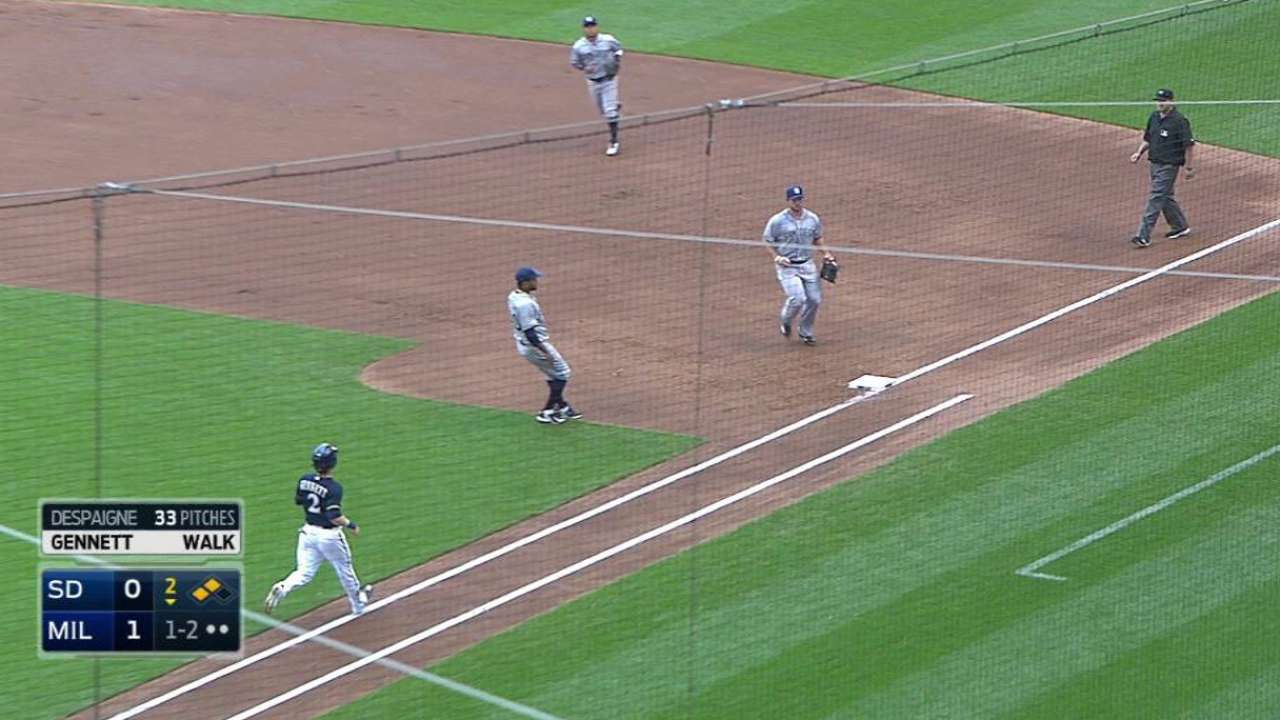 MILWAUKEE -- This was to be the road trip where the Padres made their stand -- by not only keeping their team together at the July 31 non-waiver Trade Deadline, but also where they could gain upward momentum in the standings.
But after a promising start to their 10-game road trip, the Padres fizzled, dropping their last three games of a series to the Brewers, the latest setback Thursday, as they fell, 10-1, at Miller Park.
A trip that began 4-1 and then 5-2 dissolved into a 5-5 finish against the Mets, Marlins and finally the Brewers.
San Diego interim manager Pat Murphy sensed that this road trip, including the tension of what the team may or may not have done before the Trade Deadline, took a toll on his team.
"It's disappointing," he said. "The reality is this team has been on the road twice as much than at home the last 40 games [28 road games, 14 home games]. … You can get caught in a rut like this. The bats are a little tired.
"Today was the first day it resonated that we were sputtering."
That certainly showed offensively, as the Padres had just two hits, and they'll head back to Petco Park after playing 20 of the past 29 games away from their home ballpark.
They'll do so facing what equates to nearly insurmountable odds of making it to the postseason. The Padres (52-57) are 10 1/2 games back of the Dodgers in the National League West and eight back in the Wild Card race.
"It's tough. We've got some ground to make up. There's a long time to go, but as time keeps ticking, it gets tighter and tighter, and you have to play better and better," said Padres pitcher Ian Kennedy, who took the loss Wednesday. "I know a lot of guys in here are disappointed."
A week ago Friday, after the non-wavier Trade Deadline had passed and the team had passed on moving players, Padres team president and CEO Mike Dee told a group of reporters in Miami that there was still time for the team to make a run.
"We like this team, and we believe with 60 games to go that we can make a great run," Dee said.
The team has gone 3-4 since, with the past three losses coming against the Brewers, who have lost 63 games and are buried in the NL Central Division. Those last three losses saw the Padres surrender 22 runs.
So now what?
There's the possibility that while the Padres, according to general manager A.J. Preller, found no compelling moves on or before the Trade Deadline, they could still do so this month.
In order to get deal done now, a player would have to pass through waivers for the claiming team to have a chance at acquiring him. It's not impossible, but it certainly will be tougher.
As for the here-and-now, Padres second baseman Jedd Gyorko acknowledged these last three losses to the Brewers were a missed opportunity.
"These were games we were hoping to win, to set us up in the right position to have a good road trip," Gyorko said. "This hurt."
Corey Brock is a reporter for MLB.com. Keep track of @FollowThePadres on Twitter and listen to his podcast. This story was not subject to the approval of Major League Baseball or its clubs.