V-Mart hoping bat ignites after two-homer day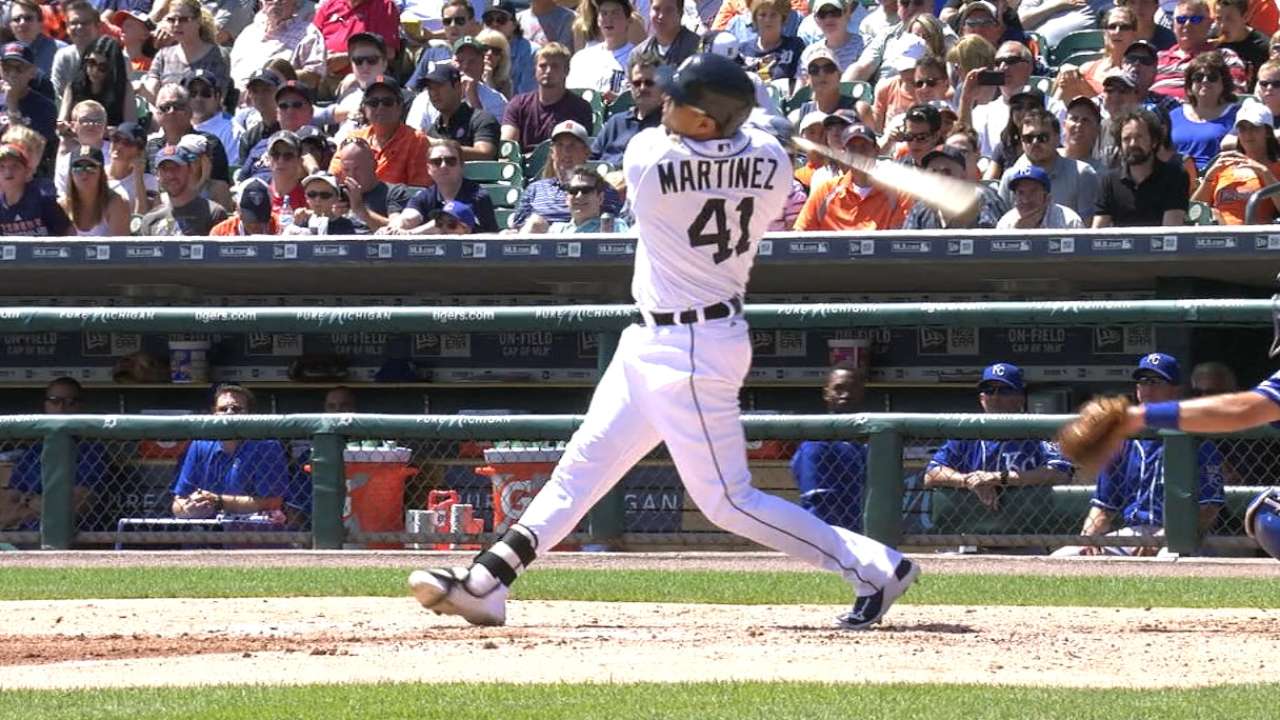 DETROIT -- This is why Victor Martinez took all of that early batting practice, trying to figure out what was going on with his swing.
Martinez was seemingly struggling to catch up with some fastballs, leading to the fear that his swing had gotten long. With Yordano Ventura pitching for the Royals on Thursday, the designated hitter had to figure he was going to get a dose of them. He couldn't have counted on his first multi-homer game in five years as the Tigers rallied for an 8-6 walk-off win in the rubber game.
"You know what, I think I was just a little lucky today," Martinez said. "He threw a couple pitches up in the zone and I was just able to put a good swing on it."
Teammates weren't buying it.
"He put really good swings on the ball," Tigers starter Anibal Sanchez said. "That's the first time he's swung nice and easy like he used to. Let's see if he continues to swing the bat like that. I think we need his bat."
Martinez looked like that earlier in the season when he came back from the disabled list in mid-June. He homered three times the week before the All-Star break, and again in the first game back, fueling the belief he was headed for a second-half tear with a healthier left knee. He hadn't homered since, and he was just 11-for-70 with one extra-base hit and 12 strikeouts coming into this series finale.
Martinez wasn't late on Ventura's 97-mph fastball when he came up in the third inning, but he thought he hadn't gotten enough of it, pretty much lofting the ball out to right.
"That ball got in on me," Martinez said, "and I thought it was just a popup to right field. The wind just took the ball."
The three-run homer put the Tigers in front after an early 3-0 deficit. Two innings later, Martinez added to the lead, this time with a no-doubt two-run homer to right. It was a hanging changeup from Ventura, and the ball was projected to travel 419 feet from home plate, according to Statcast™.
It marked Martinez's first multi-homer game since Sept. 17, 2010, his final month with the Red Sox before signing with Detroit as a free agent two months later.
"You know what, I'm just worried about good swings and good at-bats," he said. "You can't control anything else. Sooner or later, they're going to start falling."
Thursday could be a sign.
Jason Beck is a reporter for MLB.com. Read Beck's Blog, follow him on Twitter @beckjason and listen to his podcast. This story was not subject to the approval of Major League Baseball or its clubs.