Sanchez: Dropped appeal not admission of guilt
Suspended Toronto reliever denies intentionally hitting KC's Escobar
TORONTO -- Aaron Sanchez had every intention of appealing his three-game suspension from Major League Baseball but that plan changed when the rookie right-hander realized he would need a couple of days off this week.
Sanchez has carried a heavy workload recently and after he appeared in Tuesday's 3-1 victory over the Twins, he was due for at least one and possibly two days of rest.
That prompted a change in strategy when it came to his suspension that was handed down for "intentionally throwing a pitch" at Kansas City's Alcides Escobar. Instead of waiting for his appeal, Sanchez decided to accept his punishment after conversations with GM Alex Anthopoulos, manager John Gibbons, his agent and the MLB Players' Association.
"I was hot six or seven days prior to going into yesterday, so I knew I was down for two [games]," said Sanchez, who began serving his suspension Wednesday night. "It being a day game on Saturday, night game on Friday, who's to say I would have been ready to pitch [Friday], so it just made sense.
"For me, I have bigger things, I have a team to worry about. I want this behind me and it made sense to do this now, get it out of the way, and focus on the team."
Sanchez was punished for his role in a benches-clearing incident with the Royals on Sunday afternoon. Toronto third baseman Josh Donaldson was hit during that game and a couple of other pitches went near his head. Shortstop Troy Tulowitzki also got hit by a pitch and Sanchez appeared to retaliate later in the game.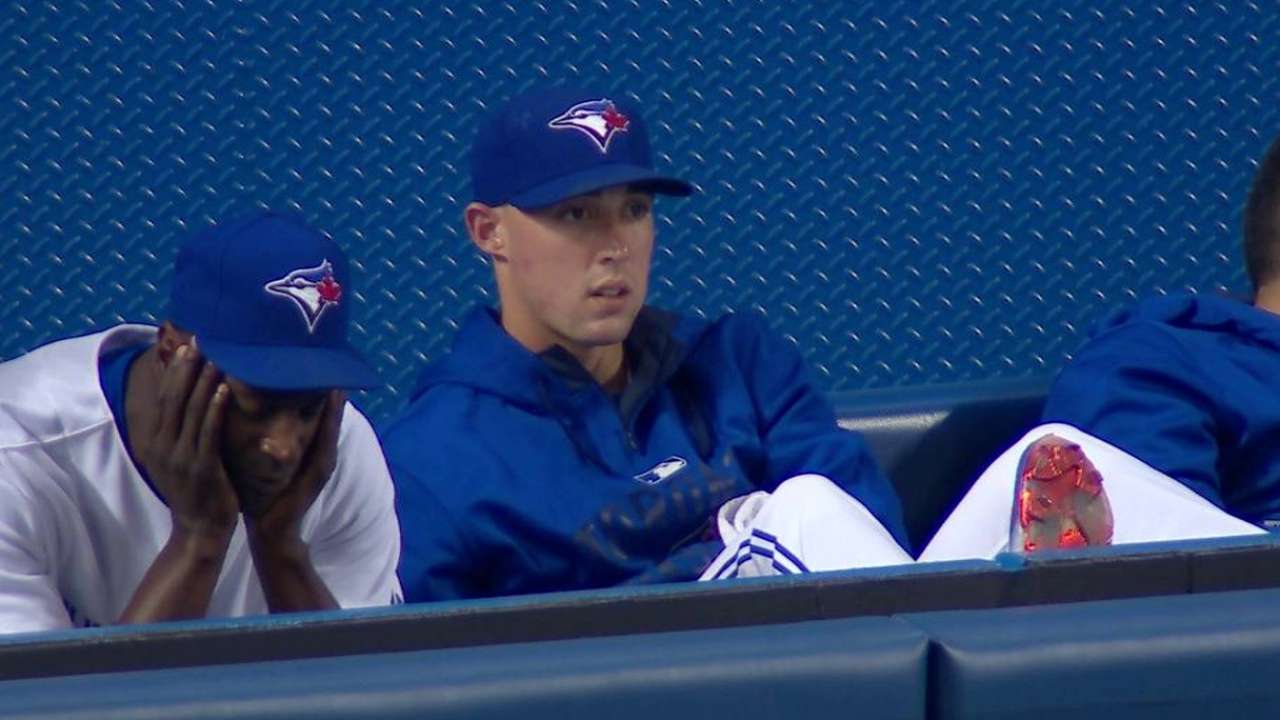 That prompted an immediate ejection from the game and the subsequent suspension. Sanchez has denied there was any intention to hit Escobar and said the errant pitch resulted from the extreme sink on his fastball. Even though he accepted the suspension, Sanchez made it clear he was not admitting guilt.
"Absolutely not, and I would still like to talk to someone about it," Sanchez said. "With that being said, I don't know if I will or not but it's behind me now. I'll take my three games, move on and focus on winning a championship with this team."
Sanchez's suspension doesn't come at an ideal time with Toronto facing Wild Card contenders Minnesota and New York, but the Blue Jays currently have an eight-man bullpen, so going without Sanchez for a few games isn't the end of the world.
He'll will be eligible to return Saturday afternoon against the Yankees.
"The whole appeal process, you kind of have to wait for a date and depending on the hearing you can get it down to two or one [game]," Sanchez said. "It was so early in the stages of the agreement, we didn't know for sure if it was going to get down to two. We would have known later towards the date but we didn't want to take the chance. Right now, it made more sense so we dropped it and took it."
Gregor Chisholm is a reporter for MLB.com. Read his blog, North of the Border, follow him on Twitter @gregorMLB and Facebook, and listen to his podcast. This story was not subject to the approval of Major League Baseball or its clubs.