Greinke recovers from early miscue in victory
Major League ERA leader allows five runs in first, aids rally with 3-for-3 day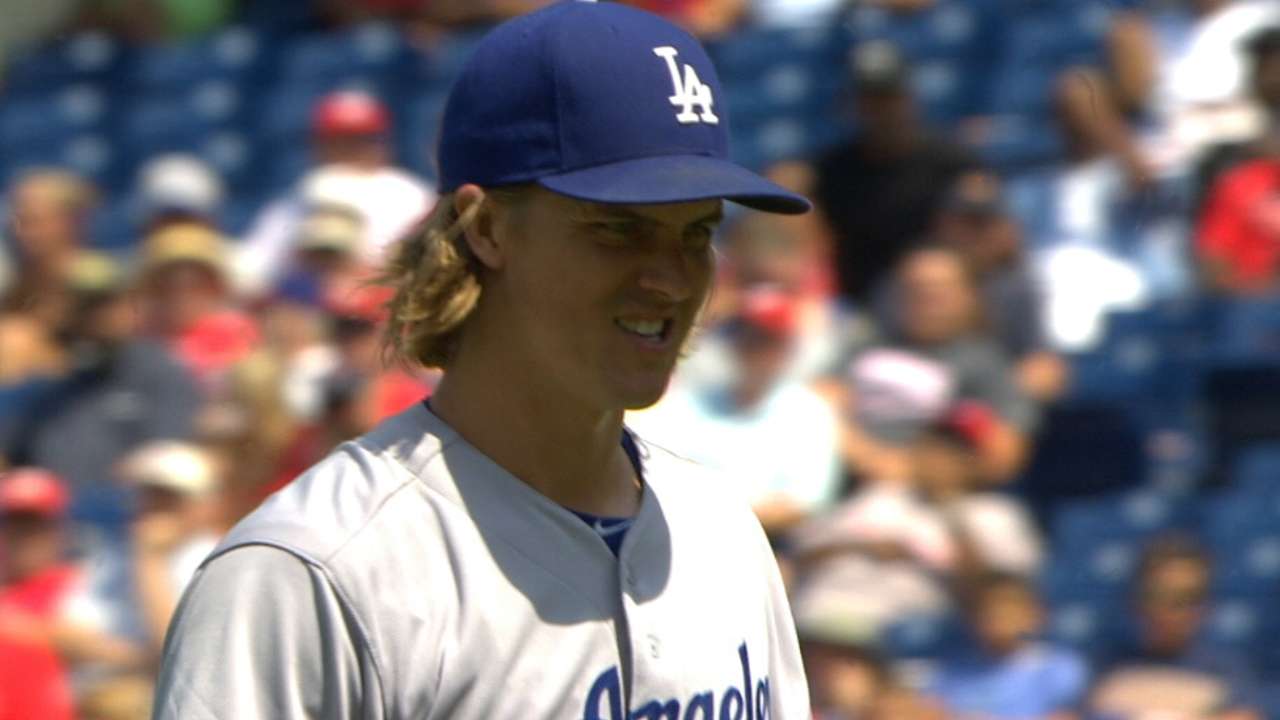 PHILADELPHIA -- Even Cy Young Award-winning seasons have hiccups. Clayton Kershaw allowed seven runs in a start last year. Orel Hershiser allowed eight runs in a start in 1988. Both were unanimous winners of the award.
Zack Greinke had his Thursday. But he overcame his throwing error that led to a stunning five-run first inning. He stopped the damage on the mound, had three hits at the plate (including a home run and accompanying bat flip) and was the winning pitcher anyway as the Dodgers outlasted the Phillies, 10-8.
How long was the National League Gold Glove Award winner mad at himself for airmailing a throw past first base on Cesar Hernandez's tapper and triggering the five-run onslaught?
"Still," Greinke said. "I'm still mad about the error I made on Matt Kemp [on June 12]. Can't believe it. I should have gotten over it quicker, but I should have made that play also."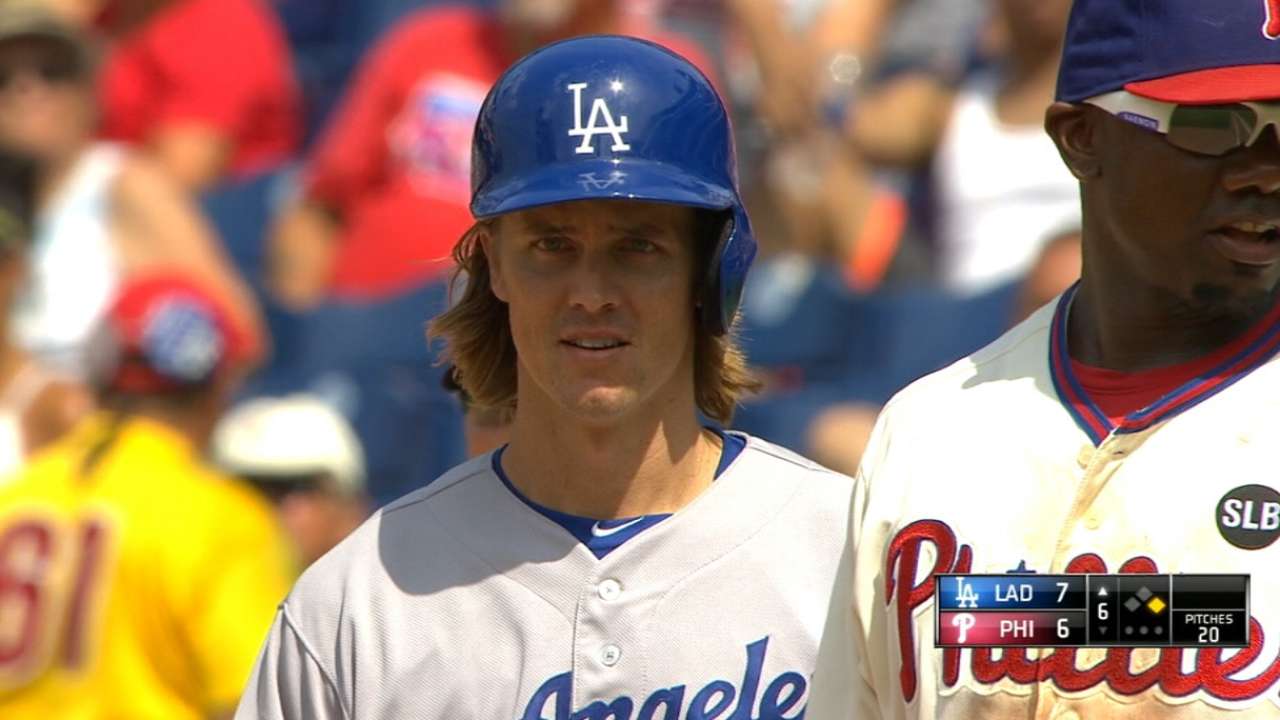 Greinke now has two errors for the first time in any Major League season. But he's also 11-2 with an MLB-leading 1.71 ERA, even after being charged with six runs in six innings on Thursday.
Greinke was staked to a 3-0 first-inning lead. Oddly, he said he was finally able to "reset" after Domonic Brown's three-run homer cleared the bases in the bottom of the inning, as the first five Phillies scored.
Greinke led off the second with the first of two singles and scored on a three-run blast by Adrian Gonzalez. Greinke's homer to center came with two outs in the third inning, and he singled again in the sixth, scoring on Howie Kendrick's double. Claude Osteen is the only other Dodgers pitcher since the club moved from Brooklyn to score three runs in a game.
"Today I was really mad after the first inning. I had more motivation to try to get some hits," Greinke said. "Usually I just focus on pitching, but we were down by some runs, we needed good at-bats."
Greinke gave former Royals teammate Gil Meche an assist in righting the ship.
"That used to happen a lot to me -- give up runs early and I wouldn't settle in," Greinke said. "I saw Gil Meche a couple times give up four, five runs in the first few innings and he'd go seven and keep us in the game. Seeing that happen helped me stay focused and keep us in the game.
"You can't lose in the first inning. The game is not over by any means, but if you keep letting them score, then it's over."
Earlier this season, Greinke made six starts allowing no more than one run without being credited for a win. But he pointed out that he was a 9-8 winner in Colorado on June 2 despite allowing five runs.
"I've picked some good times to have bad outings," Greinke said.
The bullpen wobbled again late. Joel Peralta was charged with two runs in the ninth that scored on Maikel Franco's double off Kenley Jansen, who escaped with his 21st save when Gonzalez caught Brown's line drive at the bag for a game-ending double-play.
Ken Gurnick is a reporter for MLB.com. This story was not subject to the approval of Major League Baseball or its clubs.