Lorenzen, Price trust stuff despite uneven stretch
After giving up three runs in five on Thursday, rookie has 8.04 ERA in past six starts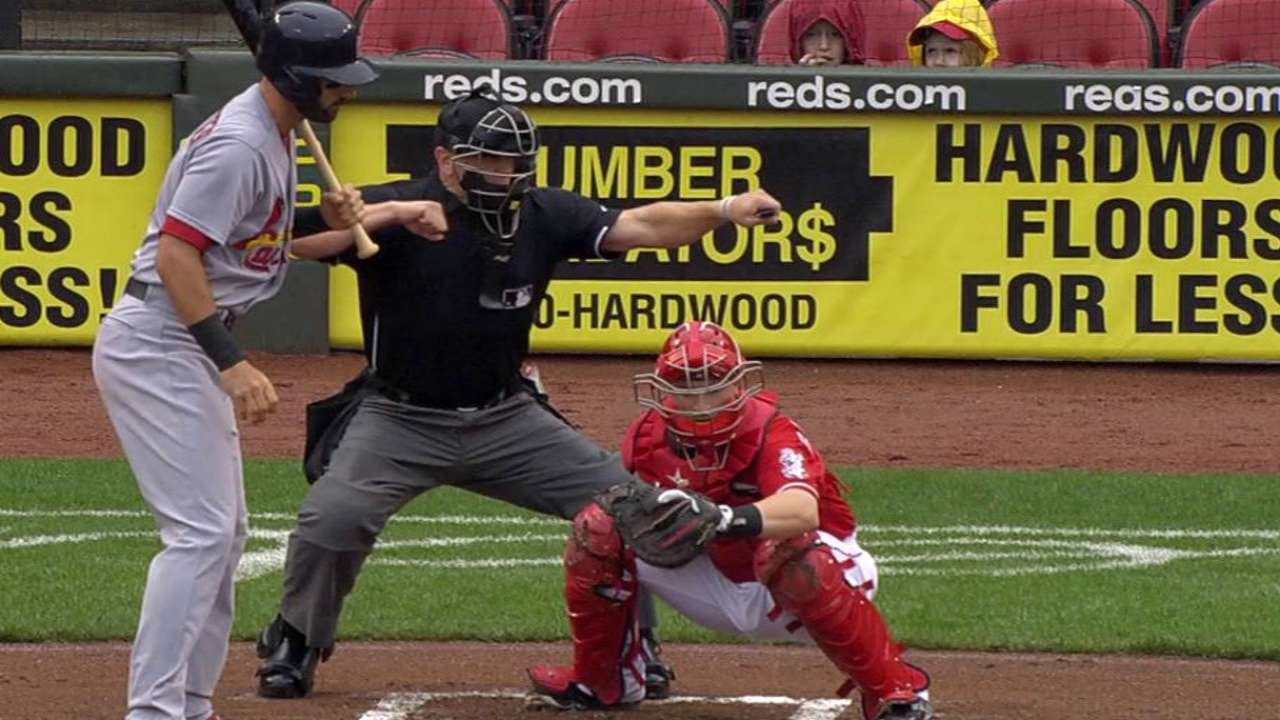 CINCINNATI -- After three innings, rookie right-hander Michael Lorenzen appeared to be on his way to snapping a recent stretch of rough outings.
He held the Cardinals hitless through the first three innings, but things went south after that as he took his third straight loss in the Reds' 3-0 loss on Thursday at Great American Ball Park. Lorenzen gave up a two-out RBI-single both to Tony Cruz and Kolten Wong in the fourth and fifth innings, respectively -- with Wong's hit scoring two runs -- to spoil the solid start.
He finished the day giving up three runs on four hits and four walks, while striking out five in five innings.
"I felt good," Lorenzen said. "I thought I threw the ball really well. I competed with everything, and they took some good at-bats. I had some guys 0-2, and they battled. That's what the Cardinals are known for, but coming out today, besides taking the loss -- obviously, we want to win, but it's improvement. I'm feeling good, arm feels good, mechanically I feel good, so I just need to take the results out of the equation and understand … that I threw the ball well."
With the loss on Thursday, Lorenzen falls to 0-5 with an 8.04 ERA in his last six starts. During that span, his ERA has risen from 3.38 to 4.84.
Reds manager Bryan Price said Lorenzen had some solid stuff going for him on Thursday, and expects the rookie to continue to take steps forward.
"He's got a lot of growth, a lot of room to grow, a lot of need to get better, but he will," Price said. "He's getting a chance now to do things at this level and learn at this level, as opposed to being [in] Double-A or Triple-A learning those lessons. We brought him up out of necessity, but also because we felt he was ready to handle it, and I think he's handled it fine, emotionally. He's just got to learn the tricks of the trade as a starting pitcher in the Major Leagues, and he will."
Lorenzen felt like he had solid stuff in each of his last two outings, even though the results don't show it.
"I just got to keep at it and keep moving forward and trust my stuff," Lorenzen said. "I don't doubt my stuff, and I don't doubt the work that I put into it, so I'm not going to walk around with my head down. Keep my chin up and keep working."
Robert Bondy is an associate reporter for MLB.com. This story was not subject to the approval of Major League Baseball or its clubs.