MLB.com Columnist
Paul Hagen
A-Gon shows grit and heart vs. Phils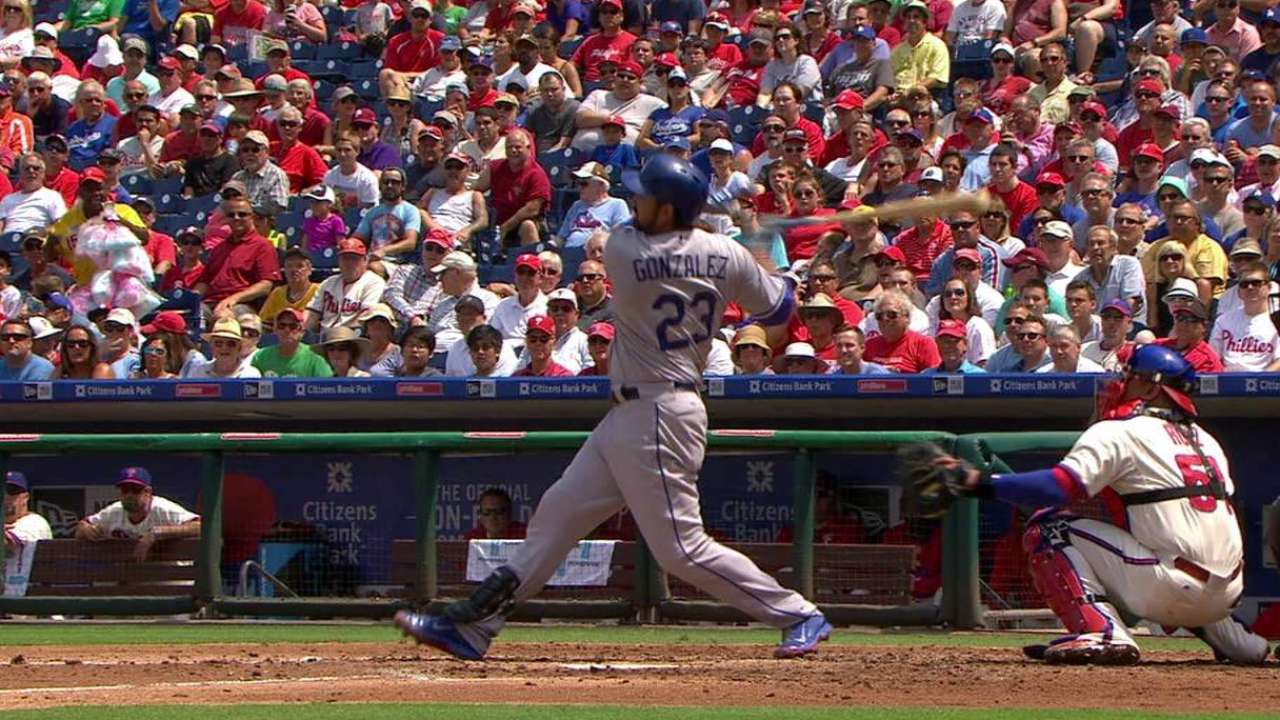 PHILADELPHIA -- The Phillies have been as tough as a cheap steak since the All-Star break. They may have the worst record in baseball, but in the second half, they've shown plenty of spunk.
Still, the Phils found themselves facing long odds after the top of the first inning of their 10-8 loss to the Dodgers on Thursday afternoon at Citizens Bank Park. It wasn't just that they were quickly down, 3-0. It was that they had to rally against Zack Greinke, who began the day with a baseball-leading 1.41 ERA, and who earlier this season pitched 45 2/3 innings without allowing a run.
Well, Greinke ran his scoreless streak to zero in the bottom of the first by giving up five earned runs before recording his first out.
Somebody had to be a hero for the Dodgers if they wanted to win both the game and the series and be sure of at least maintaining their edge over the hard-charging Giants in the National League West.
Now batting, first baseman Adrian Gonzalez.
Phillies starter David Buchanan badly needed a shutdown inning when he went to the mound to start the second. But singles by Greinke and second baseman Howie Kendrick put runners on first and second with one out. Buchanan got ahead on Gonzalez, 1-2, then tried to sneak a 90-mph fastball past him.
Oops.
"We were trying to go in there. It came back over the plate, where he was able to get more barrel on it than, obviously, I wanted," Buchanan said. "We had stayed away pretty much the whole day. We were trying to go in there. It didn't get in enough. I didn't execute the pitch. A veteran hitter capitalized on the mistake."
Gonzalez crushed that mistake into the blue seats in right-center.
Los Angeles ended up banging out 15 hits, and none was more important than Gonzalez's homer, his 22nd of the season. The Dodgers never trailed after that.
"It's nice, obviously, to get right back," manager Don Mattingly said. "It's kind of like a do-over at that point. A little bit of a mulligan and you're still up a run."
"It's great," Gonzalez said. "The way [Greinke] pitched all year, it's great to reward him the one time he has a little rough spot, to be able to come back and give him a 'W.'"
Greinke settled in after that five-run first, allowing just one more run in his six innings. Maybe he would have anyway, but having his team come back to give him the lead after he put them in a hole certainly didn't hurt.
Gonzalez, whose two-out single in the top of the first started the three-run rally that gave the Dodgers the lead in the first place, also helped nail down the win with his glove in the ninth.
The Phils, down by four with three outs to go, weren't about to go down quietly. With one out, second baseman Cesar Hernandez and center fielder Odubel Herrera singled. With a save situation now in effect, closer Kenley Jansen replaced Juan Nicasio.
Jansen struck out the side in the ninth on Wednesday night, but this time third baseman Maikel Franco greeted him with a booming double that drove in both runners. And when Ryan Howard followed by flaring a base hit to left, the Phillies had the potential tying run on first and the potential winning run at the plate in right fielder Domonic Brown, whose homer in the first was his third in his previous 20 plate appearances.
Brown scalded a low line drive down the first-base line. Gonzalez snagged it and stepped on first to double Howard. Game over.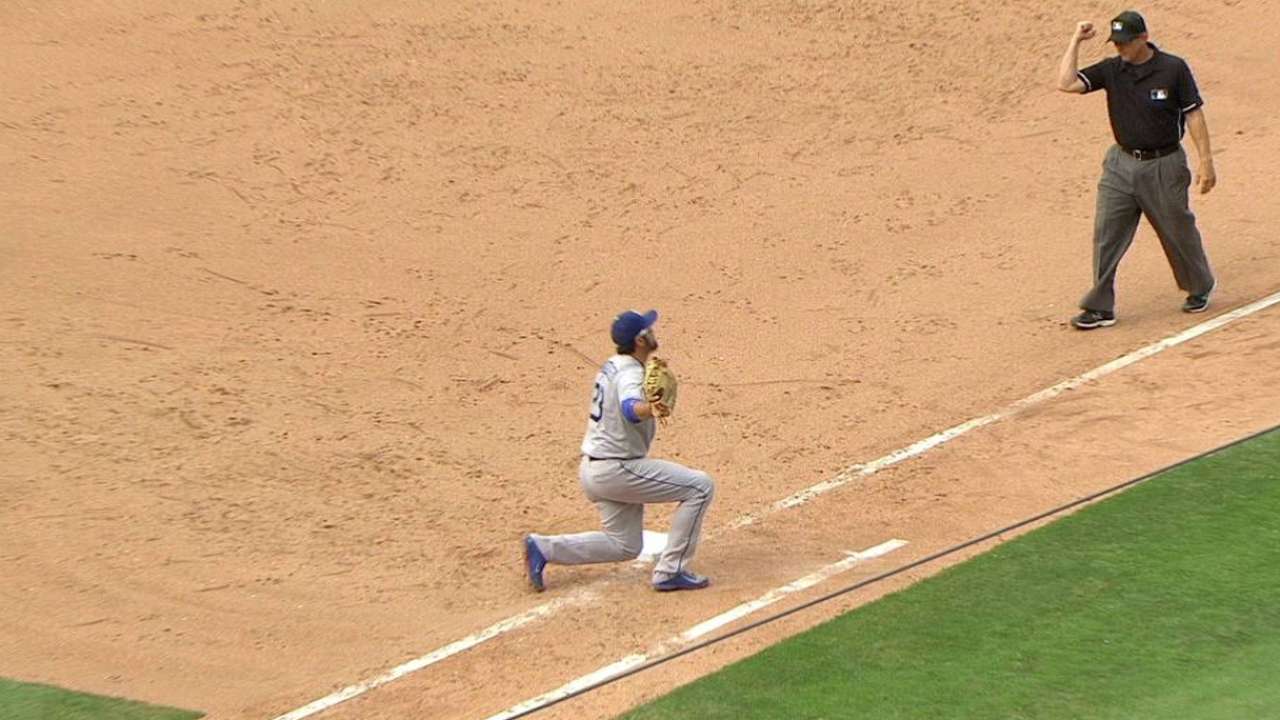 Gonzalez said it was just a reaction play.
"You just see it and you go," Gonzalez said. "I caught it. I was already on the bag. Easy double play."
It's still early August. If the Dodgers had lost, even a game started by one of baseball's best pitchers, it wouldn't have been the end of the world.
At the same time, it doesn't hurt when teams that aspire to play deep into the postseason show resiliency and heart and the ability to get the big hit or make the big play when it matters. Gonzalez did both against the Phils on Thursday.
Paul Hagen is a national columnist for MLB.com. This story was not subject to the approval of Major League Baseball or its clubs.