Pride all around as Phils, fans honor alumni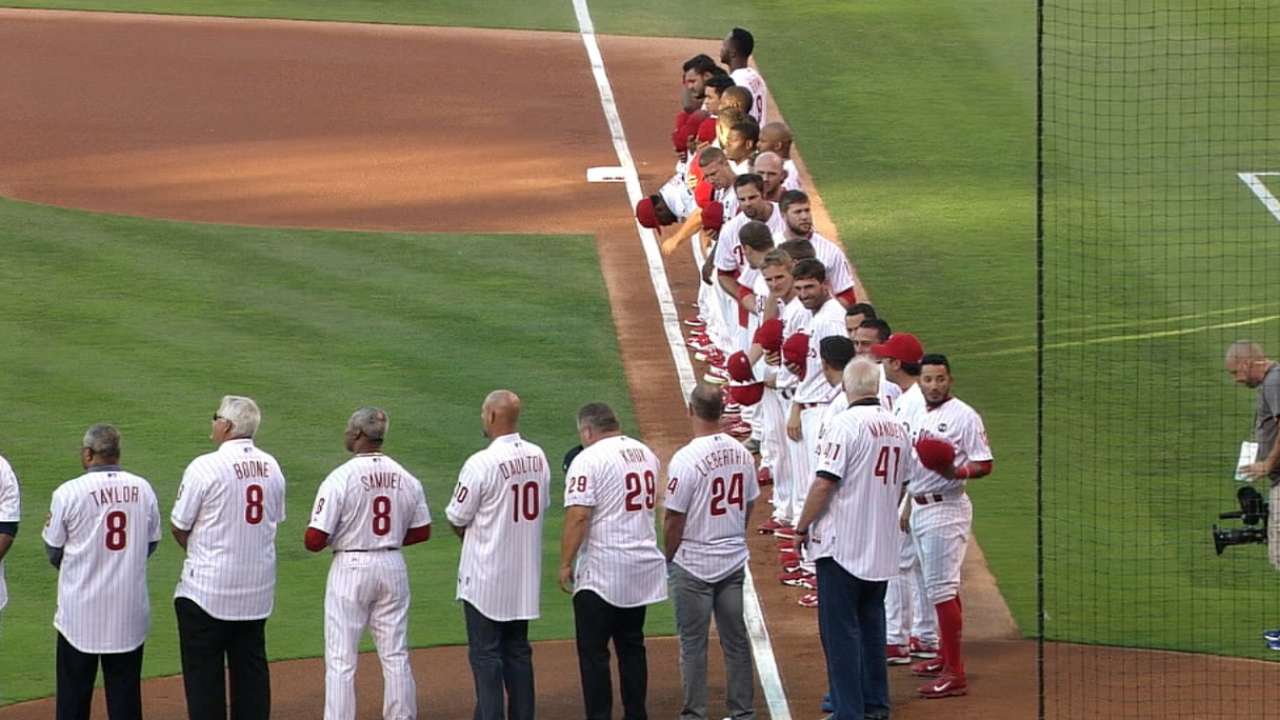 They came from all parts of the country, different walks of life, yet they all had something in common. ... They once wore a Phillies uniform. What began as a simple, brief pregame ceremony in 1978 at Veterans Stadium when the Phillies started their Wall of Fame has evolved into a four-day Toyota Alumni Weekend every August at Citizens Bank Park.
The returning Alumni ranged from 84-year-old infielder Bobby Malkmus, an infielder who played for the Phillies in 1960-62 to the 2008 World Series hero Brad Lidge, who last wore a pinstriped uniform in 2011. From outfielder Keith Hughes, who played only 37 games with Phillies, to Hall of Fame third baseman Mike Schmidt, whose 2,404 games are the most in franchise history.
It didn't matter as far as tenure or stature; they are all former Phillies and they bonded, sharing stories of their days in uniform. Tony Taylor and Dick Allen hugged when they first saw each other. "There's my roomie," laughed T.T. They looked the same, except their hair was beginning to gray. Hugs and laughs were plentiful.
Ray Rippelmeyer (1970-78 pitching coach) was invited when we learned his wife had died last winter following a long illness. When he walked in Suites 73-74, he and Steve Carlton embraced. Teacher and pupil. Sunday afternoon, Ray said, "This has been the greatest weekend in a long, long time."
Alumni shared something else, in addition to pregame hospitality and dinner. Many sat in the seats of Suites 73-74 glued to the game on the field. Some were teammates, such as John Kruk and Darren Daulton. Some were from different eras, Rippelmeyer sitting with Hall of Fame pitcher Jim Bunning and Mariano Duncan and Bob Boone next to each other. All shared a common interest in how the game was being played.
Last year, Charlie Manuel became the first member of the 2008 World Series champions to be inducted into the Toyota Wall of Fame. Pat Burrell this year became the first player from that team. As father time marches on, they'll be joined by many others from that memorable team.
Burrell's induction meant the need to bring in some players who shared the clubhouse with him, a younger generation of Alumni -- Nick Punto, Jason Michaels, Bobby Abreu and Aaron Rowand. Add Abreu to the future Wall of Famers list. During the Alumni luncheon, Bobby admitted he cried with joy when the Phillies won the 2008 World Series.
Manuel won the award for the loudest reception when introduced during the Alumni Luncheon on Thursday, Wall of Fame induction on Friday night and when all of the Alumni were introduced before Saturday's game. The man who was once ridiculed is now treated like a rock star.
In addition to out-of-town former players, the locals are always invited on Toyota Alumni night on Saturday. Reliever Fred Wenz (1970) won the award for the tightest-fitting jersey as his 214-pound playing weight has been exceeded.
Autograph stations on that night were a huge fan favorite. In a fan surprise treat, Daulton, Boone and Lieberthal posed with fans in front of their Wall of Fame plaques. Sunday Scott Palmer taped some Behind The Pinstripes shows in Ashburn, another surprise fan treat.
Earlier Saturday was the official unveiling of an eight-story mural on the side of a building at 24th and Walnut Streets in center city. It is visible from the Schuylkill Expressway. The mural, a joint effort of the City's Mural Arts Program and Phillies, depicts great moments and players in Phillies history. Joining the unveiling ceremonies were Steve Carlton, Daulton, Schmidt, Lidge, Greg Luzinski, Manuel, Taylor, Mitch Williams and 87-year-old Curt Simmons, one of the three remaining 1950 Whiz Kids. Artist David McShane and a lot of people worked on the project that took nearly nine years to complete. It is a fitting testimony to a franchise that began in 1883.
Following Saturday's Alumni introductions, the Phillies' winners of the Major League's Franchise Four online contest threw out the ceremonial first ball, Schmidt, Carlton, Robin Roberts Jr. representing his dad and Jack Ashburn, grandson of Richie Ashburn. Lefty threw right-handed as 5,217 2/3 innings have taken a toll on his left shoulder.
The four catchers were Lieberthal, Boone, Daulton and Carlos Ruiz. Lieberthal has caught the most games in Phillies history, Boone is third and fourth-place Daulton will soon be passed by Ruiz. Four of greatest catchers in Phillies history all standing side by side. Certainly a moment to remember.
A year from now will be yet another Toyota Alumni Weekend and yet more moments to remember.
Larry Shenk is the vice president of Alumni Relations for the Phillies. This story was not subject to the approval of Major League Baseball or its clubs.