Blevins likely done for season after reinjuring arm
Mets left-hander expected to have surgery next week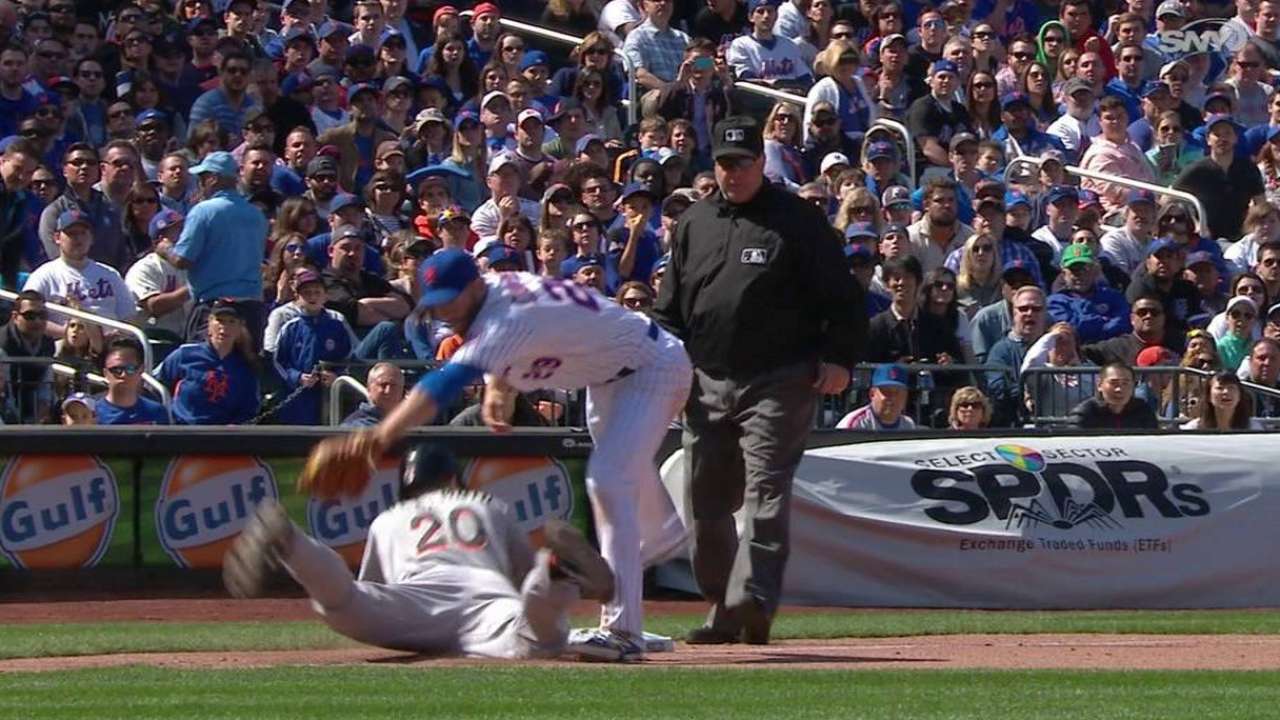 NEW YORK -- Mets left-hander Jerry Blevins re-injured his pitching arm on Monday, and he is expected to undergo surgery next week that will most almost certainly end his season.
In a statement, the Mets announced that Blevins, who had recently resumed throwing in an effort to return to the team, slipped while stepping off a curb on Monday evening and re-fractured the distal radius bone in his left arm. It is the same bone that Blevins fractured when he was struck by a line drive during an April 19 game against the Marlins.
"Can't explain my disappointment & frustration about not putting on a Mets uniform again this year," Blevins tweeted after the announcement. "I'll be back stronger. Let's Go Mets."
A free agent after the season, Blevins hadn't allowed a run in five relief innings this year. In nine big league seasons, he owns a 3.53 ERA and a 1.20 WHIP. The Mets acquired Blevins from the Nationals shortly before the start of the season in exchange for outfielder Matt den Dekker, with hopes that he could replace Josh Edgin, who is recovering from Tommy John surgery.
A day after learning of Blevins' fall but before announcing the extent of his injury, the Mets covered themselves by adding lefty specialist Eric O'Flaherty to their bullpen. Assistant general manager John Ricco acknowledged at the time that there was a chance Blevins might not pitch again this season, and that in any event, the Mets had no specific timeframe for his return.
With Blevins now facing surgery, O'Flaherty's importance grows as the Mets' only true lefty specialist. Unlike fellow lefty reliever Sean Gilmartin, who owns reverse platoon splits, O'Flaherty -- despite giving up hits to three of the five lefties he faced in his Mets debut Wednesday -- has held same-sided batters to a .229 average and a .586 OPS this season.
• Outfielder Michael Cuddyer's return from the disabled list will not be Friday, when he is first eligible, after all. Cuddyer is now scheduled to play a rehab game Friday for Class A St. Lucie, and he told the St. Lucie News that he hopes to rejoin the Mets the following day. But if Cuddyer's knee is not completely healed, the Mets could wait until after the weekend to activate him.
Anthony DiComo is a reporter for MLB.com. Follow him on Twitter @AnthonyDiComo and Facebook, and listen to his podcast. This story was not subject to the approval of Major League Baseball or its clubs.