Matheny urges players not to be 'afraid' on bases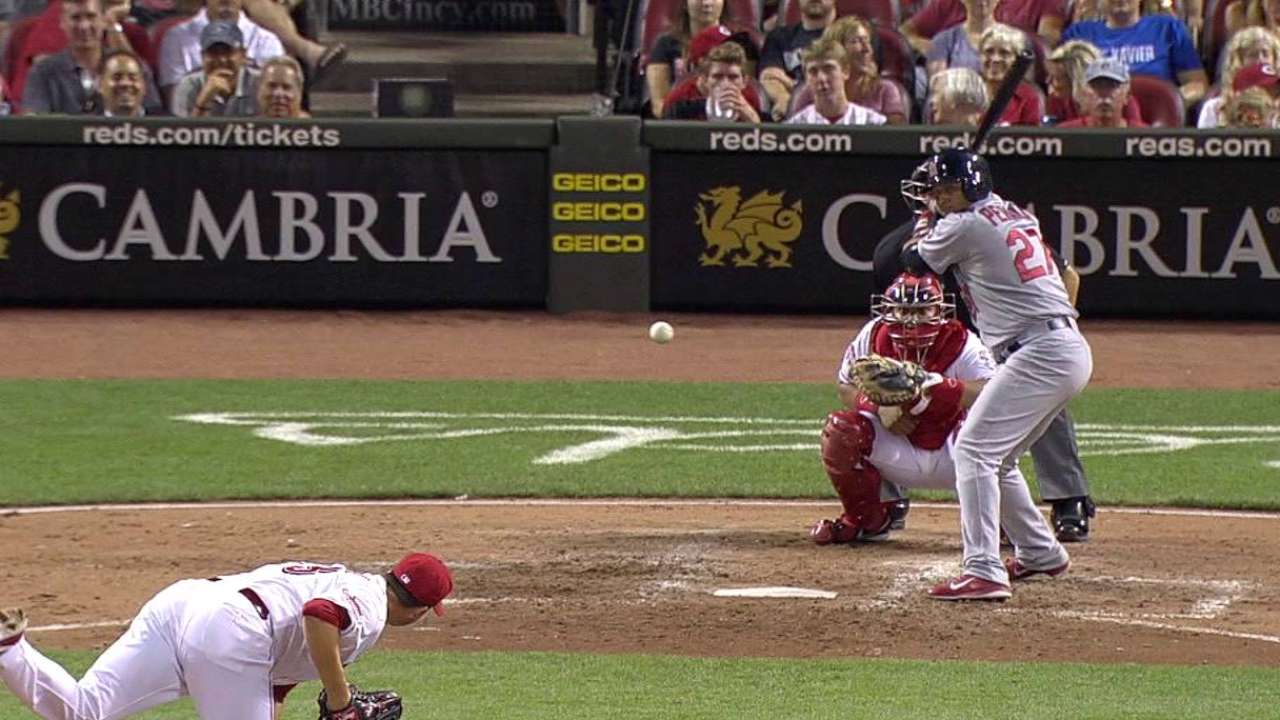 CINCINNATI -- Before he came through with a 13th-inning home run to lift the Cardinals to a 4-3 win on Wednesday, Randal Grichuk showed just enough hesitation on the bases to keep the Cards from tying the game several innings earlier than they eventually did.
Standing on second with one out in the sixth inning with the Cards down by two, Grichuk froze on a bloop single by Jhonny Peralta until the ball fell well out of reach of any defender. Grichuk advanced to third, but lost his chance at trying to score. He never would, either, as Yadier Molina subsequently grounded into an inning-ending double play.
Afterward, manager Mike Matheny used the episode as a teaching moment.
"I think that's part of the job as a staff -- to create an atmosphere where you're not afraid to make a mistake," Matheny said. "A play like that, we want our guys getting on second base thinking that we're going to be praised here if we do something aggressive that is just a good baseball play. Let's use our instincts. I would want Randal to go back in his mind and picture himself on second base saying, 'Alright, where is everybody positioned? And I'm going to trust the ball off the bat. I'm not going to be afraid.'
"It's kind of like walking up to the plate and telling yourself, 'I don't want to strike out.' When you do that, it's a passive approach, instead of thinking, 'I'm going to get a good pitch to drive.' Just that simple change in mentality, I believe, has a direct influence on the results."
Matheny preached aggressive baserunning throughout Spring Training and saw a lot of it from his club then. It continued through the first few weeks of the season, but has tailed off as of late.
Overall, the Cardinals rank above league average in extra bases taken on fly balls, passed balls, wild pitches, balks and defensive indifference with 97 such tries, according to calculations on baseball-reference.com. Molina and Jason Heyward lead the club with 12 such extra bases.
The Cardinals, however, rank 20th in the Majors in extra-bases-taken percentage, which accounts for how often a team advances more than one base on a single or more than two bases on a double. The Cardinals have done so 37 percent of the time, two percentage points lower than league average. Heyward tops the team with a 55 percent rate.
The club has run into 44 outs on the bases (not counting pickoffs, caught stealing or forceouts), which is the sixth-highest total in baseball. That would suggest the Cardinals could be smarter with their baserunning, though Matheny doesn't take issue with those sorts of mistakes being made.
"If it's an aggressive mistake, we'll take that over a passive avoidance of a mistake," Matheny said. "What little thing can you do non-stop instead of just being out there and being on a base? What can you do cause pressure? Pressure creates things that happen. That's the kind of team I'd like us to be. And you don't have to have speed to do that. You have to have conscientiousness."
Jenifer Langosch is a reporter for MLB.com. Read her blog, By Gosh, It's Langosch, follow her on Twitter @LangoschMLB, like her Facebook page Jenifer Langosch for Cardinals.com and listen to her podcast. This story was not subject to the approval of Major League Baseball or its clubs.