MLB.com Columnist
Jim Callis
Pipeline Inbox: Do Cubs still have a top 10 system?
Callis responds to fans' questions about baseball's top prospects
On more than one radio show since the non-waiver Trade Deadline, I've said that the Yankees took more criticism than they deserved for not acquiring a veteran front-line starter. To me, it made more sense to promote right-hander Luis Severino than give him up in a deal. Watching Severino in his big league debut Wednesday only reinforced that opinion.
Severino sustained a 2-1 loss to the Red Sox, giving up both runs (one unearned) on two hits while striking out seven and walking no one in five innings. He averaged 95 mph and hit 98 mph with his fastball, and he registered five of his whiffs with a hard cutter/slider. Severino consistently fell behind in the count, but he showed the ability to make quality pitches when he had to.
Do the Cubs still have a top 10 farm system?
-- Tony P., Chicago
The Cubs entered the season as MLBPipeline.com's No. 1 system, though they since have graduated their three highest-graded prospects from that time (Kris Bryant, Addison Russell, Jorge Soler) to Wrigley Field. Nevertheless, Chicago still has one of the game's deeper pools of prospects and continues to rank among the top 10 systems.
The Cubs currently have five Top 100 Prospects: catcher Kyle Schwarber (No. 7), shortstop Gleyber Torres (No. 36), outfielder Billy McKinney (No. 41) and right-handers Carl Edwards Jr. (No. 66) and Duane Underwood (No. 80). Even after Schwarber loses his rookie/prospect eligibility, Chicago's system still could place among the top 10 because of its depth.
With their first two choices in the 2015 Draft, the Cubs added two more promising position players in outfielders Ian Happ and Donnie Dewees. They have several more in the organization, including outfielders Albert Almora, Mark Zagunis and Eloy Jimenez, as well as catcher Willson Contreras and first baseman Dan Vogelbach. They've also added several intriguing high school arms in the past two Drafts, including right-hander Dylan Cease and left-handers Bryan Hudson, Justin Steele and Carson Sands.
Chicago has surged back into contention this year, and that's just the start. With the additional talent the Cubs have on the way, not to mention their financial wherewithal and flexibility, their World Series drought should end in the near future.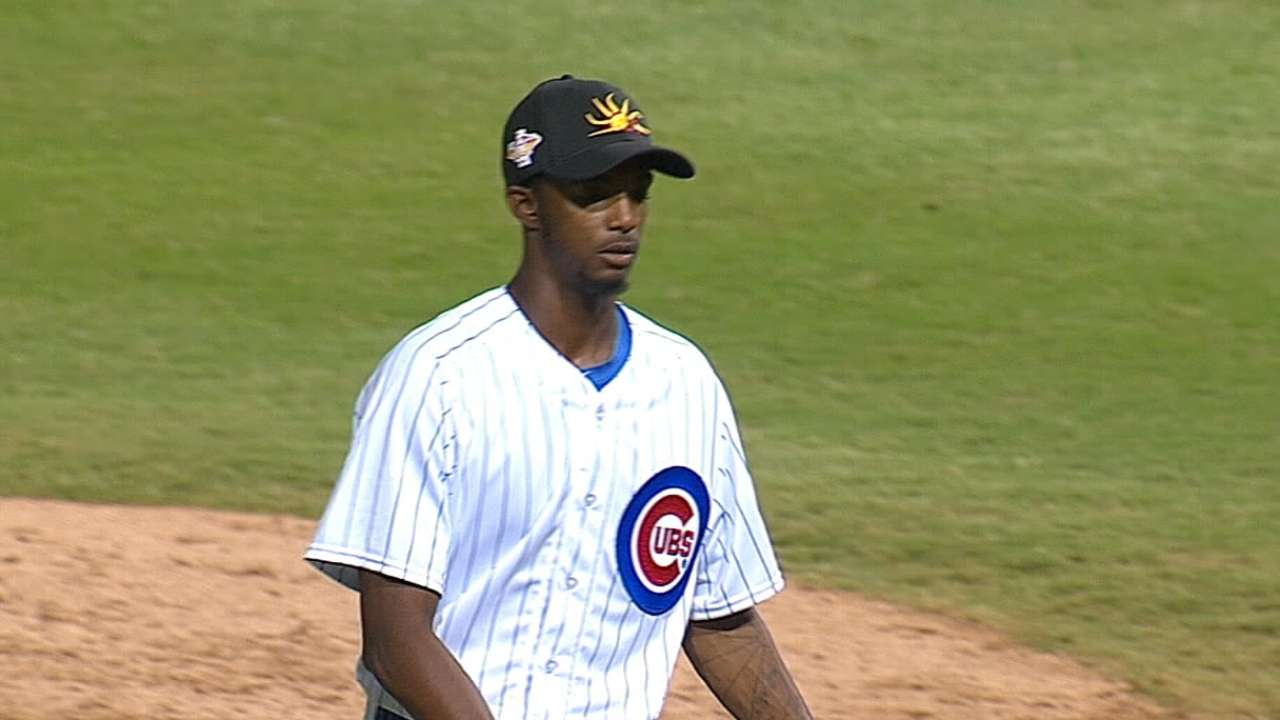 I just looked at MLBPipeline's top 10 third-base prospects. It's conceivable that both Miguel Sano (Twins) and Joey Gallo (Rangers) will graduate from the list by year's end. Which two third basemen are on deck to fill out the list when they do?
-- Shawn S., Lawrence, Kan.
Our third-base list has seen a lot of change since the beginning of the season. Bryant, Maikel Franco (Phillies) and Jake Lamb (Diamondbacks) have transitioned easily to the big leagues, while D.J. Peterson (Mariners) and Garin Cecchini (Red Sox) are playing more at other positions and having rough years with the bat. Rio Ruiz (Braves) also has fallen off the list after struggling in Double-A.
There aren't a lot of obvious candidates to fill in for Sano and Gallo. Renato Nunez (Athletics) is the No. 11 third baseman for me, and I guess Brandon Drury (Diamondbacks) would be next in line after him. Other possibilities include Kaleb Cowart (Angels), J.D. Davis (Astros), Kyle Kubitza (Angels), Ruiz and Patrick Wisdom (Cardinals).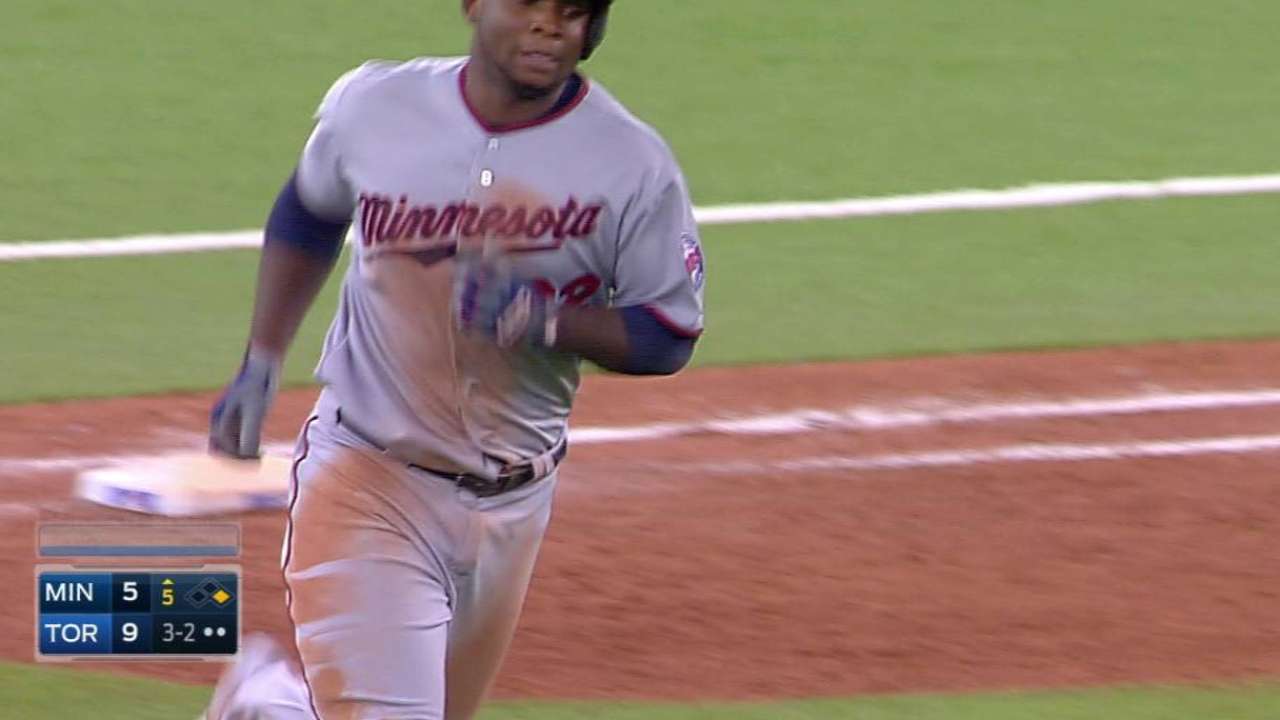 How would you evaluate Angels left-hander Sean Newcomb? Does he fit the ace profile? When do you think he'll arrive in Anaheim?
-- Mick E., Corona, Calif.
The 15th overall pick in the 2014 Draft -- and the highest choice ever out of Hartford, surpassing 1989 fourth-rounder Jeff Bagwell -- Newcomb looks like the best Angels first-rounder since Mike Trout (2009) and their best pitching first-rounder since Jeff Weaver (2004). He already has reached Double-A and currently leads the Minors in strikeouts (134) and ranks second in strikeouts per nine innings (11.5), a testament to his stuff.
Newcomb gets plenty of swings and misses with a 92-96 mph fastball that reaches 98 and a power curveball. His changeup should give him at least a solid third pitch, and the only thing he really needs to do to become a front-line starter is refine his control and command. Newcomb's 6-foot-5, 245-pound frame and low-stress delivery bode well for his durability.
Newcomb does have the ceiling of a No. 1 starter and a good chance to become at least a No. 2. He should surface with the Angels at some point in 2016.
What do you think about Blue Jays outfielder Anthony Alford?
-- Rocky S., Toronto
Alford is one of the best prospect stories of 2015. Arguably the best athlete in the 2012 Draft, he could have been a first-round pick had he not been set on playing quarterback at Southern Mississippi. The Blue Jays took Alford in the third round and signed him for $750,000, with the provision that he could play both sports. He wound up getting just 94 professional at-bats in 2012-14, and that kind of layoff usually spells doom for a hitter.
Though Aflord started five games for the Golden Eagles in 2012, he got dismissed from school following a campus altercation. He sat out the 2013 football season after transferring to Mississippi, then played in four games as a safety and punt returner for the Rebels last fall before deciding to focus on baseball. Alford's return has gone better than anyone could have expected, as he has batted .291/.394/.397 with 27 extra-base hits and 20 steals in 86 games between two Class A stops.
Alford's tools are just as exciting as his performance. He's a well-above-average runner with plus raw power that he's just beginning to tap into, instincts at the plate that are more refined than expected and a strong arm. He has a ceiling of a center fielder who could hit .270 with 15-20 homers and 30 steals. When I revamped our Blue Jays Top 30 Prospects at midseason, I had one evaluator tell me he preferred Alford to fellow outfielder Dalton Pompey, who's No. 1 on our Toronto list.
Jim Callis is a reporter for MLB.com and writes a blog, Callis' Corner. Follow @jimcallisMLB on Twitter. This story was not subject to the approval of Major League Baseball or its clubs.