Weaver among 10 top prospect performers Wednesday
Cardinals No. 9 prospect allows 2 hits in 6 scoreless frames for Class A Advanced Palm Beach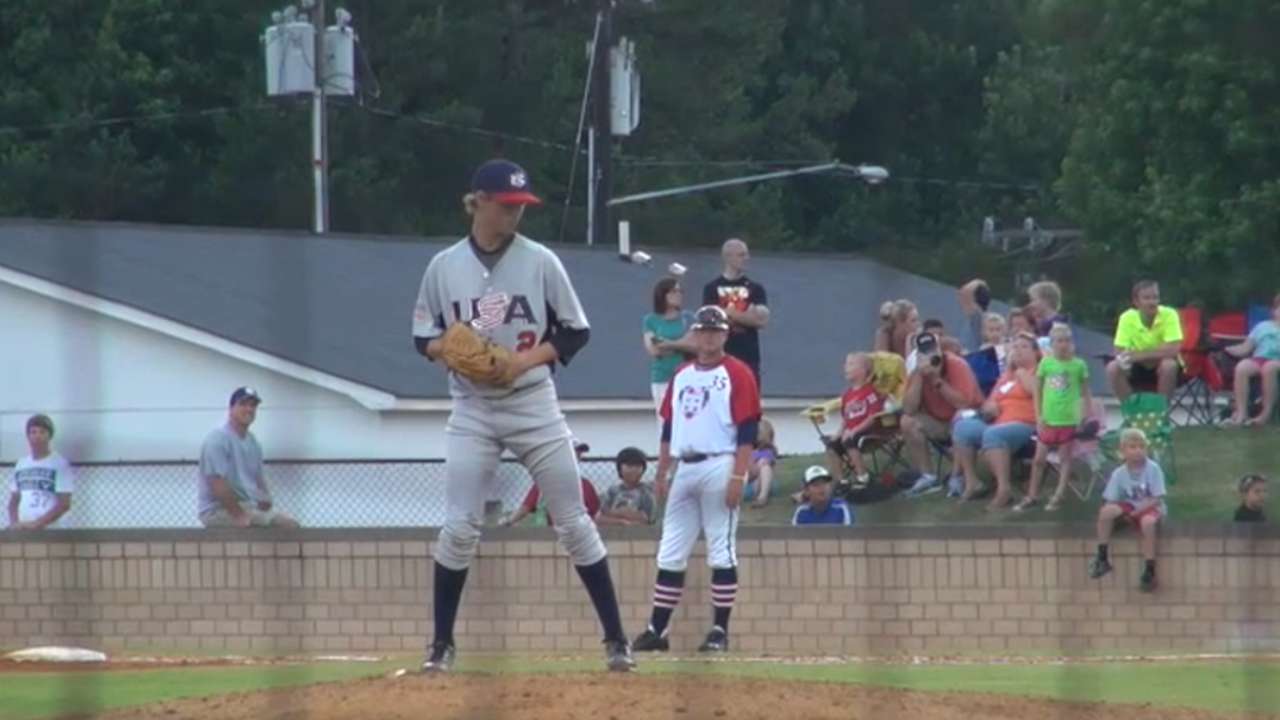 Cardinals No. 9 prospect Luke Weaver continued an excellent run in Class A Advanced Palm Beach's 2-0 win over Charlotte on Wednesday.
The right-hander didn't allow a walk while giving up two hits against six strikeouts in six shutout innings. He picked up the win, cut his ERA (1.95) under 2.00 for the first time since May 20 and still hasn't given up more than one earned run in a start since June 29.
"I try to get into a rhythm and get ahead of hitters and do the best I can," Weaver told MiLB.com. "I've put up the zeros and I guess it's falling my way. I just want to keep going in that direction."
His surge has netted him four wins in six tries and he's piled up 26 strikeouts against zero walks in his past four outings. A 2014 Draft pick, the 21-year-old could be ready for his Double-A debut soon.
"I don't think I'm trying to think about it, whenever (a promotion) may happen," Weaver told MiLB.com. "It may happen, but for now, I plan for each start and to put some zeros up. And if that happens, then I'm really happy. But if it's a bad outing, I'll learn from it. I'm just trying to enjoy the moment and get a 'W' for the boys."
The rest of the 10 best performances from top Minor Leaguers
• Athletics No. 7 prospect Chad Pinder is still raking. After hitting two homers on Tuesday night, he added a grand slam Wednesday as part of a six-run second inning for Double-A Midland, which held on for an 8-7 win over Frisco. Pinder finished 1-for-4, but extended his hitting streak to nine games and has hit in 27 of his past 28 contests. His three homers in the past two nights pushed him to 13 on the year and the shortstop is hitting .320/.369/.493 with 22 doubles and 68 RBIs.
• Braves No. 24 prospect John Gant allowed just one hit while striking out nine batters in six scoreless innings for Double-A Mississippi. He's been excellent for the Braves in two starts, going 2-0 with a 0.77 ERA over 11 2/3 innings. The right-hander was traded from the Mets to the Braves before last week's Deadline after compiling a 4-5 record and 4.70 ERA for Double-A Binghamton this season. The Georgia native has fanned 16 while issuing four free passes in his past two starts.
• D-backs No. 3 prospect (No. 72 overall) Aaron Blair went six scoreless innings for Triple-A Reno, allowing two hits and four walks against six Ks in the Aces' 7-0 triumph over Tacoma. The right-hander hasn't dropped a decision since a losing effort in his Reno debut on June 17. Since then, he's gone 4-0 in six starts while cutting his ERA from 18.00 to 3.86. Combined with an excellent 13-start run with Double-A Mobile, Blair sits at 10-4 with a 3.09 ERA this year.
• Mets No. 3 prospect (No. 84 overall) Brandon Nimmo swatted his first Triple-A homer in his eighth game for Las Vegas. The center fielder finished 3-for-4 with a solo shot and has notched three straight multi-hit games. The recent surge brought his line to .321/.394/.464, a cut above his 68-game run with Binghamton (.279/.354/.368), which also featured two homers and 16 RBIs. Nimmo was promoted on July 28 and has rebounded nicely from a 2-for-17 start in Nevada.
• Phillies No. 4 prospect (No. 64 overall) Nick Williams and No. 17 prospect Andrew Knapp both slugged two homers for Double-A Reading in an 11-1 win over Trenton. Williams had a career night in just his second game in the Philly organization, finishing 4-for-4 with a walk, double, three RBIs and five runs. The Rangers traded Williams to the Phillies last week as part of the Trade Deadline deal for Cole Hamels and the outfielder has gone 6-for-9 in his first two contests for the Fightin Phils.
Knapp now has five multi-hit games in a row, over which time his average has jumped from .323 to .373. His two round-trippers matched his Double-A total coming into Wednesday's game and he has recorded 33 RBIs in 30 games in Reading. But Williams -- the Fightin Phils' leadoff hitter -- stole the show. Still just 21 years old, he's coming off a strong 97-game stretch with Double-A Frisco in which he hit .299/.357/.479 with 21 doubles, four triples, 13 homers and 45 RBIs.
• Reds No. 9 prospect Cody Reed set career highs with eight innings and 12 strikeouts in his second start for Double-A Pensacola. The 6-foot-5 southpaw polished off his scoreless appearance in quick fashion, allowing just four hits and two walks while picking up a dozen Ks. The latter number was a season high for any Pensacola pitcher this season and Reed is 2-0 with one earned run allowed in 15 innings since joining the Cincinnati farm system. That happened on July 26, when the Reds sent ace Johnny Cueto to the Royals in exchange for Reed, Brandon Finnegan and John Lamb.
• Yankees No. 3 prospect Jorge Mateo made a splash in his debut for Class A Advaced Tampa. The 20-year-old finished 4-for-6 with a triple and a stolen base. He even scored a go-ahead run in the top of the 12th inning before Brevard County stormed back with two in the bottom frame, taking the game, 5-4. Mateo, the Minor's stolen base leader, now has 72 on the year. He was efficient for Class A Charleston for most of the season, finishing .268/.338/.378 with 18 doubles, eight triples, two homers and 33 RBIs for the RiverDogs.
• Yankees No. 4 prospect Greg Bird continued a blistering run for Triple-A Scranton/Wilkes-Barre on Wednesday night, going 3-for-5 with a triple, two home runs and four RBIs in the RailRiders' 7-2 win over Columbus. He has hit in six straight games, improving his average from .256 to .296. Bird has six homers and 18 RBIs since joining Scranton on July 4. Wednesday, he hit a deep homer in his first at-bat, tripled in his second and then homered again in his third plate appearance. "I'm just seeing the ball better, my timing is better, nothing huge," Bird told MiLB.com. "Getting through those bumps and sticking to your game plan is most important. Get back to doing what you do. You just learn to deal with them."
Alex M. Smith is a reporter for MLB.com. This story was not subject to the approval of Major League Baseball or its clubs.