Rough 6th inning proves costly for Nationals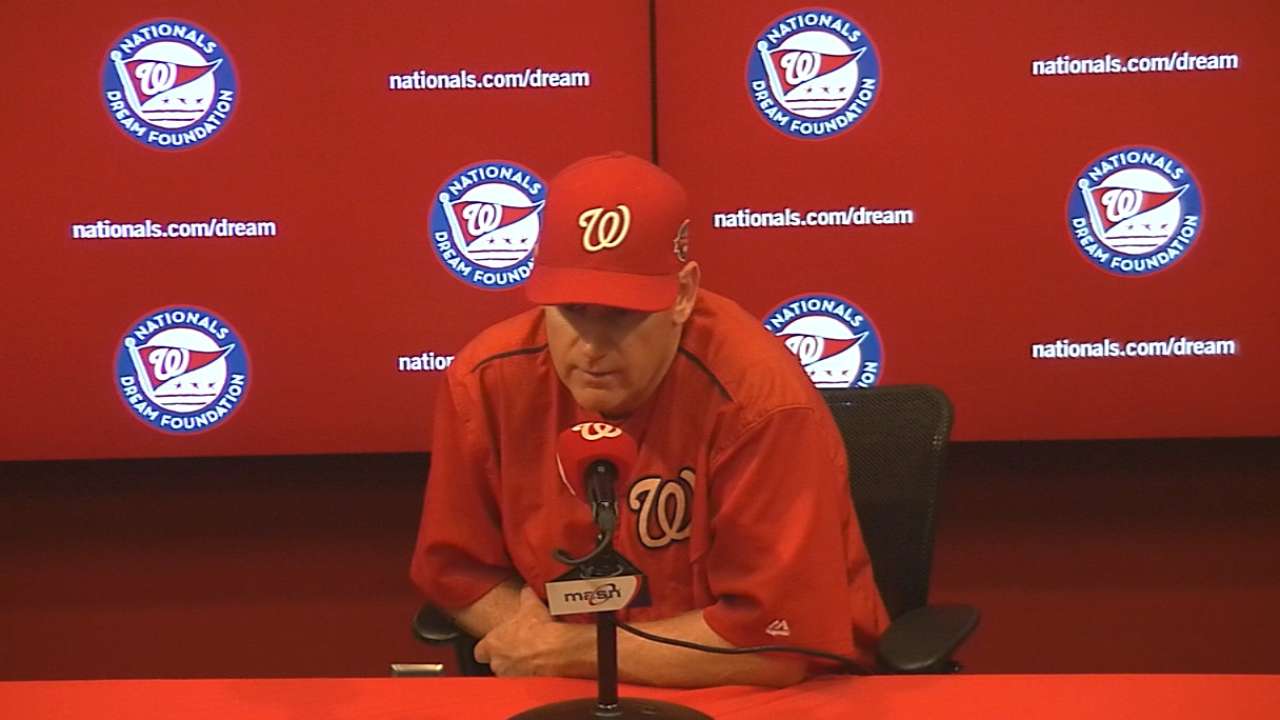 WASHINGTON -- Gio Gonzalez had already labored through five long innings and 93 stressful pitches when he made his way back to the mound with a one-run lead.
Two pitches into the sixth, though, a runner was on and Gonzalez was pulled. Nine batters after that, Arizona had knocked four more hits, drew two walks and capitalized on a crucial error. The four-run frame was the start of the downward spiral, as the Nationals lost, 11-4, on Wednesday night and fell two games back of the Mets in the National League East.
"I think it looks bad because of what happened," manager Matt Williams said. "Our guys are not trying to go out there and give runs up."
When Gonzalez wasn't able to pitch through the sixth as Williams had hoped, the manager called for right-hander Aaron Barrett.
Barrett, who hadn't allowed an earned run since June 11, was knocked around for four hits and three earned runs in one-third of an inning. Facing Nick Ahmed with two runners on base, Barrett fielded a bunt but skipped his throw past Ryan Zimmerman at first base, allowing both runners to score easily and the D-backs to take the lead.
"I just tried to make a good play and tried to get it over to first as quick as I could," said Barrett, who fell to 3-3 with the loss. "Obviously, it wasn't the best throw. Zim did what he could with it. Obviously, it got away from us and was the result of a couple runs there. It kind of stinks."
With the lead flipped to 4-2 in Arizona's favor after Barrett allowed an RBI single to Jarrod Saltalamacchia, Tanner Roark was called upon with two runners on base. Paul Goldschmidt, already three hits into a strong offensive night, lined out to right, but Roark walked the next two batters. The second, a bases-loaded free pass to Aaron Hill, came after Roark was ahead 0-2 in the count.
"[He was] just missing," Williams said. "Missing the strike zone. Pulling the ball across and missing. No breaking balls, essentially, for strikes in that inning."
Ten batters after the sixth frame started, Washington's deficit was three. It would grow as high as nine before the night came to an end.
"Can it galvanize?" Williams said. "Yeah, we hope so. That'll be the message tomorrow, for sure."
Jacob Emert is an associate reporter for MLB.com. This story was not subject to the approval of Major League Baseball or its clubs.