Marlins starters can't make it out of 5th all series
Phelps hit hard after Koehler scuffles, Hand -- who will likely start again Sunday -- goes 4 scoreless
MIAMI -- Following Wednesday's 8-6 loss to the Mets, Marlins manager Dan Jennings said a decision on Brad Hand's spot in the rotation -- which comes up on Sunday -- is still to be decided, although he added, "right now, it appears he will be our starter."
The slot is in question because, despite tossing four scoreless innings on Tuesday, Hand was one of three Miami starters that the Mets chased early in their three-game sweep. While Hand wasn't expected to go deep into his first start since June 8, he needed 84 pitches to get through his four innings. New York pinned Tom Koehler with a loss on Monday (seven runs -- six earned -- in 4 1/3 innings) and defeated David Phelps on Wednesday (seven runs in 4 1/3 innings).
Furthermore, each outing sang a similar tune. The Mets ran their pitch counts up early, as after three innings, Koehler was at 55 pitches, Hand was at 71 and Phelps was at 73. In 12 1/3 combined innings, the three starters threw 276 pitches and allowed 14 runs on 20 hits.
"It's frustrating," Phelps said. "Every bad pitch I made, they hit hard. I wasn't getting ahead of guys and driving the ball down in the zone. They're big league hitters over there, and they'll make you pay. That's what they did."
Phelps, who allowed eight hits, surrendered a four-run third inning and a three-run fifth inning that was capped by a Juan Uribe three-run homer. It proved to be enough to even withstand a furious Marlins six-run ninth-inning rally.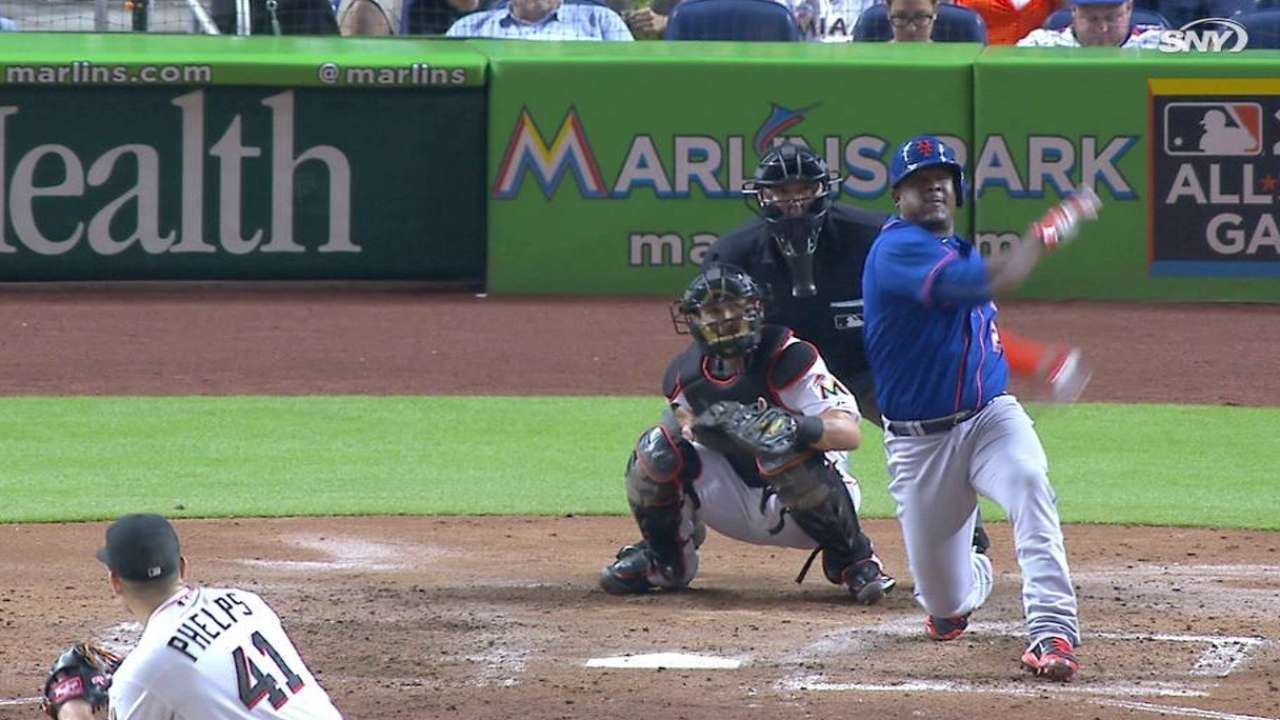 "That's what was so frustrating about my outing tonight," Phelps said. "Four runs is one thing, so I was just trying to go out there after and put up as many zeros as possible. That home run kind of killed us right there."
Phelps' spot appears safe for now, while the slot Hand entered was the one vacated by the recently traded Dan Haren. While rookie lefties Adam Conley (1-0, 2.61 ERA) and Justin Nicolino (1-1, 4.09 ERA) are currently in waiting, it appears as if Hand will get another shot to be efficient and effective -- something no Marlins starter could accomplish vs. the Mets.
"We were both [the manager and pitching coach Chuck Hernandez] very pleased with what Brad was able to give," Jennings said before Wednesday's game. "His pitch count got up high, but the bottom line is he gave us four [innings]. We were hoping for five, but I'll take four with a zero."
Steve Wilaj is an associate reporter for MLB.com. This story was not subject to the approval of Major League Baseball or its clubs.