Jungmann, Nelson proving future is bright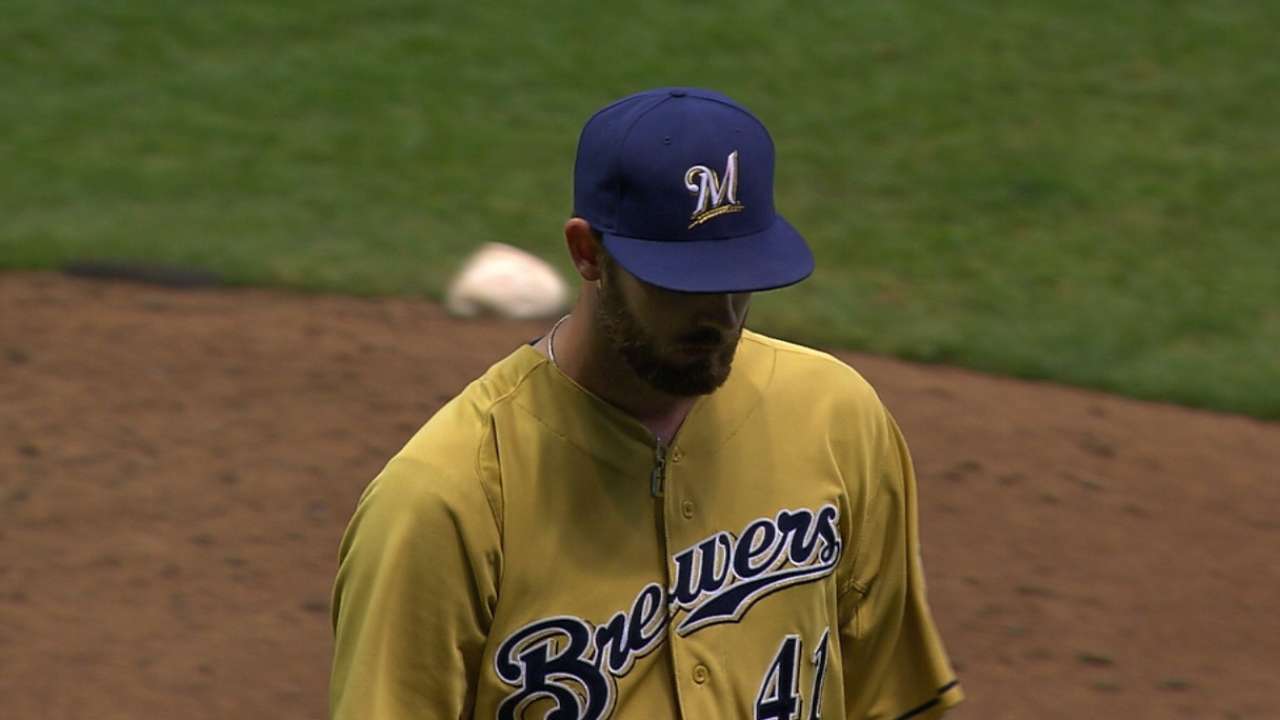 The Brewers are banking on that as they embark on a rebuilding project for the first time in a decade. Recent returns have offered encouragement, with Nelson delivering his fifth consecutive quality start on Tuesday night against the Padres and Jungmann following suit on Wednesday. The 25-year-old Jungmann set a career high with eight strikeouts while holding San Diego to two runs in seven innings, lowering his ERA to 2.26 after 11 Major League starts.
In 10 of those 11 starts, Jungmann has allowed two or fewer earned runs, including his last eight games in a row.
"It helps to get here and get a little confidence, get some good outings under your belt," said Nelson, who did not enjoy the same success when he debuted last season. "Because when you hit that skid when you're not throwing as well, you know what you're capable of. Now he knows what he can do."
Both right-handers are home-grown. Nelson was Milwaukee's second-round Draft pick in 2010. Jungmann was the first of the team's two first-round picks in 2011.
With Jungmann coming up on his 12th career start, it appears his success is no fluke.
"I mean, we haven't seen anything different," Brewers manager Craig Counsell said. "He's been very consistent -- [that] is the big thing. For me, there's been no blips. It's been a consistent effort every time he takes the mound, and you look for that.
"I think he has a very good idea. He really understands himself well. He understands himself."
Take Wednesday: Jungmann's changeup, he said, was "nonexistent," so he and Lucroy instead relied heavily on the curveball. Jungmann used that pitch twice in a three-pitch strikeout of Padres catcher Derek Norris to end the seventh inning, giving Jungmann a career high for whiffs in a game.
"That was definitely the best I've thrown it all year," he said.
"If he's throwing strikes, his deception takes care of everything else," Lucroy said. "When you watch him throw off the mound, you guys can see it up there. He's crossing. … Ever since we were seven years old, we've been hitting with guys straight in front of us. Now a guy moves over, it's tough to square the ball up."
Adam McCalvy is a reporter for MLB.com. Follow him on Twitter @AdamMcCalvy, like him on Facebook and listen to his podcast. This story was not subject to the approval of Major League Baseball or its clubs.