O'Flaherty shows rust in Mets debut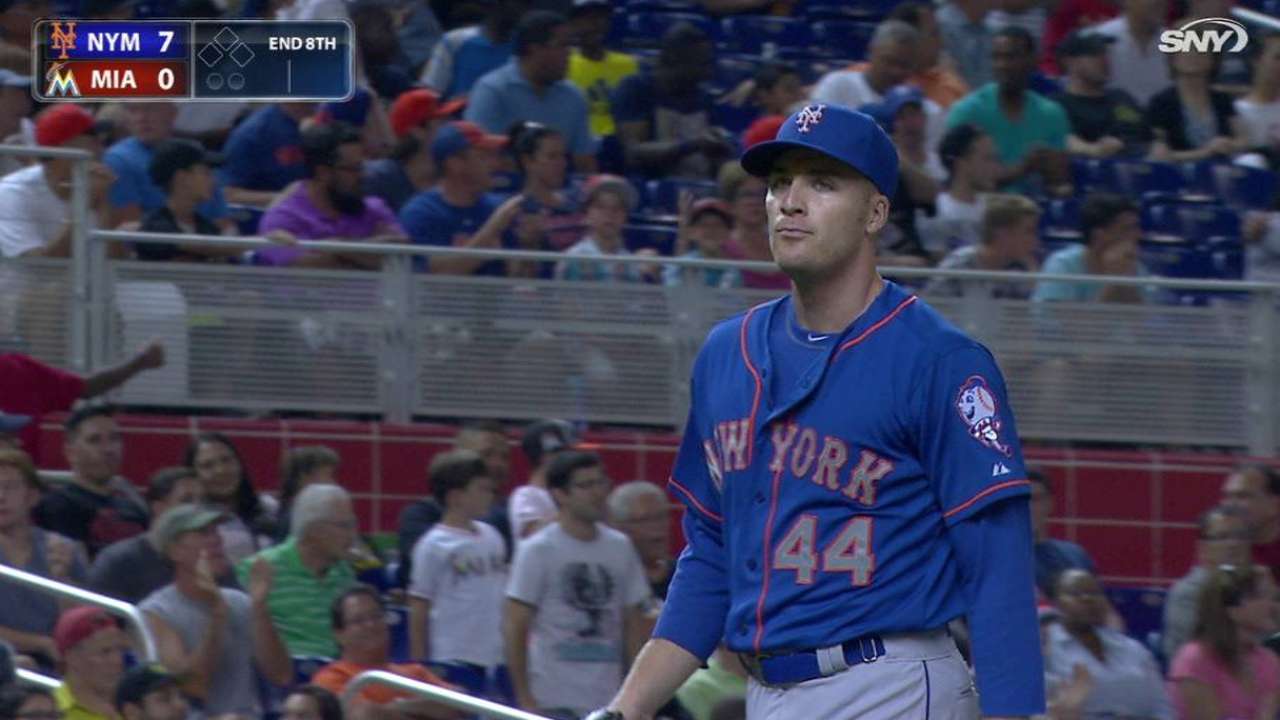 MIAMI -- Eric O'Flaherty's day began with a 4 a.m. wakeup in Seattle, his home since the A's designated him for assignment on Saturday -- and also, inconveniently, about as far from South Florida as he could have been when the Mets traded for him late Tuesday night. The next morning, after his alarm clock rattled to life, O'Flaherty began the cross-country journey that would bring him to Marlins Park just past 5 p.m. ET
Five hours later, O'Flaherty was thrilled to enter a seven-run game in the eighth -- a chance to knock off his rust without delay. But things almost turned disastrous when O'Flaherty gave up the first four runs of a six-run Marlins ninth-inning rally, which Jeurys Familia finally squelched with the tying runs on base in an 8-6 Mets win.
"You don't want to make excuses," O'Flaherty said. "Crazy day, but that's my job there. That's on me."
What vexed O'Flaherty most was that he came in to face four consecutive left-handed batters -- precisely the type of situation the Mets envisioned when they acquired him and cash considerations for a player to be named. A 10-year veteran of the Mariners, Braves and A's, O'Flaherty retired the first of those lefties to end the eighth inning, but gave up hits to Derek Dietrich and Justin Bour in the ninth.
By the time he departed, O'Flaherty had faced five left-handed batters and allowed hits to three of them.
"He's going to be run out there again in those sorts of situations," Mets manager Terry Collins said of O'Flaherty, chalking his performance up to rust.
O'Flaherty, too, knows he must improve given his role as the Mets' primary lefty specialist -- at least until Jerry Blevins returns at some unknown point in the future. So he is hoping to move quickly past his rocky debut, with plans to become a cog for the first-place Mets.
"I'm glad to be here, man," O'Flaherty said. "Coming to a winner's nice."
Anthony DiComo is a reporter for MLB.com. Follow him on Twitter @AnthonyDiComo and Facebook, and listen to his podcast. This story was not subject to the approval of Major League Baseball or its clubs.